07 Jan

ESSEX COUNTY EXECUTIVE DIVINCENZO COMMENDS VOLUNTEERS AND THEIR DOGS FOR PARTICIPATING IN PET THERAPY PROGRAM AT ESSEX COUNTY HOSPITAL CENTER Volunteer Service by Owners and Their Pets is Appreciated, Has Positive Results with Patients

FOR IMMEDIATE RELEASE

January 7, 2015

ESSEX COUNTY EXECUTIVE DIVINCENZO COMMENDS VOLUNTEERS
AND THEIR DOGS FOR PARTICIPATING IN PET THERAPY PROGRAM
AT ESSEX COUNTY HOSPITAL CENTER
Volunteer Service by Owners and Their Pets is Appreciated,
Has Positive Results with Patients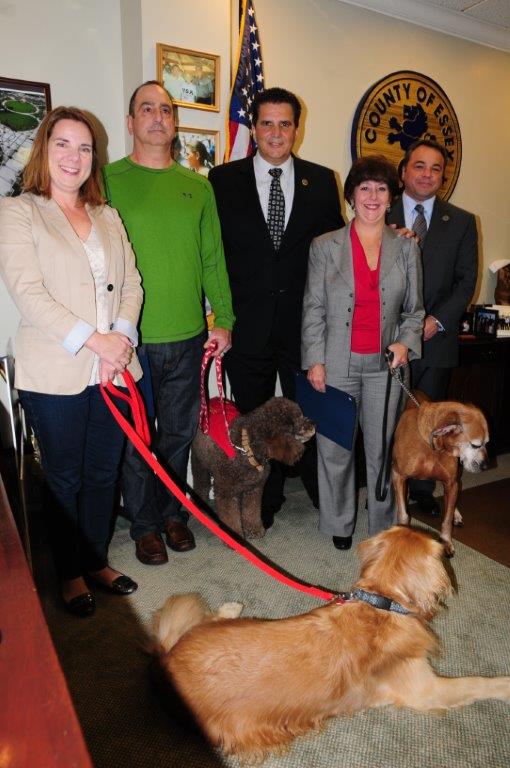 Cedar Grove, NJ – Essex County Executive Joseph N. DiVincenzo, Jr. recently recognized three volunteers and their pet canines for participating in the Animal Assisted Therapy Program at the Essex County Hospital Center. Doctors at the county-owned psychiatric hospital said they have seen positive results in patients who participate in pet therapy and placed the success of the program on the pet owners, who freely share their pets.
"Our doctors and staff at the Hospital Center are always looking to find new ways to help our patients and provide a supportive atmosphere. Pet therapy has been successful in other hospitals and I applaud our medical staff for introducing it to our facility," DiVincenzo said. "We truly appreciate our volunteers and their pets for choosing to visit the patients in our hospital. Our patients look forward to seeing the dogs and really enjoy playing and spending time with them. We just want our volunteers to know that they are really making a positive difference in the lives of our patients," he pointed out.
The Animal Assisted Therapy Program was launched in June 2013 with one canine, an Australian Labradoodle named Rufus, and his owner Darrell Spinner of Wayne. It has since been expanded to include Foster, a Golden Retriever, and his owner Jennifer Kuhn of Montclair, and Bo, a Redbone Coonhound, and his owner Sue Trapp of Cedar Grove.
"We are really fortunate to have Rufus, Bo and Foster here with us on a regular basis and appreciate the significant time commitment their owners make to bring them here. They really are making a difference and helping us and we appreciate everything they do," Essex County Hospital Center Director Frank DelGaudio said.
The County Executive recently presented Spinner, Kuhn and Trapp with the Essex County Teamwork Award for their voluntary service. The monthly award usually recognizes employees who go above and beyond to perform their duties, however an exception was made because of the valuable service the trio provides. Just before Christmas, staff at the Hospital Center presented the canines with holiday stockings stuffed with treats, toys and other goodies.
"This is a big responsibility for our volunteers to bring their pets here every week and we really appreciate it. It means a great deal to our patients," Essex County Hospital Center Medical Director Robert G. Stern said. "We have a group of patients here who don't interact with others, are scared of other people or don't have a desire to socialize. It's difficult to reach these patients and engage them in any activities. We were looking for new ways to reach these non-verbal patients and have found it in our Animal Assisted Therapy," he noted.
Dr. Dona Bellucci, a Principal Psychologist who spearheaded the creation of the program with Chief of Therapeutic Services Michele Collins, said studies have shown that having a dog in the room relaxes patients, lowers their blood pressure and increases their immune system. "There is something about the human and dog bond that reaches our patients. It's a meaningful, legitimate intervention from which our patients benefit," Bellucci said.
Wayne resident Darrell Spinner said pet therapy helped save his life when he was battling lymphoma and upon recovering he wanted to help others. The hospital in Manhattan where he was receiving treatment had a pet therapy program and he was visited by an Australian Labradoodle. When Spinner left the hospital, he knew he wanted a dog just like it.
"We adopted Rufus as a puppy and he knew how to do everything. He was very obedient and intelligent, and it didn't take much to teach him new tricks," Spinner said. "When I saw how good he was, I knew I wanted him to be trained as a therapy dog. I know how powerful a dog can be," he added.
Susan Trapp from Cedar Grove saved Bo from an Indiana puppy mill and nursed the 3-and-a-half year old back to health, recovering from a serious eye disease and pneumonia. "Despite his past, he loves people. Anyone can just come up and pet him," she said. "Knowing his personality, I knew he would be wonderful for this kind of interaction. We started with visiting nursing homes, but coming to the Hospital Center is better," Trapp said.
Montclair resident Jennifer Kuhn adopted Foster when he was 8 weeks old and enrolled him in obedience training. "The trainer noticed how well his personality would be for therapy and suggested we train him for it," Kuhn said. "We've been to nursing homes, autism schools. He's very good with children, but he's equally comfortable with adults. The Hospital Center is good because it's so close," she added.
Each owner brings their dog to the Essex County Hospital Center to participate in the pet therapy program as a team. Each therapy session is about 45 to 50 minutes long, during which each patient gets an opportunity to pet and play with the dog. When the weather is warm, sessions are held outdoors in the Hospital Center's courtyard and patients play games or hide treats with their canine visitors. The therapy also involves the patients talking about their time with the dog.
"Each dog has their own level of activity and personality, so we try to match the dog with the patient's personality," Bellucci said, adding that patients are always asked if they feel comfortable around dogs before they start the therapy.
Spinner said Rufus looks forward to his visits. "As soon as he sees the flags in front of the building, he knows it's on," Spinner said. "He waits for the patients and remembers them," he added.
Foster, Jennifer Kuhn's Golden Retriever, also looks forward to his visits. "He picks up on the energy in the room," Kuhn noted. "He's always looking for something to do. This is an activity he enjoys," she added.
"This has helped enhance some of our patients' social ability," said Recreation Therapist Janine Finelli. "We have some patients who don't normally speak who will talk about the dogs. We have patients who don't want to participate in any of our groups, but want to come to pet therapy and see Foster," she added.
"When you see how these visits help patients… that's the real reward," Spinner said. He encouraged other dog owners who were interested in training their dogs for pet therapy to not overlook psychiatric hospitals. "There's more of a need at a place like this," he added.
"All dogs want to be loved, and they will give their love unconditionally and without being judgmental," said Trapp. "Visiting the hospital with Bo is always very rewarding. His tail is always wagging," she added.
"We are very appreciative of the dedication and compassion shown by our volunteers, who are always willing to help and share ideas,' Bellucci said. "They have displayed outstanding dedication and commitment in working with our patients and are truly changing hearts, minds and lives," she noted.
To become a therapy dog, Spinner, Kuhn and Trapp had their dogs tested and trained by The Bright and Beautiful Therapy Dogs, Inc., a non-profit organization which evaluates, tests, trains and qualifies owners and their well-behaved dogs as therapy dog teams. It also maintains a directory of facilities, including the Essex County Hospital Center, that have pet therapy programs and are looking for volunteers. The Bright and Beautiful website (www.golden-dogs.org) has an online test for pet owners to gauge and home test their pets.
Contact: Anthony Puglisi
973-621-2542
Lauren Shears
973-621-1590