04 Sep

MORRIS COUNTY BOARD OF FREEHOLDERS AND ESSEX COUNTY EXECUTIVE DIVINCENZO TO ANNOUNCE REOPENING OF EAGLE ROCK AVENUE BRIDGE Link between East Hanover and Roseland is Completed Three Weeks Ahead of Schedule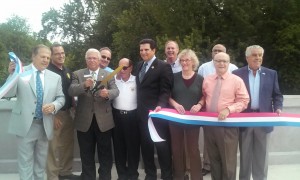 East Hanover/Roseland, NJ – The Morris County Board of Freeholders and Essex County Executive Joseph N. DiVincenzo, Jr. announced on Friday, September 4th that the Eagle Rock Avenue Bridge, which crosses the Passaic River and connects Morris and Essex counties, has been re-opened to traffic. The bridge, which links East Hanover and Roseland, underwent a four-month replacement project that was completed three weeks ahead of schedule.
The 161-foot bridge, which normally carries between 20,000 and 25,000 motor vehicles daily over the Passaic River, was closed to traffic on May 18th and had been due to re-open on September 18th. But motor vehicles started crossing again, with some restrictions, at about 5 p.m. on Wednesday, September 2nd.
The contractor put some finishing touches on the bridge and did some final work this week to get it ready for an earlier-than-expected opening, including metal bracket removal from the sides of the bridge, guide rail post attachments and turning on traffic signals. Landscaping work will be finished up over the next few days.
"This is part of Morris County's continuing effort to expedite road and bridge improvements countywide, to ensure better and safer driving for our residents,'' said Morris County Freeholder Dave Scapicchio, the county governing board's liaison on road and bridge projects. "We'd like to thank the contractor, Keith Konkus of the Konkus Corporation, and everyone involved in this project from both counties for moving this project along quickly.''
"Eagle Rock Avenue is a major thoroughfare and we are pleased to work with Morris County to modernize the bridge and complete the project three weeks ahead of schedule," said DiVincenzo, who was joined by Essex County Freeholder Vice President Brendan Gill, Freeholder Patricia Sebold and Sheriff Armando Fontoura. "Providing the most up to date infrastructure enhances the safety of our roadways, our residents' quality of life and promotes local economic activity," he added.
"Mayor Panullo in East Hanover asked if we could get this bridge open as soon as possible, especially with school now in session and residents needing access across the bridge,'' added Morris County Freeholder Tom Mastrangelo. "We're glad to see this road opened again.''
"I thank the people of East Hanover for their understanding throughout this project, and give a special thanks to the business owners along Eagle Rock Avenue who were very patient throughout construction, said East Hanover Mayor Joseph Pannullo. "All of us have been inconvenienced by this project, however, public safety is always paramount. We needed to be sure of the safety of this span, which is truly a gateway into Morris County. Replacing this bridge was the responsible thing to do."
"Eagle Rock Avenue provides an important link between our two communities and two counties and we are grateful that reconstruction of the bridge was completed ahead of schedule. We welcome the modern infrastructure and enhanced safety, and look forward to seeing our residents' return to the regular routes they are used to traveling," Roseland Mayor John Duthie said.
The shared construction cost between Essex and Morris County is $2.2 million. Morris County was the lead agency administering the project.
Due to advanced deterioration of the bridge superstructure, Morris County had requested that Konkus Corporation, the contractor for the project, provide an accelerated construction schedule that would require a complete bridge closure while work was done. Konkus proposed a four-month schedule, and officials in East Hanover and Roseland, and Morris and Essex Counties agreed to allow a full bridge closure only with this accelerated time frame.
Motorists faced an approximately five-mile detour, utilizing Eisenhower Parkway, Route 280 and Ridgedale Avenue as alternate routes during construction.
Originally anticipated to be a twelve-month project in 2012, the project was postponed due to utility relocation work and the replacement of a bridge on Route 10.
Contact:
Anthony Puglisi
973-621-2542
Lauren Shears
973-621-1590