11 Mar

ESSEX COUNTY EXECUTIVE DIVINCENZO ANNOUNCES ESSEX COUNTY PARKS DEPARTMENT RECEIVES FOUR AWARDS OF EXCELLENCE AT NEW JERSEY RECREATION AND PARKS ASSOCIATION CONVENTION

FOR IMMEDIATE RELEASE

March 11, 2015

ESSEX COUNTY EXECUTIVE DIVINCENZO ANNOUNCES ESSEX COUNTY PARKS DEPARTMENT RECEIVES FOUR AWARDS OF EXCELLENCE AT NEW JERSEY RECREATION AND PARKS ASSOCIATION CONVENTION
Essex County South Mountain Recreation Complex Recognized
as Best Recreation Complex in New Jersey
Cherry Blossom Brochure, Historic Holiday House Tour and Branch Brook Park Alliance's Barbara Bell Coleman Receive Excellence Awards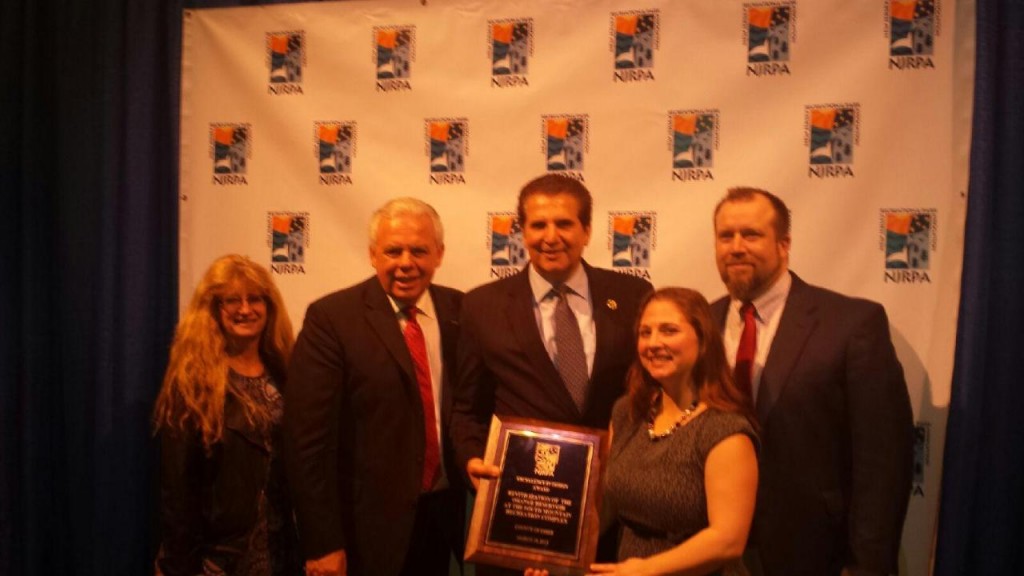 Essex County, NJ – Essex County Executive Joseph N. DiVincenzo, Jr. announced that the Essex County Department of Parks, Recreation and Cultural Affairs was presented with four awards of excellence at the annual New Jersey Recreation and Parks Association convention held in Atlantic City on Tuesday, March 10th. Topping the awards list was the Essex County South Mountain Recreation Complex, which was named the best recreation complex in New Jersey. The Cherry Blossom Festival Brochure received an Excellence in Brochure Award, the Historic Holiday House Tour received an Excellence in Programming Award and the Branch Brook Park Alliance's Barbara Bell Coleman was recognized with an Excellence in Volunteering Award.
"I am so proud of our Parks Department for the statewide recognition they received from the NJRPA. Our parks are community gathering places that our residents use for recreation, athletic activities, relaxation and more, and contribute greatly to our residents' quality of life," DiVincenzo said. "Our South Mountain Recreation Complex has evolved over the years and, with the addition of each new attraction, has grown in popularity and success. We are so pleased to be able to provide quality and affordable recreation attractions that are close to home for our residents and encourage visitors from outside our county to come here," he noted.
"What makes all these awards possible are the dedicated employees who work to create exciting programs and educational activities for our children and promote our events so that people want to come here and participate in our events," the County Executive pointed out. "Our volunteers and partners are also an important part of our equation and it is people like Barbara Bell Coleman who work with us and dedicate their time and expertise to help us revitalize our parks," he added.
The Essex County South Mountain Recreation Complex has expanded over the years. Anchored by Turtle Back Zoo and Codey Arena, recent additions have included the development of several new attractions around the Orange Reservoir. The first two phases included transforming an old archery field that was in poor condition into the 19-hole miniGOLF Safari and McLoone's Boathouse Restaurant. Essex County then partnered with the City of Orange to open the Orange Reservoir to the public for the first time and introduce recreation activities on the waterfront. This included completing a 1.7-mile walkway around the Reservoir, offering paddle boating on the waterway and developing the Clipper Picnic Pavilion and Regatta Children's Playground. Next to Turtle Back Zoo, a Treetop Adventure Course allows visitors to ride a zip line and climb through a variety of obstacles built up to 40 feet above the ground.
The Cherry Blossom brochure provides information about the Annual Essex County Cherry Blossom Festival, which focuses on the beauty and natural wonder of the blossoming cherry trees in Essex County Branch Brook Park. The two-week festival in April includes bicycle races, a 10K run, Children's 1-mile Fun Run, Family Day Festival and Bloomfest, a one-day community event that highlights Japanese culture and community organizations.
Started in 2008, the Essex County Historic Holiday House Tour has grown to include 17 historic sites located throughout Essex County. The self-guided tour occurs over one weekend when each site is decorated for the winter holidays and offers something unique, such as musical entertainment, refreshments or educational programs. The tour provides a unique glimpse into Essex County's rich history.
Barbara Bell Coleman was one of the founding members of the grassroots Branch Brook Park Alliance and has served as its co-chairperson since its inception in 1999. The Alliance partnered with Essex County to revitalize Essex County Branch Brook Park by modernizing the recreation facilities, preserving historic features, enhancing landscaping and stabilizing the park's waterway. Under Bell Coleman's leadership, the Alliance raised over $50 million which was used to pay for engineering and architectural costs of the improvement projects while the County paid for the construction costs. In honor of her commitment to Branch Brook Park, a new welcome pavilion on Concourse Hill was named in her honor in June 2014.
About the Essex County Parks System
The Essex County Park System was created in 1895 and is the first county park system established in the United States. It consists of more than 6,000 acres and has 22 parks, five reservations, an environmental center, a zoo, Treetop Adventure Course, paddle boating, ice skating rink, roller skating rink, three public golf courses, golf driving range, two miniature golf courses, three off-leash dog facilities, a castle and the Presby Memorial Iris Gardens.
About the New Jersey Recreation and Parks Association
The New Jersey Recreation and Park Association is dedicated to enhancing the lives of all New Jersey residents by supporting outstanding park, recreation, and natural resources management programs. Since 1928, the efforts initiated by NJRPA and its membership have resulted in tangible benefits for communities throughout the state. The mission and goals of NJRPA are pursued by the 700 volunteer members of the association: professionals and citizens working in state, county, municipal, non-profit and private park, recreation, health and conservation agencies; students and faculty at colleges and universities; and commercial suppliers of parks and recreation products and services.
Contact: Anthony Puglisi
973-621-2542
Lauren Shears
973-621-1590