19 Mar

ESSEX COUNTY EXECUTIVE DIVINCENZO HOSTS ANNUAL ESSEX COUNTY IRISH HERITAGE CELEBRATION

FOR IMMEDIATE RELEASE  

March 19, 2015

ESSEX COUNTY EXECUTIVE DIVINCENZO HOSTS
ANNUAL ESSEX COUNTY IRISH HERITAGE CELEBRATION
NJ Senator Kevin O'Toole and Cedar Grove Councilman Robert O'Toole
Receive Irishmen of the Year Award
Former Bloomfield Councilwoman Peggy O'Boyle Dunigan
Receives Irishwoman of the Year Award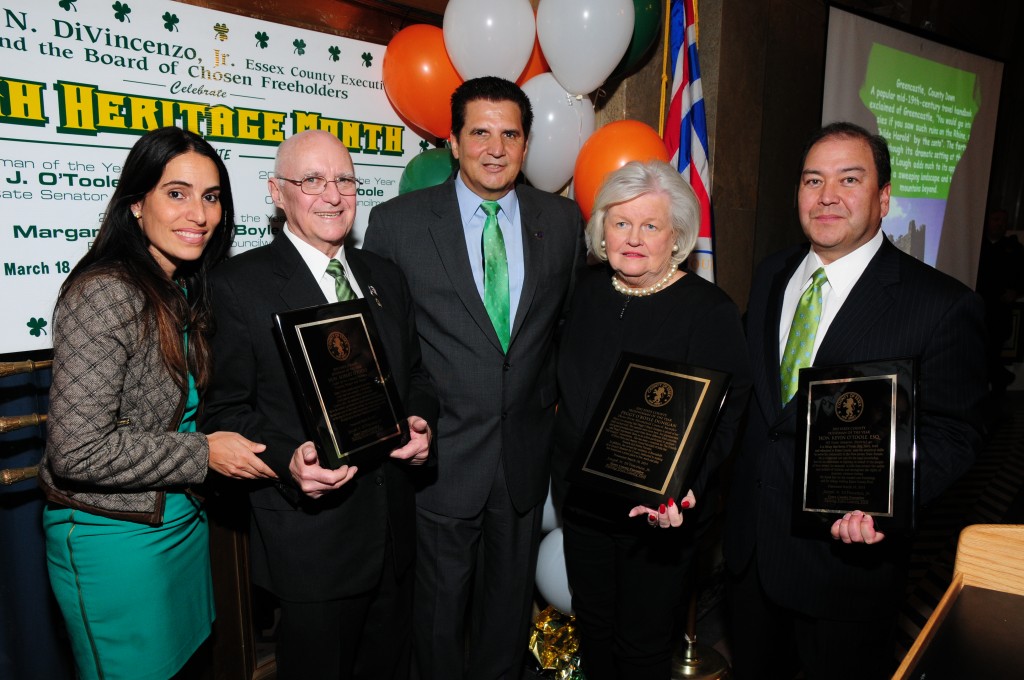 Newark, NJ – Essex County Executive Joseph N. DiVincenzo, Jr. hosted the 12th Annual Essex County Irish Heritage Celebration on Wednesday, March 18th. During the afternoon ceremony, the County Executive presented the Honorable Kevin J. O'Toole, NJ State Senator representing the 40th District, and the Honorable Robert O'Toole, Cedar Grove Councilman, with the 2015 Essex County Irishmen of the Year Award and Margaret "Peggy" O'Boyle Dunigan, former Bloomfield Councilwoman, with the 2015 Essex County Irishwoman of the Year Award. The Irish Heritage event recognizes the impact Irish men and women have had on the cultural, civic, political, law enforcement and economic history of the County.
"As I travel throughout New Jersey, I constantly tell people that Essex County's strength is our diversity. Highlighting the contributions that each ethnicity has made to our culture, economy and history helps create a better understanding of each other and develops a sense of community," DiVincenzo said. "Kevin O'Toole, Robert J. O'Toole and Margaret "Peggy" O'Boyle Dunigan, are three individuals who have helped shape the quality of life in New Jersey through their legal, government and civic work," he added.
Senator Kevin O'Toole currently serves on the Senate Budget and Appropriations Committee and the Senate State Government Committee. He has sponsored laws to reform welfare, strengthen the state's domestic violence statutes, increase penalties on businesses and individuals who engage in discrimination, preserve the state's drinking water supply through the preservation of Sterling Forest and mandate insurance coverage for mammograms and for those being treated for breast and cervical cancer. Senator O'Toole also has instituted the New Jersey Prepaid College Education Expense Program, which allows parents to start education savings accounts to enable them to pay for their child's college education. He has also sponsored legislation to ban 'Pay-to-Play' tactics, which would prohibit campaign contributions from vendors who have government contracts, and legislation, which established funding for full-day kindergarten programs in Abbot school districts.
Prior to being elected to the New Jersey Senate in 2007, Senator O'Toole served in the New Jersey General Assembly from 1995 to 2007, as Mayor of Cedar Grove in 1990, 1993 and 1995, and as Councilman of Cedar Grove from 1989-1996.
He earned his Bachelor's Degree in Political Science and Public Administration from Seton Hall University and his Juris Doctorate from the Seton Hall School of Law. During his collegiate career, he served a college internship in the office of former Congressman Joseph Minish and thereafter as a legislative aide to Senator John V. Kelly, Chairman of the Essex County Republican Committee. The Senator also had served a clerkship in the office of the State Attorney General and serves as a member of the Ramapo College Board of Governors.
"It is an honor that I am receiving this award because it's not about me in public service, it never has been," said Senator O'Toole. "I am here today with my mom, dad and wife and it is a special day for me to be the co-recipient of this Irishman of the Year Award with my father. My parents have instilled in me the value of working hard and being true to your family," he added.
Robert O'Toole is currently serving his third four-year term as Cedar Grove Councilman, where he is the council liaison member of the Historical Society, the Board of Education and the Senior Citizen Club. Mr. O'Toole has taken an active interest in the government of Cedar Grove and has served in a variety of capacities dating back to 2003. In addition to his current 12 years of service as a councilman, he also served as Deputy Mayor for three years and Mayor for two years. From July 2004 to July 2006, Mr. O'Toole was as a member of the Planning Board. In addition to his service governmentally in Cedar Grove, he has been a member of the Cedar Grove Volunteer Fire Department for more than 25 years, has been a board member on the Peckman River Regional Control Board since its inception in 2007 and, in his spare time, coaches little league baseball and football teams.
"I'd like to thank the County Executive for honoring me with the Irish Man of the Year award along with my son, Kevin," said Robert O'Toole. "This is a tremendous honor that you have bestowed upon us today and I am truly grateful," he added.
Peggy O'Boyle Dunigan is a graduate of Mount St. Dominic's Academy and attended Seton Hall University. She has been employed at Brookside Center for the past 25 years and served nine years as a Bloomfield Councilwoman. In 2013, she was The Friends of Brian Boru nominee.  Ms. O'Boyle Dunigan is a parishioner of Sacred Heart Church in Bloomfield and a member of its Parish Council. She has been a Trustee of the Oakeside Cultural Center, the United Way and Job Haines Home. She is also a member of the Giblin, Cryan, McGovern and Belleville Irish American Associations, is a member of the Newark Parade Committee, was Deputy Grand Marshal of the Newark Parade in 2001, is a member of the Nutley Irish American Alliance and was Deputy Grand Marshal of the Nutley Parade in 2008.
Ms. O'Boyle Dunigan's grandparents and great-grandparents were from Tipperary, Roscommon and Mayo, Ireland. Her parents, Harry and Margaret, were born in New Jersey. Peggy is the widow of Paul J Dunigan Jr. and mother of six children: Kevin, Peggy and her husband Richard Scherer, Susan, Nora and her late husband Steven Smeltzer, Treacy and Elizabeth. She is grandmother of Hannah and Kayley Scherer. Peggy is the sister of Kathleen O'Boyle, Maureen and Tom McAlea, Michael and Mary O'Boyle, Mary and Vincent O'Rourke, Marty and Judy O'Boyle, Rose and Patrick LePore and Grace Swab.
"Thank you County Executive DiVincenzo, I appreciate this and I am honored to be here with Senator O'Toole and Councilman O'Toole," said O'Boyle Dunigan. "I'm very proud of my Irish heritage and one of my proudest moments was when I was the Deputy Grand Marshall of the Newark Parade in 2001. It was a very exciting parade," she added.
The entertainment was provided by Paul Byrne and Jack McGarry of the Essex County Prosecutor's Office.
Essex County's Annual Irish Heritage Celebration is one of several cultural observances hosted by the Essex County Executive and the Essex County Office of Cultural Diversity and Affirmative Action. The events are held to raise awareness about the rich ethnic diversity and backgrounds of County employees.
Contact:   Anthony Puglisi
973-621-2542
Lauren Shears
973-621-1590