17 Apr

ESSEX COUNTY EXECUTIVE DIVINCEZO OUTLINES PLANS TO UPDATED PLAYGROUND, BASKETBALL COURT AND RESTROOM BUILDING IN ESSEX COUNTY VAILSBURG PARK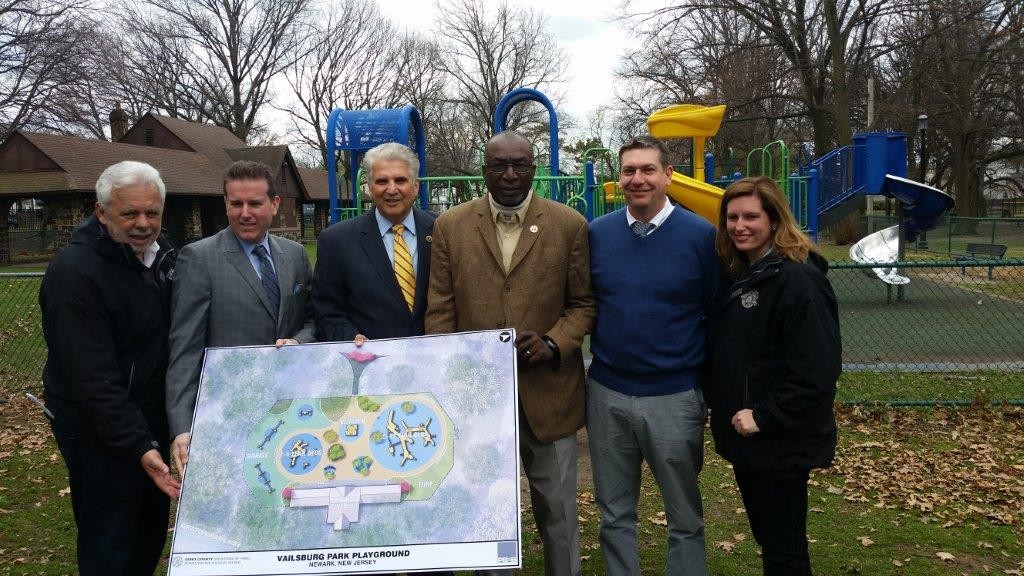 Newark, NJ – Essex County Executive Joseph N. DiVincenzo, Jr. announced plans to modernize the playground, basketball court and restroom building in Essex County Vailsburg Park on Tuesday, April 17th. The two improvement projects are part of the County Executive's ongoing initiative to provide up-to-date recreation facilities that meet the needs of the community.
"Playgrounds and basketball courts play a vital role in providing youth safe places to play, get exercise and learn social skills. Updating the facilities will ensure Vailsburg Park continues to be a viable recreation option for our children," DiVincenzo said. "Reopening the restroom building helps make our park more user-friendly," he added.
"I give the County Executive a lot of credit for working with the Freeholder Board and coming up with these great projects for our children," Freeholder President Brendan Gill said.
"This is another promise from the County Executive that has come to fruition. The people of this community really appreciate the improvements to the park," Freeholder Rufus Johnson said.
The first project includes updating the playground. The current playground structures and equipment, originally installed in 2003, are showing signs of regular wear and tear, and need to be replaced. The old apparatus and safety surface will be removed completely and replaced with separate playground equipment that is appropriate for children ages 2-5 years and 5-12 years. Passive sections of the playground will have a synthetic grass surface to reduce the need for maintenance. A four-foot tall fence will be installed around the playground to prevent children from running away and new benches, a water fountain for drinking, landscaping and trash receptacles will be installed. In addition, two dead trees will be removed and tree branches will be pruned.
The second project includes modernizing the basketball court and renovating the restroom building. The basketball court will be resurfaced and receive new backboards and surface coating. It was last upgraded in 2007, and the playing surface is showing signs of aging. The restroom building has been closed for several years and will be renovated with new fixtures, flooring, ceiling, electrical and HVAC systems, and windows and doors. In addition to the restrooms, space will be converted into locker rooms for school teams that use the fields.
PS&S Integrated Services from Newark was awarded a $47,350 professional services contract to design the new playground. Picerno-Giordano Construction from Kenilworth was awarded a publicly-bid contract for $1,071,261 to build the playground. SM Design and Consulting from Glen Ridge was awarded a professional services contract for $83,850 to design the basketball court and building upgrades. The construction contract for the basketball courts and building will be presented to the Freeholder Board for its review at its May 4th meeting. The Essex County Department of Public Works will monitor the projects to ensure delays are avoided. The playground project is funded through the Essex County Capital Budget and with a grant from the Essex County Recreation and Open Space Trust Fund. It is scheduled to be completed this summer.
Revitalizing Essex County Vailsburg Park
 The senior building received a comprehensive facelift in 2016. The six Little League baseball fields were upgraded and a synthetic grass surface was installed on one field near South Munn Avenue and Plymouth Street in 2007. In addition, upgrades were made to the basketball court and playground, decorative lighting was installed, park entrances were enhanced, ornamental fencing was installed around the park's perimeter, and tree maintenance was performed. Earlier in 2003, new equipment and a rubberized safety surface were installed in the playground.
The Essex County Park System was created in 1895 and is the first county park system established in the United States. The Park System consists of more than 6,000 acres and has 23 parks, five reservations, an environmental center, a zoo, Treetop Adventure Course, ice skating rink, roller skating rink, three public golf courses, golf driving range, two miniature golf courses, three off-leash dog facilities, a castle and the Presby Memorial Iris Gardens. Vailsburg Park is 30.32 acres and is the 10th largest park within the Essex County Park System. Land for the park was purchased in 1917 and major design improvements were completed in the 1920s.