18 Oct

ESSEX COUNTY EXECUTIVE DIVINCEZO ANNOUNCES REOPENING OF ELIZABETH AVENUE PLAYGROUND AND RESTROOM BUILDING IN ESSEX COUNTY WEEQUAHIC PARK AFTER MODERNIZATION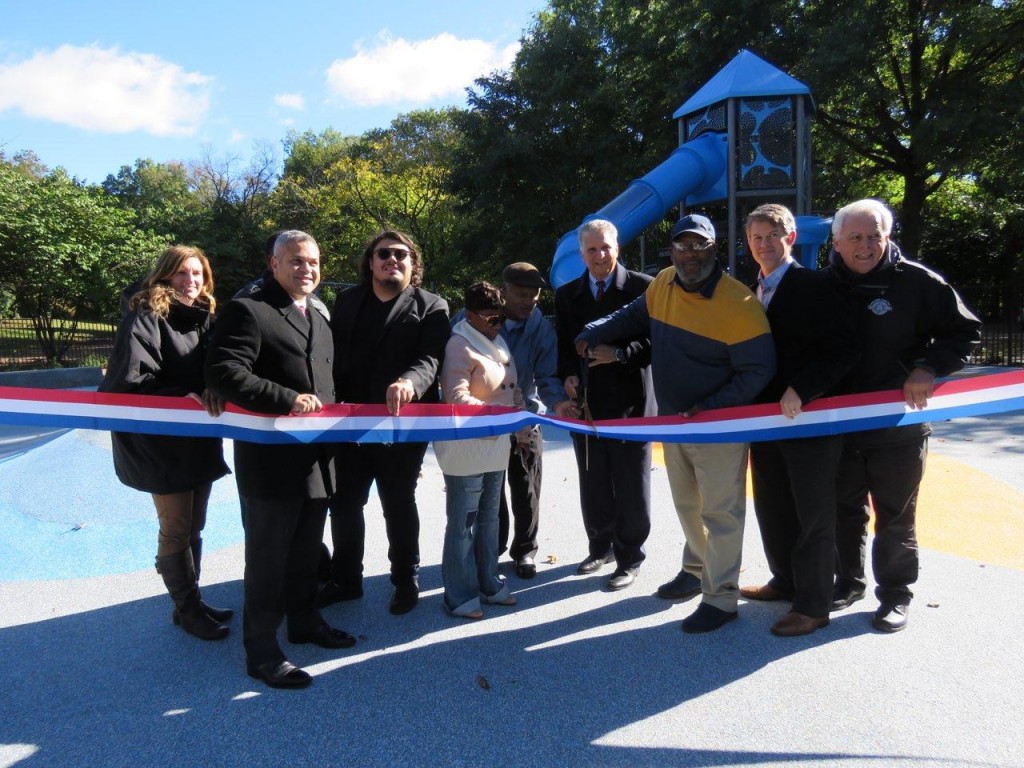 Newark, NJ – Essex County Executive Joseph N. DiVincenzo, Jr. announced that the playground and parks restroom building on Elizabeth Avenue in Essex County Weequahic Park will be reopening after receiving a comprehensive facelift and modernization on Thursday, October 18th. The project is part of the County Executive's ongoing initiative to provide up-to-date recreation facilities that meet the needs of the community.
"Playgrounds play a vital role in providing our children with interactive places to play, and promote exercise and a healthy lifestyle. This is why it's important that we provide up-to-date facilities that meet current safety requirements," DiVincenzo said. "This playground sees a lot of activity and was showing signs of wear and tear through its regular use. The upgrades to the playground and the restroom building make the area more inviting and user-friendly," he added.
"I want to thank the County Executive for his continued investment in our parks. The improvements are truly amazing," said North Ward Councilman Anibal Ramos, who was representing South Ward Councilman John James.
"Thank you to the County Executive for upgrading this facility that is greatly needed in this park," said Doug Freeman, Executive Director of the Weequahic Park Sports Authority. "This facility is special to us because it is where our organization started. And we enjoy our great partnership with the County," he added.
The current playground structures and equipment were last updated in 2006 and were showing signs of regular wear and tear, and needed to be replaced. The old apparatus and safety surface were removed completely and replaced with separate playground equipment that is appropriate for children ages 2-5 years and 5-12 years. A four-foot tall fence was installed around the playground to prevent children from running away and new benches, landscaping and trash receptacles were installed. The restroom building had been closed to public use for quite some time. It was completely removed and received new windows and doors, bathroom fixtures, floors, ceilings, HVAC system and lighting.
Bowman Consulting from Newark was awarded a $67,490 professional services contract to design the new playground and building improvements. Tsivicos Enterprises from Neptune was awarded a publicly-bid contract for $1,472,017 to build the playground and perform the building renovation. The Essex County Department of Public Works monitored the project to ensure delays were avoided. The playground project was funded through the Essex County Capital Budget and with a grant from the Essex County Recreation and Open Space Trust Fund. Work started in May and was completed in about five months.
Revitalizing Essex County Weequahic Park
In 2017, The First Tee facilities were upgraded and the entranceway, parking lot and field house were modernized at Weequahic Golf Course as part of a $3.1 million project. In 2016, one of the baseball fields was modernized with a synthetic grass playing surface, new fencing and scoreboard and named in honor of the late Bill Hicks, a long-time little league and high school baseball coach. Also in 2016, the community center was named in honor of Feldman Middleton, Jr., one of the founders of the Weequahic Park Association and the Weequahic Park Sports Authority, and the playground was named in honor of activist Carl Sharif. In 2015, the playground by Building 92 was modernized with new equipment and a rubberized safety surface. In 2012, the four entrances to Weequahic Park received a facelift with traffic islands, lighting, paving and landscaping to beautify the area and enhance pedestrian and traffic safety, and the basketball courts were named in honor of the late Delano Gordon, founder of Above the Rim. Essex County partnered with the National Football League to install a new half-mile fitness course with six exercise stations in 2010. Weequahic Golf Course received a major overhaul in 2009 as part of $7 million modernization project in each of the County's three public golf courses and the Weequahic Bridge was reconstructed for $3 million. A synthetic grass surface baseball field and four basketball courts were developed as part of a $1.8 million project in 2007. Essex County welcomed The First Tee and its nationally-recognized youth leadership training program to Weequahic Golf Course in 2006. The First Tee constructed a state-of-the-art, three-hole youth golf facility for its program adjacent to the golf course. The playground at Building 96 at the Chancellor Avenue entrance to the park was modernized with new equipment and rubberized safety surface in 2006. The tennis courts on Elizabeth Avenue were rebuilt in 2004.
DiVincenzo has partnered with the New Jersey Green Acres program, the NJ Department of Transportation, the Essex County Parks Foundation, Essex County Recreation and Open Space Trust Fund Advisory Board, Weequahic Park Association and The First Tee to secure grants to fund the improvements in Essex County Weequahic Park.
The Essex County Park System was created in 1895 and is the first county park system in the United States. It has been expanded to include about 6,000 acres of land and includes 20 parks, five reservations, an environmental center, a zoo, ice skating rink, roller skating rink, three public golf courses, golf driving range, miniature golf course, four dog parks, a castle, Treetop Adventure Course and the Presby Memorial Iris Gardens. Weequahic Park is 311.33 acres, is one of the original five County parks created in 1895 and is the second largest park in the Essex County System.