24 May

ESSEX COUNTY EXECUTIVE DIVINCENZO TO DEDICATE BRONZE PLAQUE IN MEMORY OF SAMUEL BRUMMER DURING ANNUAL MEMORIAL DAY OBSERVANCE AT ESSEX COUNTY VETERANS MEMORIAL PARK Brummer, owner of Hobby's Delicatessen & Restaurant, was World War II Veteran Essex County Employees with Military Experience also Recognized during Ceremony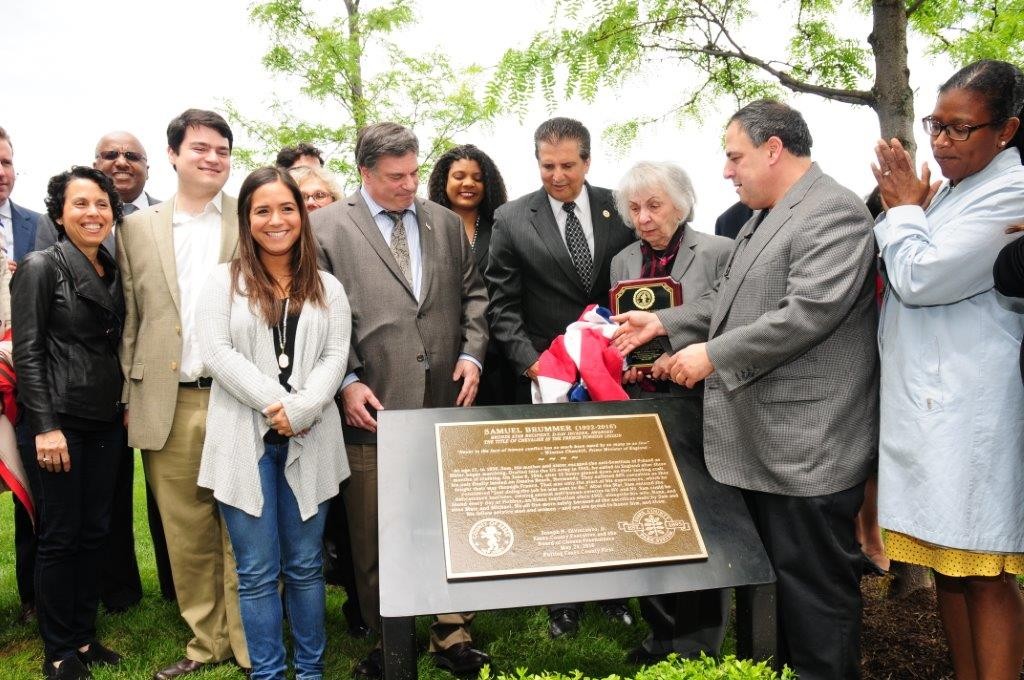 Newark, NJ – Essex County Executive Joseph N. DiVincenzo, Jr. dedicated a bronze plaque in honor of the late Samuel Brummer, a World War II veteran and owner of Hobby's Delicatessen & Restaurant, during Essex County's Annual Memorial Day Observance in Essex County Veterans Memorial Park in Newark on Tuesday, May 24th. In addition, Essex County employees who are veterans of the seven branches of the military represented in the Essex County Armed Forces monument will be acknowledged during the ceremony.
"Throughout our country's history, brave men and women have put their lives on hold to serve in the U.S. Armed Forces at home and abroad. Our Essex County Veterans Memorial Park was created to provide our veterans with a place to find serenity and comfort and provide a constant reminder to the public about their contributions and sacrifices," DiVincenzo said. "We are proud to stand with our veterans at this important occasion, give them our respect and thank them for representing our country with valor and bravery," he added.
"Sam Brummer created a landmark restaurant in Newark and was known as a smart businessman. However, Sam fought bravely during World War II and, after completing his military duty, continued to support our veterans and troops abroad," the County Executive said. "Placing a plaque here in Veterans Memorial Park is a fitting tribute to an individual who continued to serve our military long after his tour was complete," he pointed out.
"It is very humbling to stand before you as you honor our father and all those who have served their country in the armed forces," said Brummer's son Mark. "This is a priceless gift and it is probably the first time since my brother and I joined the business that we have not been at Hobby's during lunch hour," he joked.
"Our father's immigration to the United States, his service to his country and his commitment to his business and Newark really defined his life and, through those experiences, he taught us lessons in everyday life," said Brummer's son Michael.
"We are grateful for the sacrifices made by Sam Brummer and the many people like him," NJ State Senator and Essex County Deputy Chief of Staff Teresa Ruiz said. "Sam fought in an epic war and then came back and served his community," she said.
"Memorial Day is not just about a barbecue. It represents honoring the men and women in our military, and those that came before them, and those who will follow them," Assembly Speaker Emeritus Sheila Oliver said. "When someone joins the military, it is a life-altering experience. How proud we are today to honor Sam Brummer who meant so much to the City of Newark," she added.
"Memorial Day reminds us of the bravery and commitment to the ideals of freedom that our soldiers around the world fight for," Freeholder President Britnee Timberlake said. "We are proud to recognize Mr. Brummer's experiences as well as celebrate all veterans and soldiers in our military," she added.
"It is an honor to gather at their serene setting to remember our heroes who paid the ultimate price. Especially those close to us who gave so much – Jorge Oliveira, Joseph Fornoratto and now Sam Brummer," said Clarence Jackson of the Newark Disabled American Veterans said. "Sam was all in at the D-Day invasion, he was all in at the start of his successful business and he was all in when supporting soldiers overseas," he pointed out.
The plaque describes Mr. Brummer as a Bronze Star recipient and D-D-day invader who was awarded the title of Chevalier in the French Foreign Legion. "It begins with a quote from England Prime Minister Winston Churchill: "Never in the face of human conflict has so much been owed by so many to so few." It continues with: "At age 17, in 1939, Sam, his mother and sister escaped the anti-Semitism of Poland as Hitler began marching. Drafted into the U.S. Army in 1942, he sailed to England after three months of training. On June 6, 1944, after 12 hours pinned down on their landing craft, his unit finally landed on Omaha Beach, Normandy. They suffered 80 percent casualties as they fought their way through France. That was only the start of his experiences, which he considered 'just doing the job he was sent to do.' After the War, Sam entered the delicatessen business, owning several well-known eateries in New York and New Jersey. Sam could be found every day at Hobby's, an Essex institution since 1962, alongside his wife, Rona, and sons Marc and Michael. We all live more safely because of the sacrifices made by Sam and his fellow service men and women ~ and we are proud to honor him, and them."
Mr. Brummer was born in Graziowa, Poland, and immigrated to the United States with his mother and sister in 1939. Mr. Brummer was drafted into the U.S. Army in 1942 and set sail abroad the Queen Mary for Great Britain, where he was assigned to the 19th Infantry Division in Plymouth, England, the staging area for the invasion of France. On June 6, 1944 – "D-Day" – after being pinned for 12 hours in their LST off the coast of Normandy by German shelling, Brummer's unit finally entered the blood-red waters of the English Channel at Omaha Beach. He was the Number One Gunner on his 105mm Howitzer team, a part of the 115th regiment. The campaign decimated Mr. Brummer's unit as it suffered over 80 percent casualties. Sam himself lost hearing in his right ear from the constant blasts of his cannon.
After the war, Mr. Brummer entered the delicatessen business, working his way up the ladder to own several prominent delicatessens in New Jersey and New York, including the Clifton Deli in Lakewood, Kartzmann's in Newark, the Globe in lower Manhattan and, finally, in 1962, Hobby's Delicatessen and Restaurant in downtown Newark, where he worked with his sons, Marc and Michael, and his wife, Rona, until he passed away on November 15, 2015. Inspired by their father, Brummers' sons organized "Operation Salami Drop" from Hobby's in 2005. Through donations collected from around the country, Hobby's has shipped over 29 ½ tons of salamis to American soldiers in Iraq and Afghanistan.
Essex County Veterans Memorial Park became the first new Essex County park developed in Newark in 80 years when it opened in September 2009. It was created on the site of an antiquated parking garage that opened in the 1960s and had become an community eyesore. The 2.7-acre park has about 400 trees, shrubs and perennials, two small meadows, the Armed Forces Memorial, walking paths and decorative metal archways at the entrances. The Armed Forces Memorial includes a circular water fountain surrounded by 10 flagpoles and a short granite wall. The flags of the seven branches of the military – Army, Navy, Air Force, Marines, Coast Guard, Army National Guard and Air Force National Guard – fly from 25-foot poles while the New Jersey State flag and Essex County flag fly from 30-foot poles and the American flag flies from a 35-foot pole at the center of the display. At the base of each flag pole on the granite wall is the official agency or government seal.