25 May

ESSEX COUNTY EXECUTIVE DIVINCENZO REOPENS PLAYGROUND AND TENNIS COURTS AT ESSEX COUNTY GROVER CLEVELAND PARK Almost $1.2 Million of Improvements are Made to Modernize Recreation Facilities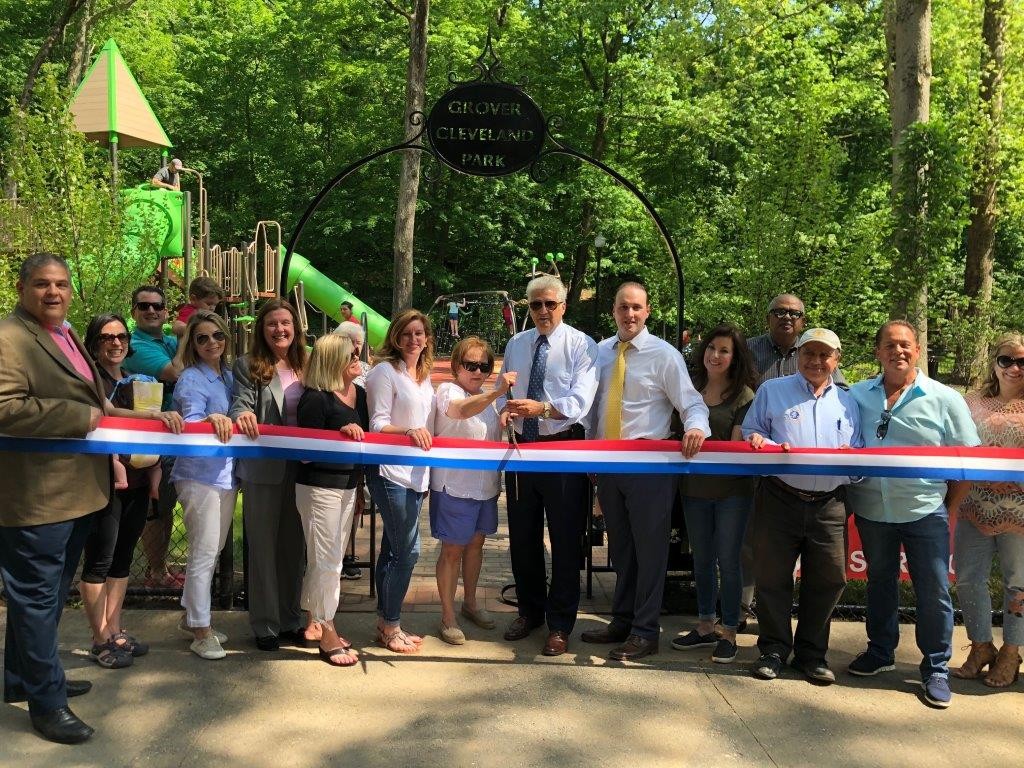 Caldwell/Essex Fells, NJ – Essex County Executive Joseph N. DiVincenzo, Jr. announced the project to modernize the playground and tennis courts in Essex County Grover Cleveland Park was completed on Friday, May 25th. The two projects represent almost $1.2 million in improvements to the park's recreation facilities.
"We are so happy that work to renovate the playground and tennis courts were completed before Memorial Day. This weekend, when families are enjoying the long weekend, we hope they come to Grover Cleveland Park and enjoy the new recreation facilities," DiVincenzo said. "We are so pleased to have the Grover Cleveland Park Conservancy as our partners. Their input provides guidance on how we can continually renew the park so that is meets the needs of the community," he added.
"The new playground and tennis courts are upgrades that make Grover Cleveland Park an even nicer destination," Freeholder Len Luciano said.
"We want to thank Joe DiVincenzo for the attention given to Grover Cleveland Park. I come here often and see all the upgrades and they are all beautiful," Caldwell Mayor Ann Dassing said.
"Olmsted had a unique way of creating public parks and I think what we have accomplished here with the playground respects his original design," Grover Cleveland Park Conservancy President Diane Mensinger said.
The playground equipment, originally installed in 2003, was replaced because of regular wear and tear, and so that the safest conditions were being provided for children. There are two plays areas near the Children's House: one for children ages 2-5 and one for children ages 5-12. There are climbing apparatus, slides, spinners and swings for both age groups, including handicap-accessible swings. A new feature is a miniature zip line. The facility has a rubberized safety surface in areas where play equipment is located. There are also grassy areas where children can run and play. In the center of the playground is a seating area from where parents can watch their children.
PS&S Integrated Services from Newark received a $51,500 professional services contract to design the playground. Picerno-Giordano Construction from Kenilworth was awarded an $899,945 publicly-bid contract to build the playground. The Department of Public Works monitored the project to ensure delays were avoided. The playground upgrade is being funded through the Essex County Budget. Work began March 1st and was completed in just three months, which is one month ahead of schedule.
The four-court tennis facility was modernized with a new surface, fencing and equipment. It was last repaved and updated in 2004. The Department of Public Works designed the project in-house and monitored the construction so delays were avoided. Sita Construction from Goshen, N.Y., was awarded a publicly bid contract of $214,750 to perform the construction.
Revitalizing Essex County Grover Cleveland Park
In 2013, handicap accessibility was improved with the creation of ADA-compliant parking spaces in the Buttonwood Road lot, installation of handicap accessible tables in the picnic area, repairing walking paths to meet ADA guidelines, installation of signage and making various landscaping upgrades. In 2012, the banks, spillway and weirs of Pine Brook, as it passes through Essex County Grover Cleveland Park, were upgraded as part of a $722,653 project. In 2006, an $825,000 facelift included installing an aeration system in the pond and planting landscaping around the pond edge, renovating the skate house and updating the baseball/softball field with new decorative lights, bleachers, benches and fencing. In 2004, $800,000 was invested to make improvements to the Children's House and renovate the tennis courts. In 2003, an $850,000 project included a makeover for the playground with modern equipment and a rubberized safety surface and the repaving of walking paths and the parking lot. Also in 2003, the Runnymede Road Bridge was reconstructed.
The Essex County Park System was created in 1895 and is the first county park system established in the United States. The Park System consists of more than 6,000 acres and has 23 parks, five reservations, an environmental center, a zoo, Treetop Adventure Course, ice skating rink, roller skating rink, three public golf courses, golf driving range, two miniature golf courses, three off-leash dog facilities, a castle and the Presby Memorial Iris Gardens. Opened in 1916, Essex County's Grover Cleveland Park is 41.48 acres, making it the seventh largest in the park system.