06 May

ESSEX COUNTY EXECUTIVE DIVINCENZO PRESENTS SIX ESSEX RESIDENTS WITH OUTSTANDING SENIOR CITIZEN AWARDS

ESSEX COUNTY EXECUTIVE DIVINCENZO PRESENTS SIX ESSEX RESIDENTS WITH OUTSTANDING SENIOR CITIZEN AWARDS
Annual Awards Program Recognizes Seniors who Contribute to the Success of the Senior Club Program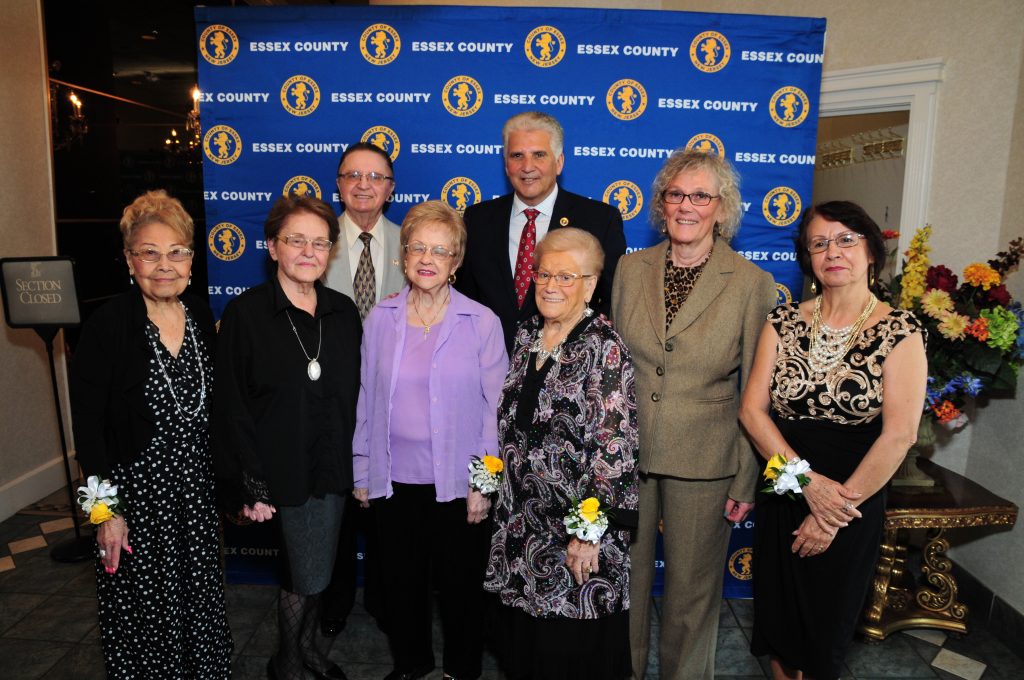 Belleville, NJ – Essex County Executive Joseph N. DiVincenzo, Jr. presented six Essex County residents with Outstanding Senior Citizen Awards during the 44th Annual Senior Citizen Luncheon at The Chandelier in Belleville on Thursday, May 2nd. Approximately 150 Essex County seniors attended the annual celebration, which recognizes members of Essex County's various senior clubs for their dedication and commitment to the program.
"Congratulations to our Senior Club members who are being recognized today. Whether you offered a kind word for your fellow members, gave a ride to someone who needs transportation, organized a trip or served as a club officer, your volunteer efforts are the reason this program continues to thrive," DiVincenzo said. "Your actions contributed to a welcoming atmosphere where others can strike up new friendships, spend an afternoon and remain connected to their community. Thank you for Putting Essex County and our Seniors First," he added.
"I want to commend the honorees for their commitment to their clubs. We appreciate all you do to make these clubs successful," Freeholder Patricia Sebold said.
The Outstanding Senior Citizen Awardees are as follows:
Charlie Luszez is a member of the Branch Brook Cherry Blossom Senior Club. He has served as vice president for the last five years and has been a member of the senior club for 30 years. Mr. Luszes makes sure members are welcome to every meeting with a fresh pot of coffee. Club members also thanked Luszez for serving his country during the Korean War.  Iris Altan is a member of the Independence Park Monday Club. Ms. Altan joined the club in 2012. Because of her willingness to help the club, she was appointed as the Sunshine Person, mailing get well cards to sick members, in 2014. Ms. Altan became an Officer with the club in 2019 because of her perpetual willingness to help others and assist with any task.  Beverly Monahan is a member of the Watsessing Park Senior Club. Since joining the club, Ms. Monahan has been the first to volunteer whenever needed. When the secretary retired, she took over the duties in addition to becoming the treasurer. Ms. Monahan has been a great asset to the club, making sure meetings run smoothly and refreshments are available. Catherine Pannullo is a member of the Independence Park Friday Club. Ms. Pannullo has been a wonderful member and officer for many years. She always volunteers selling specials at bingo and assisting with the trips planned by club members. She also takes care of organizing the club's social events. Francisca Bonilla is a member of the Casa Israel Adult Medical Day Center. Born in Guayama, Puerto Rico, 90 years ago, Ms. Bonilla came to America more than half a century ago. She opened her own restaurant, "The Last Stop," which was well known in the community for its delicious cuisine and authenticity. She later established a clothing boutique which was known for its distinction and elegance. She is being recognized for her kindness and enthusiasm. Sherry Meyer is the Roseland Senior Citizen of the Year. Ms. Meyer has been a member of the Roseland Senior Citizen Club for eight years and currently serves as the publicity chairperson, newsletter editor, secretary and event co-chair. She is a member of the Roseland Senior Advisory Board, which advises the mayor and council about issues affecting older Americans. Ms. Meyer also is a member of the University Women of West Essex and the Seniors Helping Seniors, a tutor with Literacy Volunteer of America, and a poll worker for the Essex County Board of Elections.
The annual award program was sponsored by the Essex County Department of Parks, Recreation & Cultural Affairs. Essex County hosts 11 senior citizen clubs, and each one has the opportunity to nominate someone from their club for the award. This year, six clubs participated in the awards ceremony.
The Essex County Park System was created in 1895 and is the first county park system established in the United States. The Park System consists of more than 6,000 acres and has 23 parks, five reservations, an environmental center, a zoo, Treetop Adventure Course, ice skating rink, roller skating rink, three public golf courses, golf driving range, two miniature golf courses, four off-leash dog facilities, a castle and the Presby Memorial Iris Gardens.