10 May

ESSEX COUNTY EXECUTIVE DIVINCENZO PRESENTS SIX ESSEX RESIDENTS WITH OUTSTANDING SENIOR CITIZEN AWARDS Annual Awards Program Recognizes Seniors who Contribute to the Success of the Senior Club Program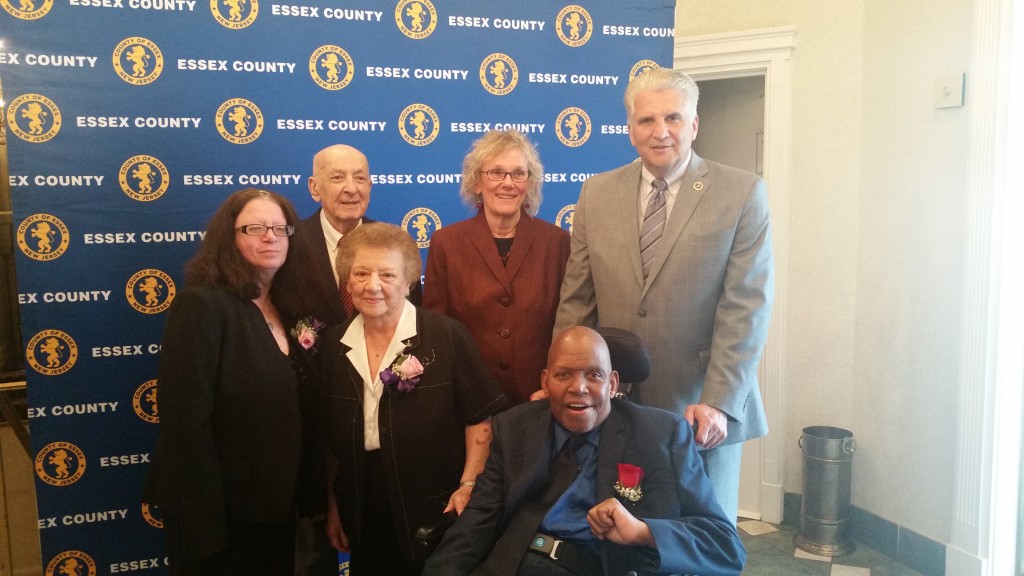 Belleville, NJ – Essex County Executive Joseph N. DiVincenzo, Jr. presented six Essex County residents with Outstanding Senior Citizen Awards during the 43rd Annual Senior Citizen Luncheon at The Chandelier in Belleville on Thursday, May 10th. Approximately 150 Essex County seniors attended the annual celebration, which recognizes members of Essex County's various senior clubs for their dedication and commitment to the program.
"Congratulations to our Senior Club members who are being recognized today. Whether you offered a kind word for your fellow members, gave a ride to someone who needs transportation, organized a trip or served as a club officer, your volunteer efforts are the reason this program continues to thrive," DiVincenzo said. "Your actions contributed to a welcoming atmosphere where others can strike up new friendships, spend an afternoon and remain connected to their community. Thank you for Putting Essex County and our Seniors First," he added.
The Outstanding Senior Citizen Awardees are as follows:
Peter Sabio is a member of the Branch Brook Cherry Blossom Club. A member a member of the club for many years, Mr. Sabio enjoys meeting once a month with the group to socialize and visit with friends. He always lends a helping hand when needed and is a pleasure to be with.
Dawn Romano is a member of the Independence Park Monday Club. Ms. Romano has been a member of the Independence Park Monday Club for the past four years. She serves as the sergeant at arms, attends all the meetings and helps with various tasks and activities when needed.
Ann Petti is a member of the Independence Park Friday Club. Ms. Petti has been a member of the Friday Club for over 20 years. She has held various positions with the club, and currently serves as the sergeant at arms. She also assists at all of the club's functions.
Michael Swiney is a member of The North Ward Center's Casa Israel. Mr. Swiney is a great example of positivism and perseverance. Despite the many difficulties he has experience, he has not lost his ability to live a happy life. He is an example for anyone who has the privilege to know him.
Sr. Anne Marie Crowley is the Roseland Senior Citizen of the Year. After many years of teaching science, she began her parish ministry at Our Lady of the Blessed Sacrament Church in Roseland in 1984. She began working with youth and then took over outreach to hospitalized and homebound church members, facilitated the Bereavement Support Group and coordinated the annual Remembrance Mass and the Mass for the Anointing of the Sick.
Michael Maiorano is a member of the Watsessing Park Senior Club. Mr. Maiorano has been an asset to the club since joining. He is a very active individual and is always there if needed. Mr. Maiorano brings goodies for the club members and assists with calling bingo games.
The annual award program was sponsored by the Essex County Department of Parks, Recreation & Cultural Affairs. Essex County hosts 11 senior citizen clubs, and each one has the opportunity to nominate someone from their club for the award. This year, six clubs participated in the awards ceremony.
The Essex County Park System was created in 1895 and is the first county park system established in the United States. The Park System consists of more than 6,000 acres and has 23 parks, five reservations, an environmental center, a zoo, Treetop Adventure Course, ice skating rink, roller skating rink, three public golf courses, golf driving range, two miniature golf courses, three off-leash dog facilities, a castle and the Presby Memorial Iris Gardens.