23 Feb

ESSEX COUNTY EXECUTIVE DIVINCENZO PRESENTS 13TH ANNUAL STATE OF THE COUNTY ADDRESS Multi-Media Presentation Outlines Achievements and Improvements of 2015 and Outlook for Things to Come in 2016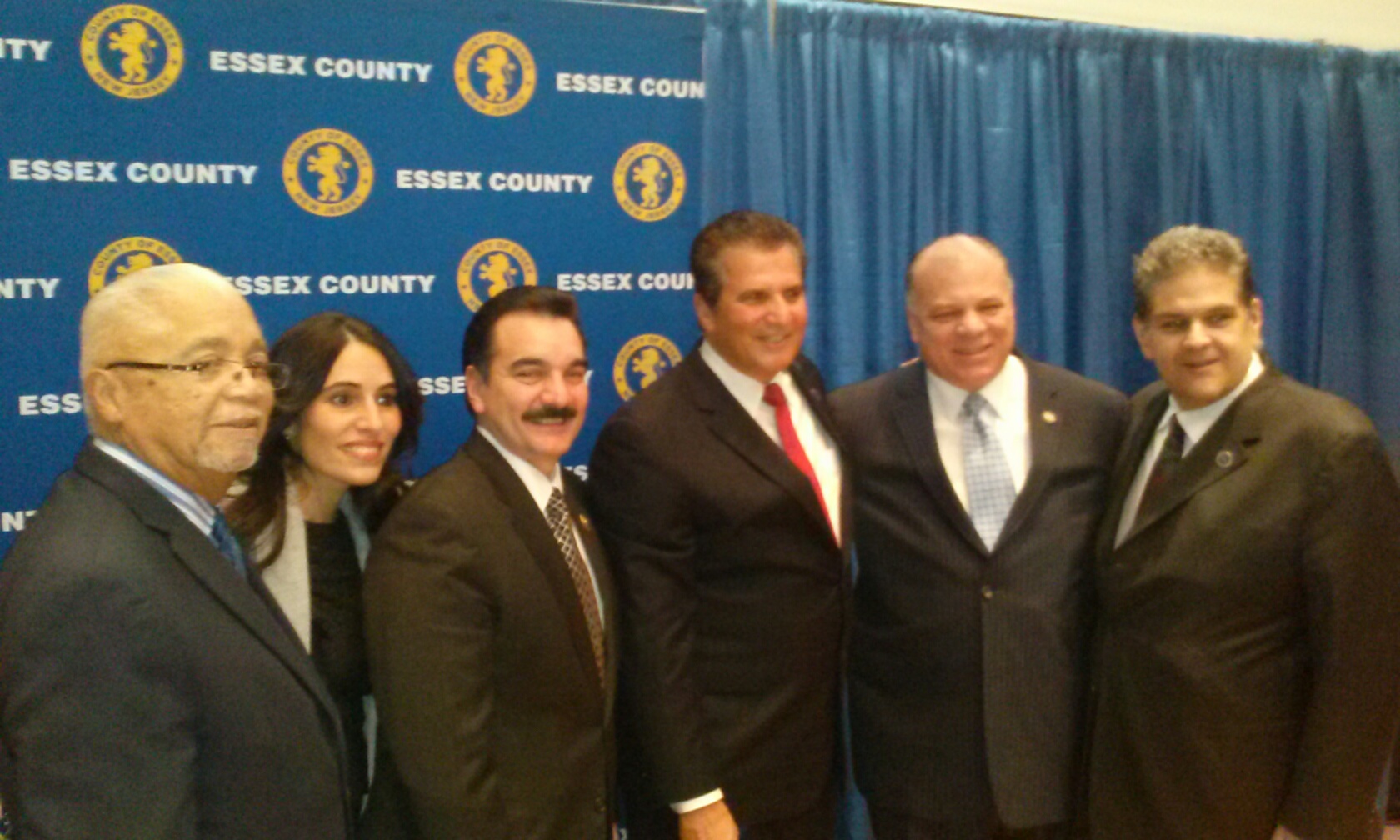 Cedar Grove, NJ – Essex County Executive Joseph N. DiVincenzo, Jr. presented his 13th annual State of the County Address on Monday, February 22nd in the Essex County Hospital Center in Cedar Grove. The multi-media presentation outlined County achievements and improvement projects completed in 2015, highlighted the services and programs offered by Essex County and announced plans for 2016.
The County Executive noted that the construction projects undertaken, services and programs offered, and initiatives created during his administration have immediate impacts on residents' quality of life, but they also "build the foundation for tomorrow's successes." He added, "We have been committed to creating a government that celebrates the past, serves the present and protects the future."
Government and political leaders took to the podium before the County Executive's presentation to comment on the progress made in Essex County.
Congressman Donald Payne said when he was on the Freeholder Board he questioned the need for a dog park. The next morning the County Executive phoned him to explain why it was a good idea. "Since then I understand the mission Joe has been on and it has been a pleasure standing with him," Payne said.
"It is such a great thing to have a person with vision, who sees what can be and then gets everyone else to believe in it. Putting Essex County First is not just a slogan – it's an example of great leadership," Senate President Stephen Sweeney said.
"You see all the people assembled in this room and you can tell it's about Joe's leadership. I have always said Joe is like a jeweler who has made Essex County vibrant. He is such a tenacious fighter for the people of Essex," Assembly Speaker Vincent Prieto said.
"I am proud to show my support for Joe DiVincenzo. He has been a real friend to the City of Newark, which is evidenced by the improvements being made in the parks and schools. Things are happening because of the leadership of Joe DiVincenzo," Newark Mayor Ras Baraka said.
"Tonight you will hear how his governance has left an indelible mark on our county. He has done a fine job and I encourage all you here to continue to stand behind him," Essex County Democratic Committee Chairman Leroy Jones.
Prior to DiVincenzo taking the podium, a short video featuring children playing on the Glenfield Park Playground, studying nature at the Essex County Environmental Center, learning to play golf with The First Tee program and engaging in an after school program at the West Side Park Community Center, and recent Vocational Technical School graduates participating in a trade apprenticeship program. Those interviewed shared what they liked about the activity in which they were involved and other programs they expected the government to offer.
The Essex County Vocational Technical School District had a very productive year, with Bloomfield Tech earning its second National Blue Ribbon Award and Newark Tech receiving its first. "And the greatest part is that this culture of excellence is echoed at each of our campuses and will prosper when we open the new Congressman Donald M. Payne Campus," he said, referring to the demolition of the former United Hospital site in Newark and the planned groundbreaking for the new Vocational Technical School Campus, where the student bodies of Bloomfield Tech and North 13th Street Schools will be consolidated.
To better prepare young adults between the ages of 17 and 24 for the workforce, the Department of Citizen Services and Economic Development, Training and Employment relocated youth-oriented programs at one site in the new One-Stop Youth Resource Center. This includes the Juvenile Day Reporting Center, which places clients in a structured program that offers mainstream educational and personal growth opportunities.
The Division of Welfare, which will be renamed as the Division of Family Assistance and Benefits, incorporated national strategies, such as case banking, to better serve clients. Now, instead of just one worker servicing their file, clients can obtain assistance from a team of workers. This, coupled with the restructuring of office space, has helped the division improve its processing of food stamp applications from a 65 percent rating to 95 percent.
At the Correctional Facility, a pilot program, "Staying Connected," helps support soon-to-be released inmates with treatment, education, employment, healthcare, housing and family connection support. "This initiative, the only one of its kind in the state, provides initial assessments and services while the participant is still at our facility, and continues to provide guidance after release. This effort not only supports the individual, but, in the long term, reduces the rate of recidivism," the Executive said.
In the Parks System, modernized playgrounds were opened in Weequahic, Brookdale, Glenfield and Branch Brook parks and the South Mountain Recreation Complex; the West Side Park Community Center was renovated; and upgrades were made at Weequahic and Francis Byrne golf courses.
"Essex County is made of great people, many who dedicate their lives for the benefit of others, and our tradition of naming landmarks and special places after legacy makers still continues," DiVincenzo said. He pointed out that the Glenfield Park basketball courts were named for long-time Montclair coach Bobby Hurt, the Learning Center at Turtle Back Zoo was named for Randi and Marc E. Berson and a different zoo building was named for Ronald Mount. Plaques were dedicated for the late Essex County Register Larrie West Stalks, WBGO Executive Cephas Bowles, former State and County Democratic Chairman Ray Durkin, Freeholder and Irvington Councilman D. Bilal Beasley and Rutgers-Newark History Professor Clement Price. In addition, a statue of Dr. Martin Luther King, Jr. was erected in front of the Hall of Records.
"Our administration has had many accomplishments, achieved through the teamwork and vision of an outstanding group of department and division directors, and the contributions of our 3,500 employees," he noted. "Together, we have committed ourselves to improving the quality of life for our communities, to do more with less and continue good management and best practices from year to year," he added.
DiVincenzo also noted that long-standing issues facing Essex County were resolved during the past 13 years, including having two Federal Consent Orders over the Correctional Facility and Juvenile Detention Center lifted, reopening the Historic Courthouse, developing the former United Hospital site, preserving land at Hilltop, selling the SoHo property and building a modern Hospital Center.
"We have accomplished a great deal, but we will not stop. There will be cranes reaching into the sky, shovels in the ground and programs developed to assist our residents," he said.
In 2016, plans will be developed to expand and renovate Essex County West Caldwell Tech Campus, develop new playgrounds in Belleville Park, West Side Park, Riverbank Park and Independence Park. Worn fields in Weequahic and Vailsburg will be transformed into vibrant athletic complexes with rubberized running tracks and synthetic surface baseball and softball fields. Irvington Park will receive a new playground, the community building is being renovated and will be renamed for the late Freeholder Beasley.
Two new symbols of remembrance will adorn our open spaces – a statue of Major League Baseball Hall of Famer Monte Irvin in Monte Irvin Orange Park and a statue of a canine at the Essex County Eagle Rock September 11th Memorial to symbolize the dogs who assisted with the rescue and recovery after the attacks.
Other projects include the development of 77 acres of Hilltop property as Cedar Grove Park, and, at Turtle Back Zoo, the opening of an African Adventure Exhibit featuring giraffes, a new café building and enclosed pony ride trail and the creation of a Sea Turtle Recovery Center.
"My life in public service started on the ballfields of Branch Brook Park, where thousands of kids filtered through organized athletic programs, some flying to Puerto Rico for tournaments, some even going on to play professional ball. I realize now that the seeds of my accomplishments were planted by my work with children, and so it seems that everything I do, consciously or unconsciously is for the next generation," DiVincenzo said. "2016 will be filled with commitment, dedication and a drive to continue Putting Essex County First," he concluded.