10 Nov

ESSEX COUNTY EXECUTIVE DIVINCENZO HOSTS SIXTH ANNUAL VETERANS DAY OBSERVANCE AT ESSEX COUNTY VETERANS MEMORIAL PARK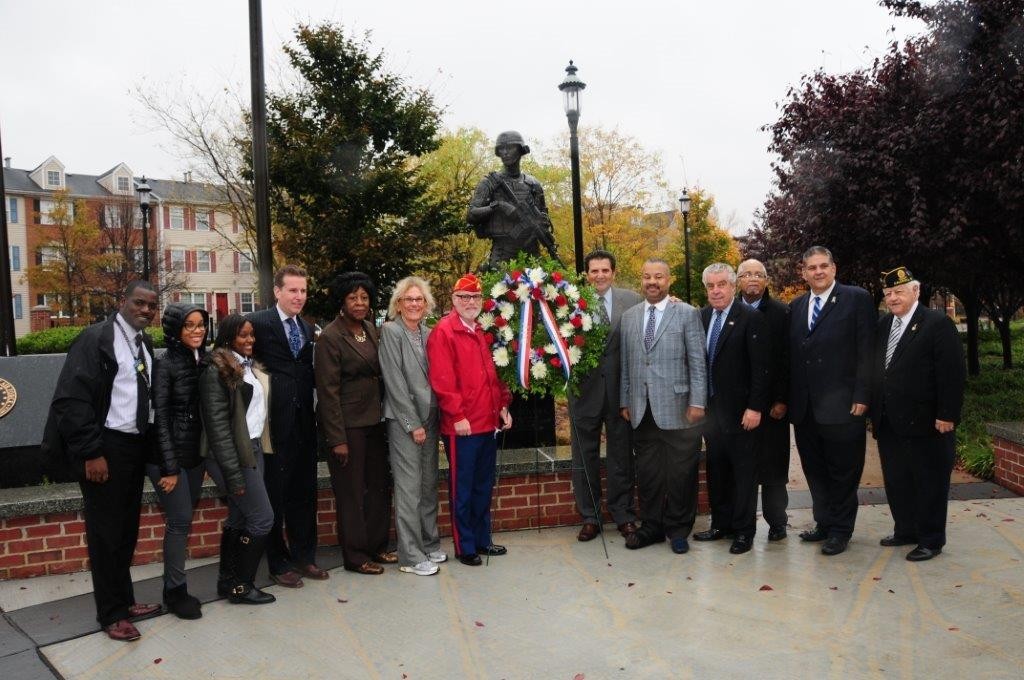 Newark, NJ – Essex County Executive Joseph N. DiVincenzo, Jr. joined with U.S. military veterans from Essex County at the Sixth Annual Essex County Veterans Day Observance in Essex County Veterans Memorial Park in Newark on Tuesday, November 10th. Essex County employees who are veterans of the seven branches of the military represented in the Essex County Armed Forces monument were invited to attend the ceremony.
"Throughout our country's history, brave men and women have put their lives on hold to serve in the U.S. Armed Forces at home and abroad. Our Essex County Veterans Memorial Park was created to provide our veterans with a place to find serenity and comfort and provide a constant reminder to the public about their contributions and sacrifices," DiVincenzo said. "We are proud to stand with our veterans at this important occasion, give them our respect and thank them for representing our country with valor and bravery," he added.
Congressman Donald Payne announced he would like to honor veterans by donating a flag that has flown over the Capitol Building in Washington, D.C., to every veterans' lodge, chapter and organization. "This is my way of saying thank you for what you've done and acknowledge the sacrifice our veterans and their families have made," he added.
"There is a cost of war and there is a residual cost to rehabilitate veterans and help their families. But it's a win-win for the community and I'd like to thank the County Executive and Freeholders for the assistance and support they have given," said Clarence Jackson of DAV Chapter 3 from Newark.
"I am proud to join everyone here today at this celebration of the greatest heroes of our country," NJ State Senator and Deputy Chief of Staff Teresa Ruiz said.
"Ceremonies like this one remind us of the bravery of the men and women in our armed forces to keep us safe. Today, we celebrate you for your patriotism, your willingness to serve and your decision to make personal sacrifices for others," Freeholder Vice President Brendan Gill said.
Sheriff Armando Fontoura pointed out that about 20 percent of his staff is comprised of veterans. "I feel proud to have served my country and honor others who also have," he noted.
"I want to express my gratitude for all our military personnel have done," Deputy Chief of Staff William Payne said, sharing a story of when his uncle returned home from serving in World War II. "It was an honor to have my uncle in our lives," he said.
Essex County Veterans Memorial Park became the first new Essex County park developed in Newark in 80 years when it opened in September 2009. It was created on the site of an antiquated parking garage that opened in the 1960s and had become an community eyesore. The 2.7-acre park has about 400 trees, shrubs and perennials, two small meadows, the Armed Forces Memorial, walking paths and decorative metal archways at the entrances. The Armed Forces Memorial includes a circular water fountain surrounded by 10 flagpoles and a short granite wall. The flags of the seven branches of the military – Army, Navy, Air Force, Marines, Coast Guard, Army National Guard and Air Force National Guard – fly from 25-foot poles while the New Jersey State flag and Essex County flag fly from 30-foot poles and the American flag flies from a 35-foot pole at the center of the display. At the base of each flag pole on the granite wall is the official agency or government seal.