11 Nov

ESSEX COUNTY EXECUTIVE DIVINCENZO HOSTS SEVENTH ANNUAL VETERANS DAY OBSERVANCE AT ESSEX COUNTY VETERANS MEMORIAL PARK Veterans and Essex County Employees Mike Festa and Clarence Jackson are Presented with Essex County Community Star Awards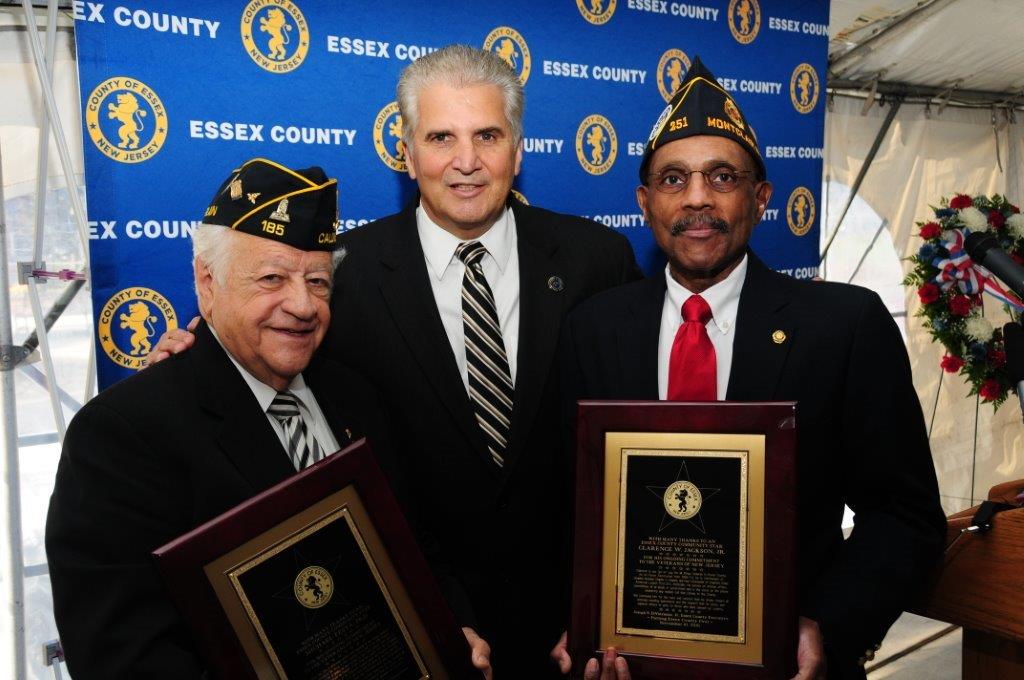 Newark, NJ – Essex County Executive Joseph N. DiVincenzo, Jr. presented the Seventh Annual Essex County Veterans Day Observance in Essex County Veterans Memorial Park in Newark on Thursday, November 10th. During the ceremony, the County Executive recognized U.S. Military Veterans and Essex County employees Michael Festa (U.S. Army) and Clarence Jackson (U.S. Navy) with Essex County Community Star Awards. After serving their country, Mr. Festa and Mr. Jackson have continued to serve by dedicating themselves to helping other veterans. In addition, Essex County employees who are veterans of the seven branches of the military represented in the Essex County Armed Forces monument were invited to attend the ceremony.
"Throughout our country's history, brave men and women have put their lives on hold to serve in the U.S. Armed Forces at home and abroad. Our Essex County Veterans Memorial Park was created to provide our veterans with a place to find serenity and comfort and provide a constant reminder to the public about their contributions and sacrifices," DiVincenzo said. "We are proud to stand with our veterans at this important occasion, give them our respect and thank them for representing our country with valor and bravery," he added.
"Mike Festa and Clarence Jackson are examples of people who never stopped serving their country, even after their military service ended. Both men have dedicated themselves to helping their fellow veterans, serving as advocates for veterans' rights and raising awareness about the sacrifices that men and women in the military make," DiVincenzo said.
Michael Festa currently serves as the Essex County Health Officer. He served from 1947-1948 in the 69th Division of the U.S. Army. He was an inactive reservist from 1948-1950 and was recalled in 1950 to serve in the 101st Airborne Division until 1951. He continued his service to the country with the National Guard and Reserve of New Jersey and was the North Jersey Chair of the Employee Support Guard and Reserve from more than 25 years. In 2001, Mr. Festa was honored with the Lifetime Achievement Award for more than 20 years of service. He was also honored with the President's Gold Award for dedicating more than 500 hours of service for each year of his service. He continues his work with the Guard and Reserve to this day. He has been a member of the American Legion Post 185 in Caldwell for 25 years where he serves as Chaplain.
"I respect all that Joe DiVincenzo has done on behalf of military personnel. It allows guys like me to do what I do," Mr. Festa said. "I appreciate this recognition," he added.
Clarence Jackson, a resident of Montclair, currently is the Veterans Affairs Officer in the Essex County Division of Senior Services. He served in the U.S. Air Force from 1968-1974 and is Commander of Disabled American Veterans Chapter 3, Newark. He also serves as Chairman of the Armed Services and Veterans Affairs Committee of the Montclair NAACP, the Legislative Committee for Disabled American Veterans and the Essex County Veterans Advisory Board; member of the NJ State NAACP Armed Services and Veterans Affairs Committee, and Passaic County Veterans Stakeholder Providers Committee; Co-Chairman of the Essex County Veterans Stakeholder Providers Group and Second Vice Commander of American Legion Post 251, Montclair. He formerly served as Commander of the Crawford Crews American Legion Post 251, member of the 8th Congressional District Veterans Advisory Committee and First Junior Vice Commander of Disabled American Veterans. He received the Montclair Branch NAACP Tuskegee Airman Award and NJ State Conference of the NAACP Soldier of Valor Award in 2014, the Essex County Board of Chosen Freeholders Veterans Observance Honoree in 2012, and the Men of Vision Award honoring a lifetime of service to veterans in 2011.
"I will continue with what I started at the Memorial Day Ceremony in May, that the County Executive is 'all in' when it comes to helping veterans – from the Veterans Memorial Park, Glendale Cemetery, Jorge Oliveira Statue and memorial plaque for Samuel Brummer," Mr. Jackson said.
Other Essex County elected officials shared their thoughts about Veterans Day.
"I grew up in a military household and am proud to say thank you to our veterans. I know the sacrifices that our service men and women make, and their families make as well," Freeholder President Britnee Timberlake said. "It is important to me to celebrate veterans because they have done so much for us," Freeholder Patricia Sebold said.
"It was an honor for me to serve my country. I had a great feeling every time I put the uniform on," Sheriff Armando Fontoura said. "The County Executive picked two fine individuals to recognize today. Clarence Jackson and Mike Festa continue to serve their country with distinction," he added.
"Clarence Jackson has always been in involved in civic affairs and Mike Festa has energy that defies his age," Assemblyman Thomas Giblin said. "Joe DiVincenzo has always done the right thing to honor and highlight the contributions of our veterans," he added.
Essex County Veterans Memorial Park became the first new Essex County park developed in Newark in 80 years when it opened in September 2009. It was created on the site of an antiquated parking garage that opened in the 1960s and had become an community eyesore. The 2.7-acre park has about 400 trees, shrubs and perennials, two small meadows, the Armed Forces Memorial, walking paths and decorative metal archways at the entrances. The Armed Forces Memorial includes a circular water fountain surrounded by 10 flagpoles and a short granite wall. The flags of the seven branches of the military – Army, Navy, Air Force, Marines, Coast Guard, Army National Guard and Air Force National Guard – fly from 25-foot poles while the New Jersey State flag and Essex County flag fly from 30-foot poles and the American flag flies from a 35-foot pole at the center of the display. At the base of each flag pole on the granite wall is the official agency or government seal.