27 Jun

ESSEX COUNTY EXECUTIVE DIVINCENZO HOSTS ESSEX COUNTY LGBTQ PRIDE MONTH CELEBRATION Star of Essex County Awards are Presented to Rutgers Tyler Clementi Center Director Maren Greathouse, RAIN Foundation Founder Elaine Helms and Rutgers School of Nursing François-Xavier Bagnoud Center Director of the Health Care Services Peter Oates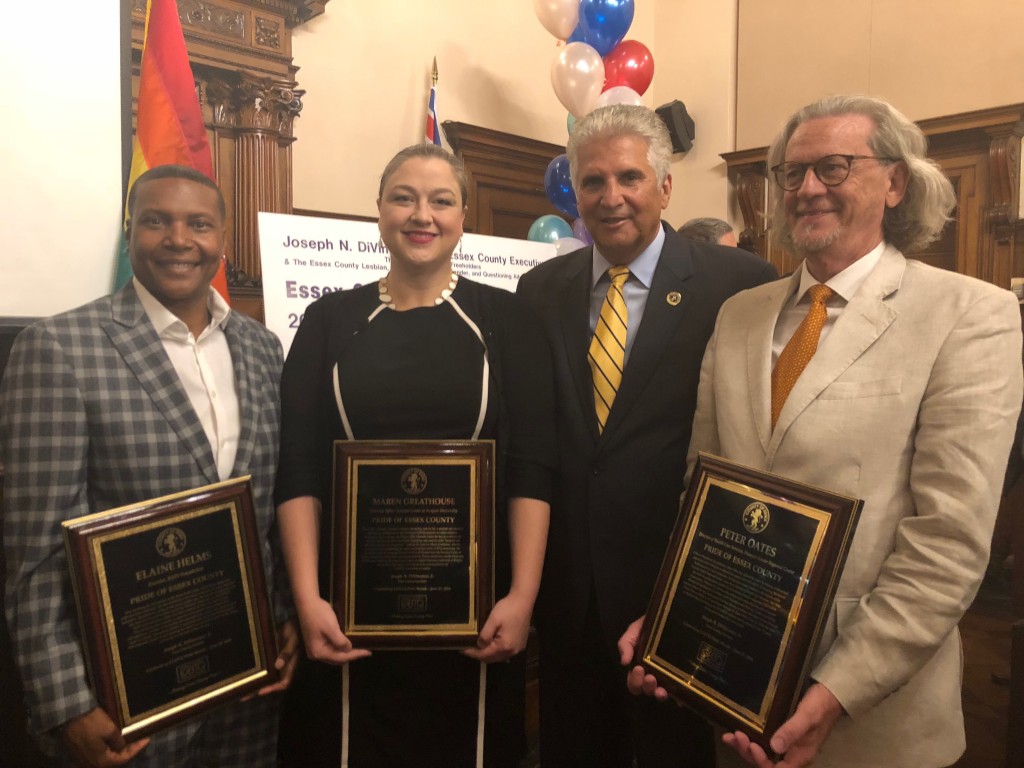 Newark, NJ – Essex County Executive Joseph N. DiVincenzo, Jr. and the Essex County Lesbian, Gay, Bisexual, Transgender and Questioning Advisory Board hosted the Essex County LGBTQ Pride Month Celebration on Wednesday, June 27th. During the ceremony, DiVincenzo presented Pride of Essex County Awards to Elaine Helms, founder of the RAIN Foundation; Peter Oates, Director of Health Care Services for the François-Xavier Bagnoud Center at Rutgers School of Nursing, and Maren Greathouse, Director of the Tyler Clementi Center at Rutgers University, in recognition of their support in the struggle for equality for the members of the LGBTQ community.
"Every year in Essex County, we celebrate Pride Month and our LGBTQ community. It is our opportunity to raise awareness about issues that affect this segment of the population and recognize outstanding members of our own LGBTQ community," DiVincenzo said. "Our three honorees have done the difficult work in their respective fields of providing support, protecting human rights and promoting understanding," he remarked.
Elaine Helms is the founder of The RAIN Foundation, which is the first-ever shelter exclusively focused on meeting the needs of homeless LGBTQI adolescents in New Jersey. Through RAIN, she has been able to assist LGBTQI adolescents by providing emergency shelter and resources to further their education, teach financial responsibility, connect them to employment and long-term housing opportunities, and services to support their mental well-being.
A former employee of The Port Authority of NY and NJ, Helms is a survivor of the 9/11 attacks on the World Trade Center. Through this traumatic experience, she saw first-hand the critical difference that access or lack thereof to medical services can make. Becoming a disenfranchised worker, sustaining injuries and being dropped by her insurance providers made her think about those less fortunate than her. This inspired her to establish the HBP Reaching Adolescents In Need (RAIN) Foundation. Since 2013, Helms has helped hundreds of youth to turn around their lives, develop healthy relationships, find employment, find stable housing and lead lives that contribute positively to society through the RAIN Foundation.
"I am humbled and honored to receive this award. I started the RAIN Foundation because I saw a need in the community and I wanted to help. And to date we have been able to assist 100 young people," Helms said.
Peter Oates, RN, MSN, NP-C, ACRN, is the Director of Health Care Services for the FXB Center, Rutgers School of Nursing. He is also Clinical Director of the Northern New Jersey Regional Partner of the Northeast Caribbean AIDS Education & Training Center and serves as clinical consultant to two community-based residential programs located in Essex County. One serves HIV infected homeless gay youth and the other serves HIV infected women who are victims of domestic violence and sexual abuse.
Mr. Oates began his nursing career after training at the Thomas Guy School of Nursing in London, England, from 1972-1975. He came to Newark in 1984 to serve as Nurse Manager of the Neurosurgical ICU and later the Surgical/Trauma ICU at University Hospital. During his time at University Hospital, he entered the field of HIV/AIDS care in 1994 working as the Nurse Clinician in the Infectious Disease Practice.
After receiving a master's degree in nursing in 1999 and certificates as an adult nurse practitioner and AIDS Certified Registered Nurse, he joined the François-Xavier Bagnoud Center, Rutgers School of Nursing in 2000. He is a member of the NJ Chapter of Association of Nurses in AIDS Care, the Gay & Lesbian Medical Association and a member of the Rutgers University Gender & Sexuality Workgroup. He is also a founding and current board member of the African American Office of Gay Concerns in Newark which provides HIV prevention, testing services and resources to the LGBTQ community.
"People ask me why I settled in Newark, but it was Newark who found me. This is a wonderful place to serve the community. It's important to recognize that the health issues affect gay men, lesbians and transgender individuals are totally different, and we need to understand these differences," Oates said.
Maren Greathouse is the Director of the Tyler Clementi Center at Rutgers University. She oversees all strategic planning, research efforts, academic initiatives, external partnerships and operations. Prior to assuming this role, Greathouse founded and served as the inaugural Director of the LGBTQ and Diversity Resource Center at Rutgers University-Newark, Director of LGBT Student Development at Towson University and Student Support Specialist at the LGBT Campus Center at University of Wisconsin-Madison.
She graduated from St. Cloud State University with a Master's of Science degree in Social Responsibility, a program grounded in the study of social identity politics, structural oppression and the social responsibility of individuals, organizations, governments and the private sector. Greathouse is currently pursuing a degree in Higher Education Leadership with the Rutgers Graduate School of Education.
"I am proud to be honored for the work that we are doing. I am honored and excited to serve Essex County," Greathouse said.
The Essex County LGBTQ Pride Month Celebration is the part of a yearlong cultural series created by County Executive DiVincenzo to highlight Essex County's diversity. Other cultural heritage celebrations include African American History Month, Irish Heritage Month, Women's History Month, Italian Heritage Month, Jewish Heritage, Portuguese Heritage and Latino Heritage. Created in December 2010, the Essex County Lesbian, Gay, Bisexual, Transgender and Questioning Advisory Board is one of several volunteer advisory boards that discusses issues affecting the community and provides recommendations to the Essex County Executive.