29 Jun

ESSEX COUNTY EXECUTIVE DIVINCENZO HOSTS ESSEX COUNTY LGBTQ PRIDE MONTH CELEBRATION Star of Essex County Awards are Presented to North Jersey Pride, Inc. Executive Director C.J. Prince Hetrick-Martin Institute-New Jersey Executive Director Ashawnda Fleming, PhD and North Jersey Community Research Initiative Executive Director Brian McGovern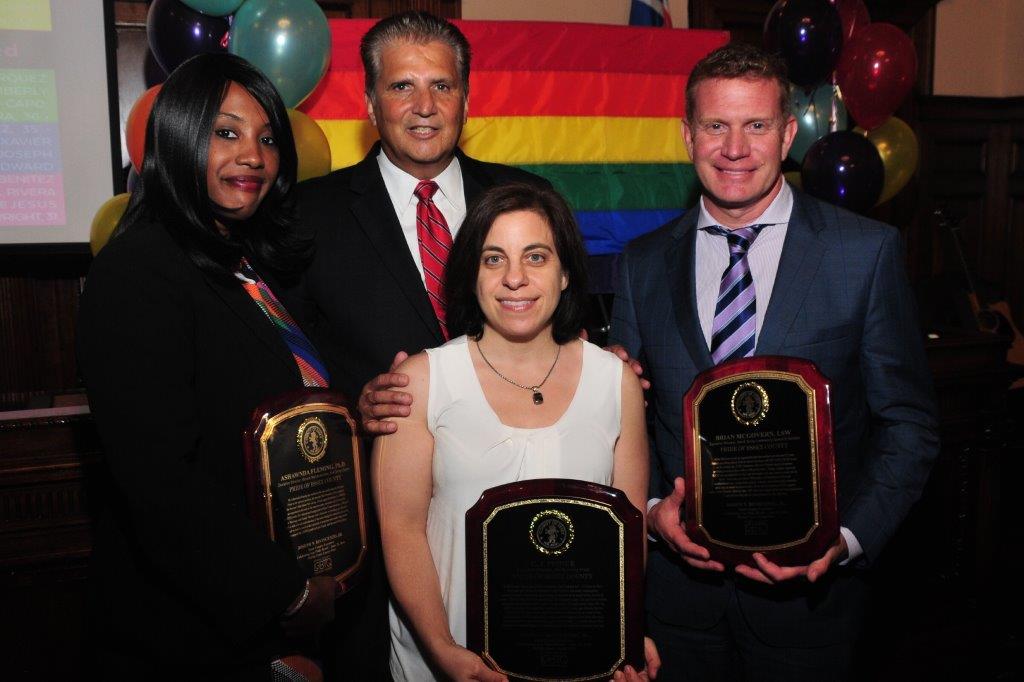 Newark, NJ – Essex County Executive Joseph N. DiVincenzo, Jr. and the Essex County Lesbian, Gay, Bisexual, Transgender and Questioning Advisory Board hosted the Essex County LGBTQ Pride Month Celebration on Wednesday, June 29th. During the ceremony, DiVincenzo presented Pride of Essex County Awards to Ashawnda Fleming, PhD, MS, Executive Director of Hetrick Martin Institute-New Jersey; Brian McGovern, Executive Director of the North Jersey Community Research Initiative, and C.J. Prince, Executive Director of North Jersey Pride, Inc., in recognition of their support in the struggle for equality for the members of the LGBTQ community.
"We are proud to celebrate Essex County Pride Month and raise awareness about the LGBTQ community in Essex and how this segment of the population has contributed to the development of our County. Our year-long cultural heritage series recognizes the diversity of our residents and it is fitting that we include the LGBTQ community," DiVincenzo said. "Our three honorees have worked hard to provide support, promote understanding and protect human rights," he noted.
Dr. Ashawnda Fleming is the Executive Director of the Hetrick Martin Institute-New Jersey Chapter. She has more than 18 years of non-profit management experience, including serving as the Vice President of Development for Prevent Child Abuse New Jersey. She has also served as a Development Consultant to national non-profit groups, including the Make-A-Wish Foundation and First Candle/SIDS Alliance. Her career of service began in the late 1990s when she served as the Vice President of Clinical Compliance for the largest substance abuse and mental health provider in the Mid-Atlantic region and managed a staff of 150. She also managed a national research initiative at Georgetown University, which was funded by the National Institutes of Health. Dr. Fleming served as a working member on the Campaign for Mental Health Reform with Senator Kennedy and other local and national legislators. The Campaign was instrumental in passing the National Mental Health Parity Act of 2008. She holds a Ph.D. in Sociology from American University in Washington, D.C., a Master's Degree in Marriage and Family Therapy from St. Thomas University in Miami, Fla., and a Bachelor's Degree in Mass Communications from Bethune-Cookman University in Daytona Beach, Fla.
"Through HMI, I have the opportunity to change lives and save lives, and there's no better work," said Fleming, who gave credit to HMI for her being nominated for the Essex County Award. "Children today live with traumatic events every day. It is up to us to steward them to a future where violence is not necessary," she added.
Brian McGovern, LSW is the Chief Executive Officer of North Jersey Community Research Initiative (NJCRI) in Newark. Prior to being selected as Chief Executive Director in April 2009, he served as Treatment, Prevention and Support Service Director at NJCRI. He has also worked as Special Project Administrator in Ambulatory Care Services for University of Medicine & Dentistry of New Jersey and as the Associate Director for Queens Health Network, Queens, N.Y. Mr. McGovern has over 25 years of experience in providing and managing prevention, treatment, and education services for HIV/AIDS and Mental Health. His experience includes roles at several New York organizations, including Mental Health/Substance Abuse Manager for HeathFirst, Program Director for Housing Works, Inc., Mental Health Counselor for Montefiore Medical Center, Program Supervisor at South Shore Association for Independent Living, Executive Director of Just Kids Foundation, in addition to maintaining a small psychotherapy practice in New York. He has served as a Board Member for the NJ AIDS Walk and the Jersey City Episcopal Community Development Corp. He holds both a Bachelor's and Master's Degree in Social Work from Adelphi University, New York; is a Licensed Social Worker in New Jersey and New York, and also holds his School Social Work certification.
"I am very honored to be here and receive this award," McGovern said. "Sadly, when I was growing up, AIDS was putting the LGBTQ community on the map, but that's why so many of us were looking for our identity. What happened in Orlando is a new reminder of why we need to stand up and be more aware," he added.
C.J. Prince is executive director of North Jersey Pride, a non-profit organization that produces events and programming to bring the LGBTQ and ally communities together to increase awareness, understanding and empathy, and to make the world a safer place for LGBTQ youth. The North Jersey Pride Festival takes place annually on the second Sunday of June in Maplewood. Ms. Prince also is a journalist, and has written hundreds of articles for magazines, including Entrepreneur, The Advocate, Chief Executive, and Working Mother, and for online sites such as Huffington Post and VillageQ. Her two proudest achievements will always be her daughters, Maya and Eliana.
"Thank you to the County Executive and the Advisory Board for this incredible honor. We started our event as just a picnic and fortunately the Township of Maplewood and the community were so welcoming and supportive of us. This year, the Pride Festival welcomed over 5,000 attendees," Prince said. "The Festival and events like this help bring different communities together. It reminds us that we can't achieve equality on our own, we have to work together," she said.
Musical entertainment was provided by Essex County LGBTQ Advisory Board Member Gary Paul Wright. The National Anthem was performed by Calvin Pearson, an employee with the Essex County Surrogate's Office. Rev. Joseph Vereen, Jr., a member of the Essex County LGBTQ Advisory Board, gave the invocation.
The Essex County LGBTQ Pride Month Celebration is the part of a yearlong cultural series created by County Executive DiVincenzo to highlight Essex County's diversity. Other cultural heritage celebrations include African American History Month, Irish Heritage Month, Women's History Month, Italian Heritage Month, Jewish Heritage, Portuguese Heritage and Latino Heritage. Created in December 2010, the Essex County Lesbian, Gay, Bisexual, Transgender and Questioning Advisory Board is one of several volunteer advisory boards that discusses issues affecting the community and provides recommendations to the Essex County Executive.