18 Oct

ESSEX COUNTY EXECUTIVE DIVINCENZO HOSTS ESSEX COUNTY ITALIAN-AMERICAN HERITAGE MONTH CELEBRATION Essex County Chief of Staff Philip B. Alagia and Chrill Director of Operations Deborah DelVecchio Honored as 'Stellas della Contea di Essex'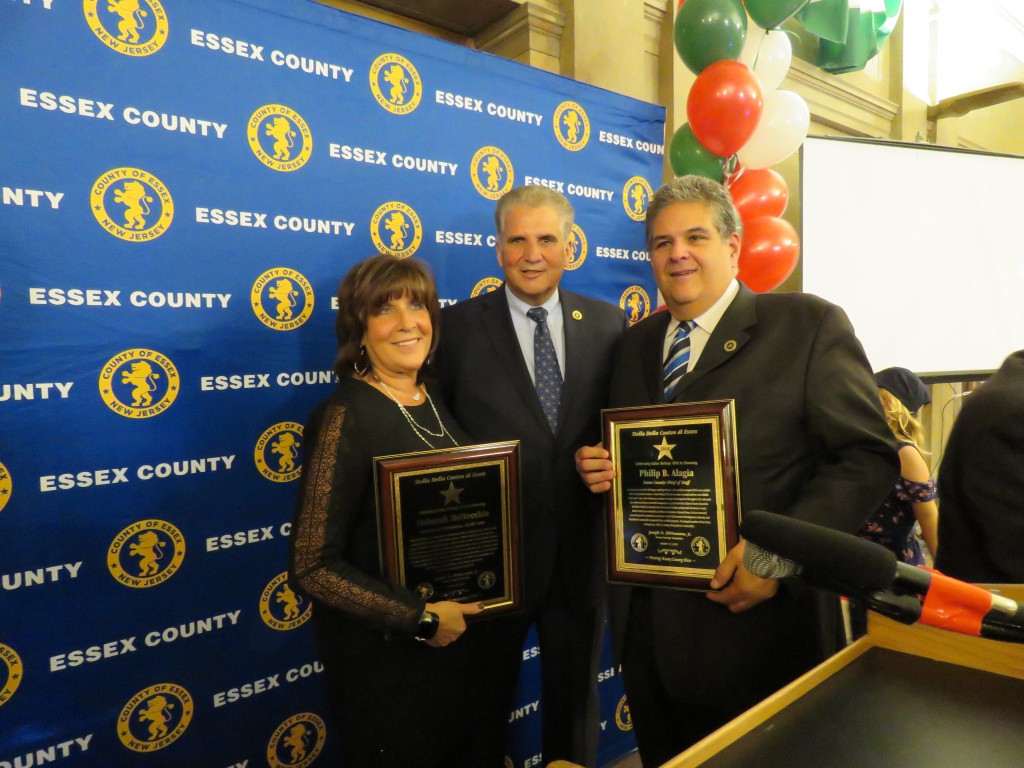 Newark, NJ – Essex County Executive Joseph N. DiVincenzo Jr. hosted the 2018 Essex County Italian-American Heritage Month celebration on Friday, October 19th in the lobby of the Essex County Hall of Records. Decorated in the festive Italian colors of red, white and green, the lobby was a standing-room only backdrop for the cultural festivities.
During the cultural event, DiVincenzo recognized Philip B. Alagia, Essex County Chief of Staff,m and Deborah DelVecchio, Director of Operations with Chrill Care, as "Stellas della Contea di Essex" (Stars of Essex County). The honor recognizes them for their commitment to improving the lives of all residents and their community involvement.
"Our celebration is an opportunity to recognize the contributions that Italian Americans have made to the history and culture of Essex County. Today, we are honoring two proud Italian-Americans who have positively impacted our world and our County," DiVincenzo said. "Phil Alagia and Deborah DelVecchio each have made an impact on their communities and have continuously improved the quality of life for our residents," he added.
Philip B. Alagia, a resident of Roseland, has served as Essex County Chief of Staff under Essex County Executive Joseph N. DiVincenzo, Jr. since 2003, and oversees the Essex County Department of Corrections and the Essex County Juvenile Detention Center.
Alagia is a member of the Board of Directors of the Robert Treat Academy, which has been recognized as a National Blue-Ribbon school. He also serves on the New Jersey Economic Development Authority Board and the Military Park Partnership Board. Alagia is a member of the Board of Trustees for Project Pride, Inc. Along with Star Ledger Columnist Emeritus Jerry Izenberg, they were among the organizers of the Pride Bowl Football game. Project Pride has raised over $4 million to support academic enrichment programs, recreational activities and college scholarships for the children of Newark. In addition, Alagia is the founder of the New Jersey Pride Softball Organization. The organization is a nationally recognized softball program for girls which has sent hundreds of players to college on softball scholarships. Phil coached the Newark Project Pride Softball Team to the first National Championship of the Major League Baseball-Sponsored RBI Program.
Born and raised in Newark's North Ward, he attended Our Lady of Good Counsel and Ridge Street elementary schools, and Montclair Immaculate High School, where he played football, wrestled and threw for the track and field team. He earned a degree in Accounting from Rutgers University where he continued his wrestling career. He is married to Anmarie Daunarummo, and they have three children, Philip, Giuliana and Carmela.
"I want to thank Joe D. not just for today, but for all the years we have been together. There have been times when we've gotten mad at each other but I'm always excited to come to work. We've had a great ride together," Alagia said.
Deborah DelVecchio, a resident of Cedar Grove, is the director of operations at Chrill Care. DelVecchio oversees the daily operations of the company and ensures its mission to provide quality home care services to individuals and families threatened by illness is met.
Previously, DelVecchio was a Senior Administrative Analyst at the Essex County Division of Senior Services. There, she aided seniors and disabled individuals by advising them on the services available at Essex County. Over her career, she has had experience in various roles including Business Manager and Administrative Analysts at Essex County Department of Health and Rehabilitation, Health Consulting, and Vice President at DelCare Inc.
In addition, Deborah has been a member of the Board of Trustees for RWJ Clara Maass Foundation, member of the Board of Trustees for Essex County College, Chairwoman of the Verona Democratic Committee, and currently Chairwoman of the North Caldwell Democratic Committee.
"I first started working for Essex County when I was 17 years old, left to concentrate on my family's business and returned to Essex County to work for the best Essex County Executive. Joe really knows how to get things done and it was an honor to work with you," DelVecchio said.
Father Paul Donohue from St. Lucy's Church in Newark gave the invocation. Jasmine Ramos from the Essex County Clerk's Office sang the National Anthem. Julian Hernandez performed during the musical interlude.
The Essex County Italian Heritage Celebration is part of a yearlong series of programs initiated by County Executive DiVincenzo to raise awareness about and celebrate the diversity of Essex County.