30 Oct

ESSEX COUNTY EXECUTIVE DIVINCENZO HOSTS ESSEX COUNTY ITALIAN-AMERICAN HERITAGE MONTH CELEBRATION Bloomfield Mayor Michael Venezia and Community Activists Eleanor Guarino from Belleville and Carmel Portuese from West Orange are Honored as 'Stellas della Contea di Essex'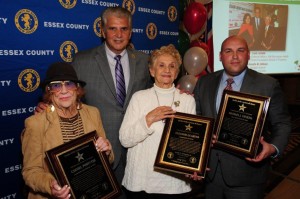 Newark, NJ – Essex County Executive Joseph N. DiVincenzo Jr. hosted the 2017 Essex County Italian-American Heritage Month celebration on Monday, October 30th in the lobby of the Essex County Hall of Records. Decorated in the festive Italian colors of red, white and green, the lobby was a standing-room only backdrop for the cultural festivities.
During the cultural event, DiVincenzo recognized Michael Venezia, Mayor of Bloomfield; Eleanor "Butterfly" Guarino, community activist in Belleville, and Carmel "Red" Portuese, community activist in West Orange, as "Stellas della Contea di Essex" (Stars of Essex County). The honor recognizes them for their commitment to improving the lives of all residents and their community involvement.
"Our celebration is an opportunity to recognize the contributions that Italian Americans have made to the history and culture of Essex County. Today, we are honoring three proud Italian-Americans who have positively impacted our world," DiVincenzo said. "Mayor Venezia, Eleanor Guarino and Carmel Portuese each have made an impact on their communities and have improved the quality of life for our residents," he added.
Mayor Michael Venezia was elected as the youngest Mayor of Bloomfield on November 5, 2013 and was re-elected in 2016. He has brought real progress to the Township of Bloomfield by stabilizing property taxes, attracting new developments that are creating jobs and increasing property values, keeping neighborhoods safe and leading with a new sense of pride, energy and hope for the future.
Under Venezia's leadership, Bloomfield became the eighth municipality in New Jersey to ensure paid sick leave and one of the first to offer a $15 an hour living wage to all township employees. He has preserved open space by purchasing 13 acres of land that was originally set for 110 townhomes. He's undertaken sweeping public safety reform by bringing in an outside Police Director and the Bloomfield Police Department is now seen as a model for diversity and effectiveness around the nation. And he's led the city to record economic development that's allowed his team to stabilize property taxes.
A lifelong township resident, Venezia and his wife Laura are raising their daughter in Bloomfield because he knows what a special place it is to grow up in. He is a product of the Bloomfield public school system, graduating from Demarest Elementary School, Bloomfield Middle School and Bloomfield High School Class of 2000.
He graduated from Monmouth University in 2005. He just recently completed his Master's in Administrative Science from Fairleigh Dickinson University. After college, he joined the office of Congressman Bill Pascrell, then moved on to the office of Senator Frank Lautenberg and now works as Director of Human Resources for the Essex County Vocational Technical Schools.
"My story is probably very similar to many of those gathered here today, with my family settling in Bloomfield in the 1960s. It's very special to be part of this celebration and I thank County Executive DiVincenzo for the great honor," Venezia said.
Eleanor Guarino is a community activist from Belleville and previously served as a personnel assistant in human resources for the U.S. Postal Service. Her life is a tale of two cities: in Belleville, where her immigrant parents settled and she grew up in a six-family house, and in Nutley, where she and her late husband raised their four children.
Back in Belleville for the last 32 years, she became active in town activities, bringing attention to situations that impacted children and the neighborhoods in which they lived. She began by successfully opposing a 21-unit condominium development behind her house. Next came the "clean-up" of Branch Brook Gardens housing, which today is in outstanding condition. Then came her pursuit of improvements to Essex County Belleville Park in Belleville, where she ultimately partnered with County Executive DiVincenzo to modernize the playground and the senior building.
"My respect and love of my hometown has never left my heart. I appreciate the County Executive putting up with my nagging and pushing to get a better playground for Belleville Park and upgrade the seniors' clubhouse. When I see something in the community that can be fixed, I do it because the outcome benefits us all," Ms. Guarino said.
Carmel Portuese worked at Best & Co. from 1945 to 1953, at which time she became a stay-at-home mother. She married Charles Portuese in 1950, and they enjoyed a wonderful marriage and enjoyed traveling. They celebrated their 50th wedding anniversary in 2000 and Charles passed away a few months after that. From their union, they were blessed with two children, Elizabeth (married to John Banka) and Philip (married to Roseann Lombardi) and two grandchildren, Philip and Andrew.
She has been a West Orange Democratic Committeewoman since 1987. Mrs. Portuese held several volunteer positions to promote politicians and support activities at local churches since 1950. She currently volunteers with the St. Joseph's Church Rosarians, St. Augustine Monastery-West Orange and St. Catherine's Infirmary (Dominican Nuns). She has also served as a social committee volunteer for Mount Saint Dominic Academy, Our Lady of Lourdes School and church volunteer, St. Mary's Hospital-Orange Ladies Auxiliary and as an aide for Senator Pat Dodd.
Mrs. Portuese has received several honors over the years; most recently she was an honoree at the Giblin Association's 59th Anniversary function for her 60-year involvement in the Essex County Democratic Committee. She has also been recognized by the West Orange Democratic Committee with an award for her long and distinguished service.
"I really enjoy politicking and getting around the community. I enjoy every part of it and that's why I'm still doing it," Ms. Portuese said. She commended DiVincenzo on the transformation of the South Mountain Recreation Complex and the success of Turtle Back Zoo, adding that her grandchildren and great-grandchildren visit there.
Essex County Health Officer Michael Festa gave the invocation. Kathy Brown from the Board of Chosen Freeholders Office sang the National Anthem. Anthony Tabish performed during the musical interlude.
The Essex County Italian Heritage Celebration is part of a yearlong series of programs initiated by County Executive DiVincenzo to raise awareness about and celebrate the diversity of Essex County.