09 Nov

ESSEX COUNTY EXECUTIVE DIVINCENZO HOSTS EIGHTH ANNUAL VETERANS DAY OBSERVANCE AT ESSEX COUNTY VETERANS MEMORIAL PARK World War II Veteran and Cedar Grove Resident James Caruso is Presented with the Essex County Community Star Award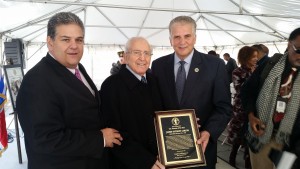 Newark, NJ – Essex County Executive Joseph N. DiVincenzo, Jr. hosted the Eighth Annual Essex County Veterans Day Observance in Essex County Veterans Memorial Park in Newark on Wednesday, November 8th. During the ceremony, the County Executive presented an Essex County Community Star Award to 92-year-old World War II veteran and Cedar Grove resident James Caruso. In addition, Essex County employees who are veterans of the seven branches of the military represented in the Essex County Armed Forces monument were invited to attend the ceremony.
"Throughout our country's history, brave men and women have put their lives on hold to serve in the U.S. Armed Forces at home and abroad. Our Essex County Veterans Memorial Park was created to provide our veterans with a place to find serenity and comfort and provide a constant reminder to the public about their contributions and sacrifices," DiVincenzo said. "We are proud to stand with our veterans at this important occasion, give them our respect and thank them for representing our country with valor and bravery," he added.
"James Caruso is an example of an ordinary citizen who became a member of our greatest generation by serving their country. When his military career ended, he continued to serve the residents of Essex County by working for the Newark Housing Authority. We are proud to honor him today," DiVincenzo said.
"Thank you for this honor from the bottom of my heart," Caruso said. "Events such as this are great because they make us remember all the veterans who did their job," he added.
After graduating from high school, Mr. Caruso enlisted in the U.S. Army Air Force and served from 1943 to 1946. He received training as a high speed point to point communications technician in Biloxi, Miss., and then worked in air traffic control towers and in planes in Africa, Arabia, China, Burma and India. In addition, Mr. Caruso was a radio operator for air sea rescue missions in the Flying Fortress B17, which he affectionately called "The Queen of the Sky." He was serving in Aden in the Arabian Peninsula when World War II ended.
Upon returning home to Newark, he enrolled in technical school and, although he had a variety of jobs early in his career, Mr. Caruso spent 37 years with the Newark Housing Authority. He started as a staff electrician and worked his way up the ladder, and was chief of maintenance when he retired at the age of 65. He is a member of IBEW Local 52. He and his wife Marie volunteered for their children's schools and Mr. Caruso helped reopen St. Benedict's Prep in the early 1970s. For his efforts, he received the St. Benedict's Medal of Honor. He also he donated electrical and maintenance services to St. Paul's Abbey and to the convent at Villa Walsh for many years.
Mr. Caruso was born, raised and lived in Newark from 1925 to 2007. For the last 10 years, he and his wife of 65 years have lived in Cedar Grove. They have four children and 10 grandchildren.
During the ceremony, officials spoke about the importance of Veterans Day.
"These are questionable times; we are vulnerable in ways we never thought we would be. But the men and women who serve fight back threats every day," NJ State Senator and Deputy Chief of Staff Teresa Ruiz said.
Sheriff Armando Fontoura spoke about the late Jorge Oliviera, a Sheriff's Officer who was killed in Afghanistan serving with the Arm Reserves and after whom the memorial plaza is named. "He loved serving the people of Essex County and his country, and he epitomizes all who have served in the Armed Forces," the Sheriff said.
"We thank our veterans for the sacrifices they made while serving their country. We would not have our democracy and freedoms if not for the people who served," Freeholder Patricia Sebold said.
"I just simply want to say thank you to all the men and women who have served their country. You are the reason we enjoy our lives and freedoms today," Assemblywoman Eliana Pintor Marin said. "I want to thank Joe DiVincenzo continuing to have a consistent event to honor our veterans. Let's remember our veterans with affection," Assemblyman Thomas Giblin said.
"I want to thank everyone here for showing their support for veterans. I thank the County Executive for appointing me to the Essex County Veterans Advisory Board, and we will continue to put Essex County first when it comes to veterans' issues," Newark DAV President Clarence Jackson said.
Jarlyn Rodriguez, a junior at Essex County West Caldwell Votech Campus, sang the National Anthem. Barney Raferty from the Essex Shillelaghs, performed "America the Beautiful" and the "Armed Forces Medley." The Essex County Sheriff's Honor Guard presented the colors at the beginning of the ceremony.
Essex County Veterans Memorial Park became the first new Essex County park developed in Newark in 80 years when it opened in September 2009. It was created on the site of an antiquated parking garage that opened in the 1960s and had become an community eyesore. The 2.7-acre park has about 400 trees, shrubs and perennials, two small meadows, the Armed Forces Memorial, walking paths and decorative metal archways at the entrances. The Armed Forces Memorial includes a circular water fountain surrounded by 10 flagpoles and a short granite wall. The flags of the seven branches of the military – Army, Navy, Air Force, Marines, Coast Guard, Army National Guard and Air Force National Guard – fly from 25-foot poles while the New Jersey State flag and Essex County flag fly from 30-foot poles and the American flag flies from a 35-foot pole at the center of the display. At the base of each flag pole on the granite wall is the official agency or government seal.