19 Mar

ESSEX COUNTY EXECUTIVE DIVINCENZO HOSTS ANNUAL ESSEX COUNTY WOMEN'S HISTORY MONTH CELEBRATION 2018 Althea Gibson Leadership Award are Presented to Essex County Vocational Technical School Students Anaya Battle, Estefany Galdamez, Shante Hamilton-John, Shania Langford and Nicole Robinson, and Essex County College Student Andrea Foster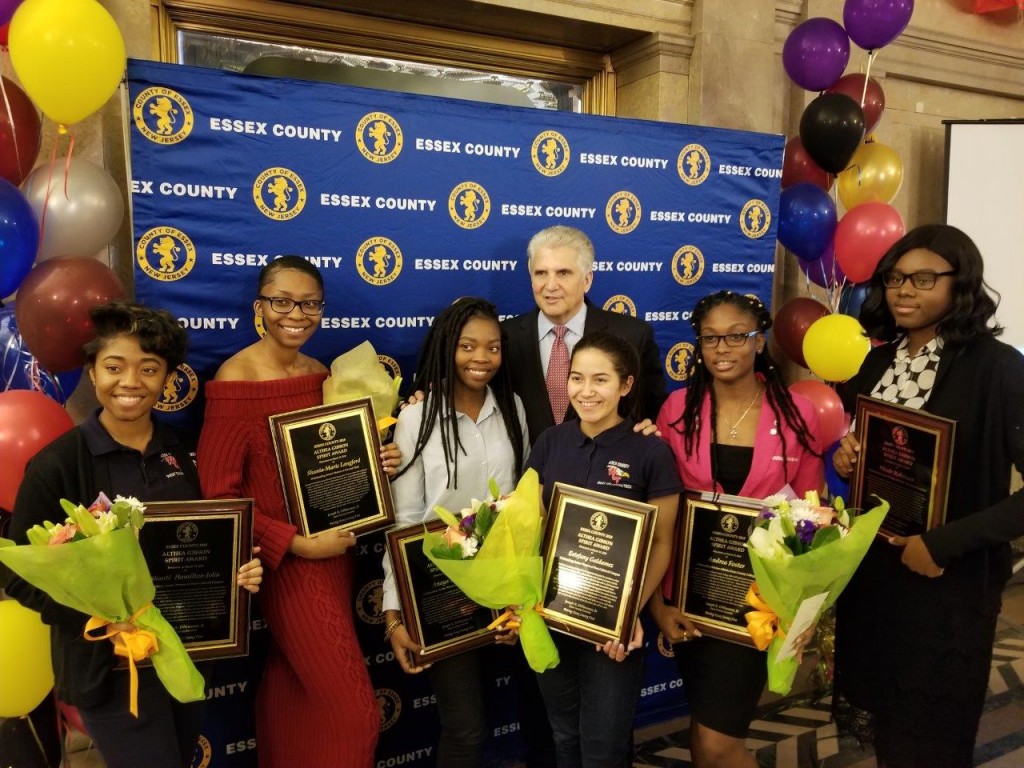 Newark, NJ – Essex County Executive Joseph N. DiVincenzo, Jr., hosted the County's Annual Women's History Month Program at the Essex County Hall of Records on Monday, March 19th. The theme of this year's ceremony is "Students Achieving Today – Our Leaders of Tomorrow." During the ceremony, 2018 Essex County Althea Gibson Leadership Awards were presented to Anaya Battle, a student at Bloomfield Tech Campus; Estefany Galdamez, a student at West Caldwell Tech Campus; Shante Hamilton-John, a student at West Caldwell Tech Campus; Shania Langford, a student at Newark Tech Campus; Nicole Robinson, a student at North 13h Street Campus; and Andrea Foster, a student at Essex County College.
"Through their academic achievements and contributions to their local communities, these remarkable young women are on the road to success. Each is unique in their own way, having a profound impact on their schools. Striving for their goals and never letting anything stop them is part of what has driven them to reach the level of success that they have achieved thus far in their lives," DiVincenzo said. "These young women have made tremendous contributions and are establishing themselves as leaders of our future generations," he added.
Anaya Battle is a senior at Essex County Bloomfield Tech Campus. Battle is the Vice President of the National Honor Society, a member of the Student Council and a peer tutor. Through her dedication and hard work, she won first place for Video Production at the NJ Skills USA competition and competed at the National Level in Louisville, Kentucky. After school, Battle takes courses with the Montclair Film Festival. She also volunteers at food shelters and with neighborhood street cleanups. Anaya was honored as a 2017 Cooperman Scholar and plans on attending Muhlenberg College with a full scholarship where she will study film/media studies. Anaya aspires to break the barriers of gender and race in the film business. "I strongly believe that we can change the world for the better and I want to contribute by sharing stories through film," Battle said. "I want to thank my teachers for recognizing my talents and pushing me to succeed," she added.
Estefany Galdamez is a senior at Essex County West Caldwell Tech Campus. As valedictorian of her class, captain of the volleyball team and recipient of many awards, Galdamez is an excellent example of the dedication and determination it takes to succeed. She was burned out of her home twice within three years, transferred to West Caldwell from Newark Tech and had to adapt to a new environment with no friends or familiar faces. She persevered through difficult times, having her academic accomplishments lead her to receiving a full scholarship to Cornell University's Summer Program. Galdamez received the Essex County Teamwork Award in November 2017 and currently works at the Essex County Hospital Center as an intern. "As an athlete, I am honored to receive an award named for Althea Gibson," Galdamez said. "No matter what you achieve, someone helped you. I'd like to thank the County Executive and his staff, my teachers and my classmates for pushing me to my limits," she added.
Shante Hamilton-John is a senior at Essex County West Caldwell Tech Campus. Hamilton-John has received the Science Award, English Language Award, Math Award and Principal's Award for her academic achievements. In addition, she has been recognized for her outstanding performance in NJ LEEP's Summer Law Institute Mock Trial Competition with the MVP Award and received the Most Engaged Student Award for her outstanding performance in NJ LEEP's Sophomore Internship Program. Shante has also participated in the Cooperman College Scholars program. At West Caldwell Tech, she is the captain of the Consumer Bowl Team and a class representative for Skills USA. "When I started school, I was timid and not motivated, but my teachers recognized my potential and encouraged me to succeed," Hamilton-John said. "I have been able to get this far ahead because of my school, friends and family, and all the people in my life who have impacted me," she added.
Shania Langford is a senior at Essex County Newark Tech Campus. Since the fifth grade, Shania has participated in intellectually gifted programs. She has exhibited leadership skills by becoming captain of her cheer squad in the seventh grade and is president of the National Honor Society, president of the Student Council and an Algebra tutor for freshman. After her junior year, she attended Cornell University for a three-week summer program where she took an Intro to Political Philosophy course on a full scholarship. Her goal is to leave a positive imprint instilled in Newark Tech students by showing them that it does not matter how you start; what matters is how you finish. "I want to thank my parents for keeping me grounded and my school for believing in me," Langford said. "I am proud to be a product of Newark. Some of the greatest accomplishments in the world bein in Essex County," she added.
 Nicole Robinson is a senior at Essex County North 13th Street Tech Campus where she is enrolled in the Law and Public Safety Academy. During her junior year, she received the Scholar Athlete Award for maintaining high grades and balancing sports, and was recognized for her stellar essay for the Annual Law Day Competition. She is a member of the National Honor Society, a senior mentor to incoming freshman, the Senior Class President and a member of Skills USA, the Lady Cougar Varsity Volleyball Team and the Drama Club. Robinson has a passion for English and writing, with future goals of becoming an editor. "My school has provided me with many possibilities and the opportunity to grow. I represent the growth that I have received from my school," Robinson said. "I appreciate this recognition," she added.
 Andrea Foster is a freshman at Essex County College. She is a General Science major with aspirations to become a doctor. Andrea has always wanted to help people and is motivated to reach her ultimate goal of becoming a doctor. Foster has excelled at being a distance runner, receiving the National Junior College Athletic Association Division I Cross Country Women's Athlete of the Year. This is the first such honor in cross country for an Essex County College student. Her athletic career is leading the way by helping her achieve her goals as she is inspired to pursue pediatric or sports medicine. "I am grateful to receive such a prestigious award. I will cherish this moment," Foster said.
The invocation was given by Minister Christina Morales from Iglesia La Fuente. The National Anthem was sung by Essex County West Caldwell Tech Campus students Amiyah Goodman, Antonella Rodriguez and Jarlyn Rodriguez, under the director of their music teacher Mark Beckett. Entertainment was provided by Essex County Newark Tech Campus students Racquel Petit-Frere, Kelice Moore and Jaylah Bennett, under the direction of their music teacher Brandon McCune.
The Annual Essex County Althea Gibson Leadership Awards are dedicated to the memory of the late professional tennis and golf legend, who was the first African-American to win the Wimbledon Tennis and U.S. Golf Championships. In 1957, Ms. Gibson became the first African-American to win the All-England Championship. That same year she became the first black to be voted by the Associated Press as its Female Athlete of the Year. The Althea Gibson Foundation exposes children in the inner city to the game of tennis and golf, and provides recreational activities for students during the summer.
The Women's History Month Celebration is part of a year long cultural series created by County Executive DiVincenzo to highlight the diversity and various ethnic groups in Essex County. Other cultural celebrations are African American Heritage, Irish Heritage, Italian Heritage, Jewish Heritage, Latino Heritage and Portuguese Heritage.