23 Mar

ESSEX COUNTY EXECUTIVE DIVINCENZO HOSTS ANNUAL ESSEX COUNTY WOMEN'S HISTORY MONTH CELEBRATION 2017 Althea Gibson Leadership Awards are Presented to Margie Heller, Administrative Director of Community Health and Outreach at St. Barnabas Medical Center; Carmen Morales, Vice Principal of Essex County Newark Tech Campus; Autumn Turner, Ice Skating Teacher at Essex County Codey Arena and Contestant on "The Voice" Special recognition is presented to Child Author Dasia Edmond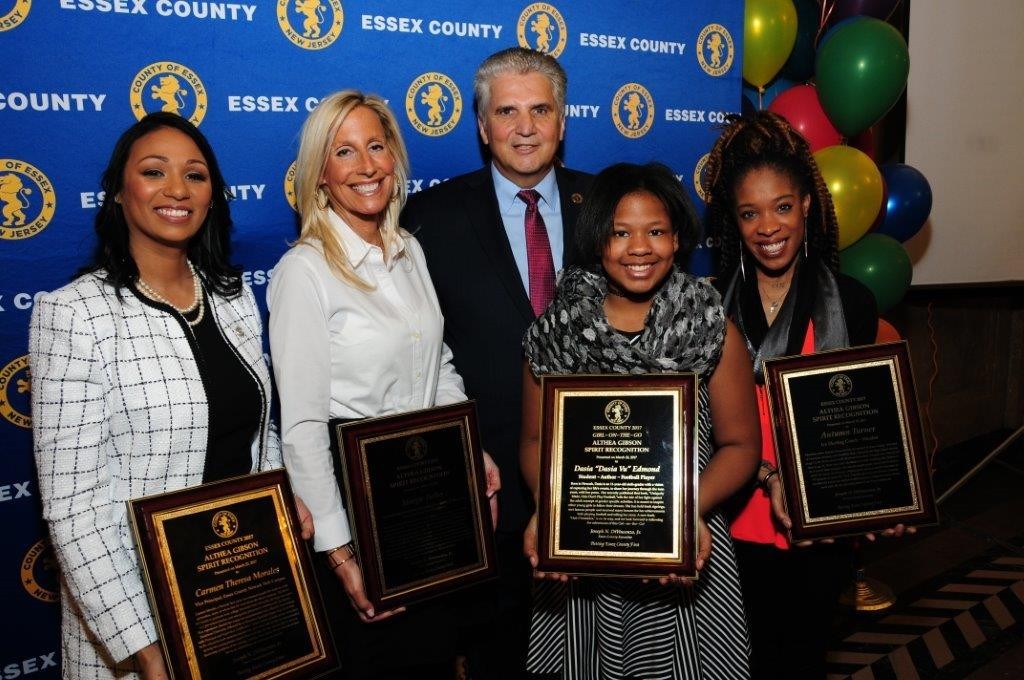 Newark, NJ – Essex County Executive Joseph N. DiVincenzo, Jr., hosted the Annual Essex County Women's History Month Program at the Essex County Hall of Records on Wednesday, March 22nd. During the ceremony, the 2017 Essex County Althea Gibson Leadership Award was presented to Margie Heller, Administrative Director of Community Health and Outreach at St. Barnabas Medical Center in Livingston; Carmen Morales, Vice Principal of Essex County Newark Tech Campus; and Autumn Turner, ice skating teacher at Essex County Codey Arena and a contestant on "The Voice." In addition, special recognition was presented to 11-year-old Dasia Edmond, author of the children's book "Uniquely Made: Girls Don't Play Football."
"Through their personal contributions and professional activities, our honorees, each in their own unique way, have had a positive impact in the health care, athletic and educational fields and a profound effect on the lives of our residents. They all freely give their time and expertise to improve our community," DiVincenzo said. "These remarkable women have made tremendous contributions and have established themselves as influential leaders in their fields," he added.
"Thank you to our County Executive for always recognizing the diversity in Essex County and especially today celebrating women's heritage month. Women have power and we are proud to have three women on our Board of Chosen Freeholders, more than any other freeholder board in the State," said Freeholder Patricia Sebold.
Margie Heller is the Administrative Director of Community Health & Outreach at Saint Barnabas Medical Center in Livingston. She attributes her 22-year career at St. Barnabas to a whole-hearted alignment in her personal and professional mission, vision, and values – goals that are shared by RWJBarnabas Health CEO Barry Ostrowsky. Community service has been a quality engrained in her from a young age by strong community minded role models, such as her father, mother, and aunt. Ms. Heller resides in Roseland with her family and has always been an active member of Essex County. She is a board member for a variety of civic and charitable organizations.
"Thank you, County Executive DiVincenzo and Essex County, for this honor. I consider it a privilege to be accepting this award alongside some truly amazing and inspirational Essex County women," said Heller. "Althea Gibson was infamous for breaking barriers, not only for African Americans, but also for women. As Administrative Director of Community Health and Outreach at St. Barnabas Medical Center, breaking down barriers is part of our daily mission. Our job revolves around the ability to break barriers, to engage the community and to serve a public need through health education, screenings and community support," she added.
Carmen Morales is the Vice Principal at Essex County Newark Tech Campus, from which also graduated in 1995. Ms. Morales is the first in her family to go to college and graduate with advanced degrees. She began teaching preschool at the North Ward Child Development Center and, soon after, was promoted to Education Coordinator, working alongside the Director and assisting with the day-to-day operations of the preschool. It was during that time that she recognized her desire to be in a school leadership position. She received a Director's Certificate and earned a Master's in Administrative Science from Fairleigh Dickinson University. After working for Newark Public Schools as an Adult Education Teacher, Ms. Morales pursued her Education Specialist Degree in Education Leadership, Management, and Policy at Seton Hall University, where she received her Principal and Supervisor certification.
Her involvement in the community and educational initiatives include serving on the Board of Education for the Essex County Vocational Schools in 2008, and being involved in her sorority, Lambda Theta Alpha, holding various positions such as National Alumnae President, Alumnae Chapter President, and Undergraduate Mentor.
"Thank you to our County Executive for recognizing me today. Although you are honoring me, I want to share this award with the students, teachers and staff at Essex County Newark Tech. They are truly a committed and outstanding group of people. For me to serve as Vice Principal to the school where I attended is a dream come true," said Morales. "Women's History Month is an opportunity to recognize the trailblazers of the past, to note the heroines of today and to inspire the leaders of tomorrow," she added.
Autumn Turner was raised by a single mother who always instilled work ethics, passion, and compassion in her life. She graduated from Lacordaire Academy in 2009 and Montclair State University in 2014 with a major in general humanities and a minor in musical theatre.
Ms. Turner has been figure skating since the age of 3 and began competing at age 5 until the age of 15. She started volunteering at Essex County Codey Arena at the age of 13 to assist with the Learn to Skate program and then became a coach at age 16. She has been working at the arena ever since. She also worked at a private school, Kearny Christian Academy, where she was a preschool aide, first and second grade teacher's assistant, high school drama teacher and middle school English teacher.
She recently decided it was time for her to follow her dream of singing again after being in an all-girl singing group, called Bloom a little over three years ago.  Autumn auditioned for "The Voice" on NBC and was able to get a four-chair turn from the coaches. Her mentor on the show is Alicia Keyes.
"First and foremost I would like to thank God for the events in my life that have lead me to this moment. Without the heart, love, drive and constant encouragement from my mother, receiving this award would not be possible," said Turner. "I am so grateful to be accepting the Althea Gibson award and being honored as a leader in this community proves that my belief in giving back can make a difference. Special thanks to our County Executive for this award; it will forever be my reminder to keep doing what I love and paying it forward," she added.
 Dasia "DasiaVu" Edmond is an 11-year-old, sixth grader with a vision to capture her life's events in books and allow her peers to journey with her through those tough teenage years. Ms. Edmond is a new author and "Uniquely Made, Girls Don't Play Football" is her first book. In "Uniquely Made," she tells the story of how after constantly being told that "girls don't play football" she not only made the Pop Warner Team, but played for three years. She takes the readers on a journey of how she convinced her parents to allow her to play and earned the respect of her teammates and coaches.
Ms. Edmond was featured on Spot Light NJ 12 with Della Crews and on internet radio stations "For Book Lovers Only" and "Rebel Radio." She also received the Mayor's Award from Union Township and was inducted as the youngest member of the Chamber of Commerce in Union. Dasia presented her book to Rashid Jennings of the New York Giants and Marley Dias of the 1000 Book Campaign. Dasia is working on her next book, "Hair Chronicles."
"Thank you for this award. I am very grateful," said Edmond. "My book is titled 'Uniquely Made: Girls Don't Play Football' because that's what they all said. My story represents how I got on the team, convinced my parents to let me participate and how everyone supported me. It captures how I achieved my goal to play football and I want to inspire other young girls and let them know that they can do whatever they want if they put their minds to it and don't doubt themselves," she added.
The invocation was given by Rev. Maria Ortiz of Fountain Church in Newark. The National Anthem was sung by Essex County Newark Tech Campus senior Aaliyanah Carter. Entertainment was provided by the Newark Tech Choir, under the direction of Brandon McCune.
The Annual Essex County Althea Gibson Leadership Awards are dedicated to the memory of the late professional tennis and golf legend, who was the first African-American to win the Wimbledon Tennis and U.S. Golf Championships. In 1957, Ms. Gibson became the first African-American to win the All-England Championship. That same year she became the first black to be voted by the Associated Press as its Female Athlete of the Year. The Althea Gibson Foundation exposes children in the inner city to the game of tennis and golf, and provides recreational activities for students during the summer.
The Women's History Month Celebration is part of a year long cultural series created by County Executive DiVincenzo to highlight the diversity and various ethnic groups in Essex County. Other cultural celebrations celebrate African American Heritage, Irish Heritage, Italian Heritage, Jewish Heritage, Latino Heritage and Portuguese Heritage.