09 Mar

ESSEX COUNTY EXECUTIVE DIVINCENZO HOSTS ANNUAL ESSEX COUNTY WOMEN'S HISTORY MONTH CELEBRATION 2016 Althea Gibson Leadership Award is Presented to Naturi Naughton, Singer, Songwriter and Actress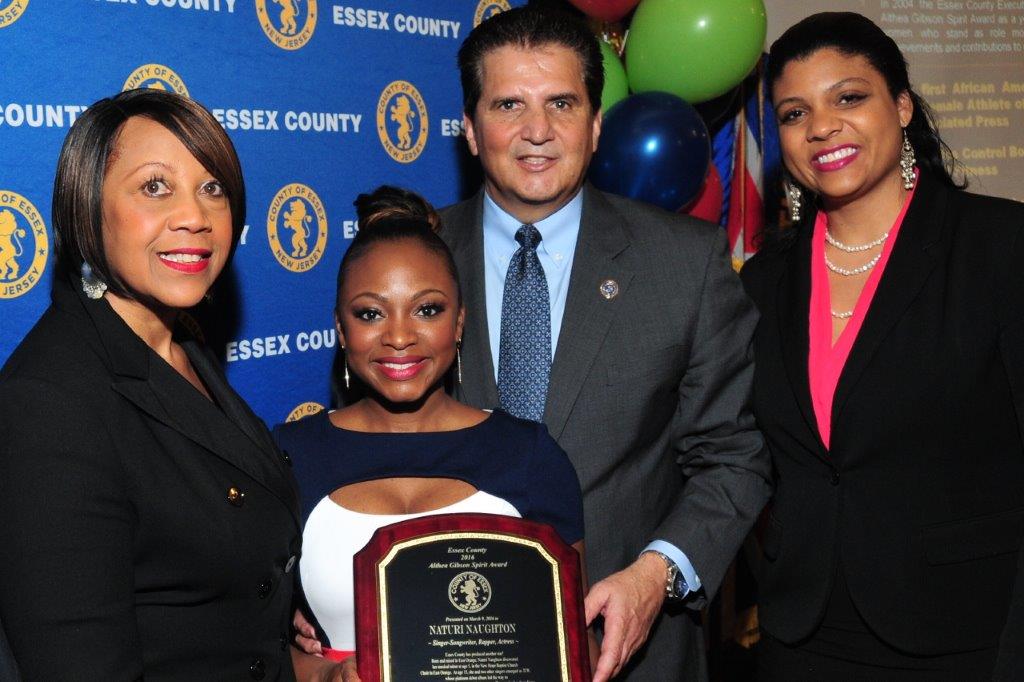 Newark, NJ – Essex County Executive Joseph N. DiVincenzo, Jr., hosted the County's Annual Women's History Month Program at the Essex County Hall of Records on Wednesday, March 9th. During the ceremony, the 2016 Essex County Althea Gibson Leadership Award was presented to East Orange native Naturi Naughton, singer, songwriter and actress currently appearing in the Starz drama "Power."
"Ms. Naughton's accomplishments are greatly admired and serve as an inspiration to our younger generation. She has given her time and expertise to work with our youth program participants," DiVincenzo said. "Naturi is a remarkable woman who has made tremendous contributions and has established herself as an influential leader in her fields," he added.
"East Orange has produced a significant number of women in the field of entertainment and Naturi now stands on their shoulders. Naturi didn't stop at 3LW, she has had a number of different gigs over the years, but I think she has found your niche' in the field of acting," Assembly Speaker Emeritus Sheila Y. Oliver said. "True sisters believe in lifting as they climb. Naturi reached out to a Cicely Tyson School alum, Kyemah Mcentyre, currently a first year student at Parson's School of Design, to have her make her dress for the BET Awards and, as a result of that, Kyemah's career in New York has soared. Right in the beginning of her career Naturi is lifting as she climbs," she added.
"I want to thank Naturi for one thing, for reminding me that right here in Essex County greatness is grown. In an industry that has not always been receptive and welcoming to women and minorities, thank you for championing the cause and breaking those ceilings," said NJ State Senator and Essex County Deputy Chief of Staff Teresa Ruiz.
"When entering a field largely dominated by men, it is very important to understand the meaning of sisterhood and the importance of having to draw from the wisdom of others," said Freeholder President Britnee Timberlake. "Thank you, County Executive, for another wonderful program celebrating all of our diversity and celebrating women. We have a lot of women at the helm of leadership in Essex County," she added.
Ms. Naughton is an American singer and actress best known for her performance as "Lil Kim" in Fox Searchlight's hit film "Notorious" and her role in MGM's remake of the classic film "Fame." Naughton has starred in various other projects such as "Lottery Ticket," "The Playboy Club," "Mad Men" and "The Client List." Naughton currently stars in the Starz drama "Power" as Tasha St. Patrick, the wife of James "Ghost" St. Patrick played by Omari Hardwick, a New York nightclub owner living a double life as a drug kingpin. She also appeared on Broadway in the Tony Award winning musical "Hairspray" for three years.
Before her transition into film and television, Naughton was a member of the Platinum selling pop trio 3LW. She was greatly inspired by Whitney Houston as a child and knew by the age of 5 that she wanted to be a singer and an actress. Her musical talent emerged at the age of 5, when she joined her church choir at New Hope Baptist Church in East Orange. She attended St. Joseph's Catholic School and Immaculate Conception High School in Montclair. She has sung the national anthem at various events in New Jersey and attended Seton Hall University.
"Thank you so much. I feel so blessed and honored to be here today. Thank you to Joe DiVincenzo and Essex County for supporting me ever since I was young. I am really blessed to have two parents who encouraged me and continue to support my journey. Althea Gibson was a game-changer from East Orange and that's what I want to be, so I know I am on the right path," said Ms. Naughton. "To all the young people here, remember to put in the work, do the work and stay grounded in who you are because that is what will give you longevity. You don't have to be from Hollywood or from a big time family to make it. If you have a dream and determination, you can make it!" she added.
The invocation was given by Reverend Maria Ortiz, Associate Minister at Christian Love Baptist Church in Irvington. The National Anthem was sung by Kathy Brown, an employee in the Essex County Office of the Clerk of the Board of Chosen Freeholders, and the entertainment was provided by Ms. Naughton and Zaria Cole, senior vocal major and Vice President of the Gospel Choir at Arts High School, under the direction of her teacher, Mr. Scott O. Cumberbatch.
"I appreciate Women's History Month, not just in March, but all 12 months of the year for all the great things women do for us. Today we have the opportunity to celebrate the talent of one of our own, Naturi," said Sheriff Armando Fontoura.
"Thank you, County Executive DiVincenzo, for selecting a product of East Orange for this prestigious award. Essex County has the slogan, 'Putting Essex County First' and the City of East Orange has a vision, 'Setting the standard for urban excellence.' To Mr. and Mrs. Naughton, you have exceeded that vision in Naturi because she truly symbolizes excellence. Naturi is truly a symbol of perseverance because when many would have given up or said it can't be done, she truly embodied what Frank Sinatra once said, "the best revenge is massive success," said East Orange Mayor Lester Taylor.
The Annual Essex County Althea Gibson Leadership Awards are dedicated to the memory of the late professional tennis and golf legend, who was the first African-American to win the Wimbledon Tennis and U.S. Golf Championships. In 1957, Ms. Gibson became the first African-American to win the All-England Championship. That same year she became the first black to be voted by the Associated Press as its Female Athlete of the Year. The Althea Gibson Foundation exposes children in the inner city to the game of tennis and golf, and provides recreational activities for students during the summer.
The Women's History Month Celebration is part of a year long cultural series created by County Executive DiVincenzo to highlight the diversity and various ethnic groups in Essex County. Other cultural celebrations celebrate African American Heritage, Irish Heritage, Italian Heritage, Jewish Heritage, Latino Heritage and Portuguese Heritage.