31 Mar

ESSEX COUNTY EXECUTIVE DIVINCENZO HOSTS ANNUAL ESSEX COUNTY WOMEN'S HISTORY MONTH CELEBRATION 2015 Althea Gibson Leadership Awards to be Presented to Assistant Prosecutor Myrna Perez-Drace, Esq., Essex County Prosecutor's Office Wendy Deer, Esq., Executive Director of the Essex County Bar Association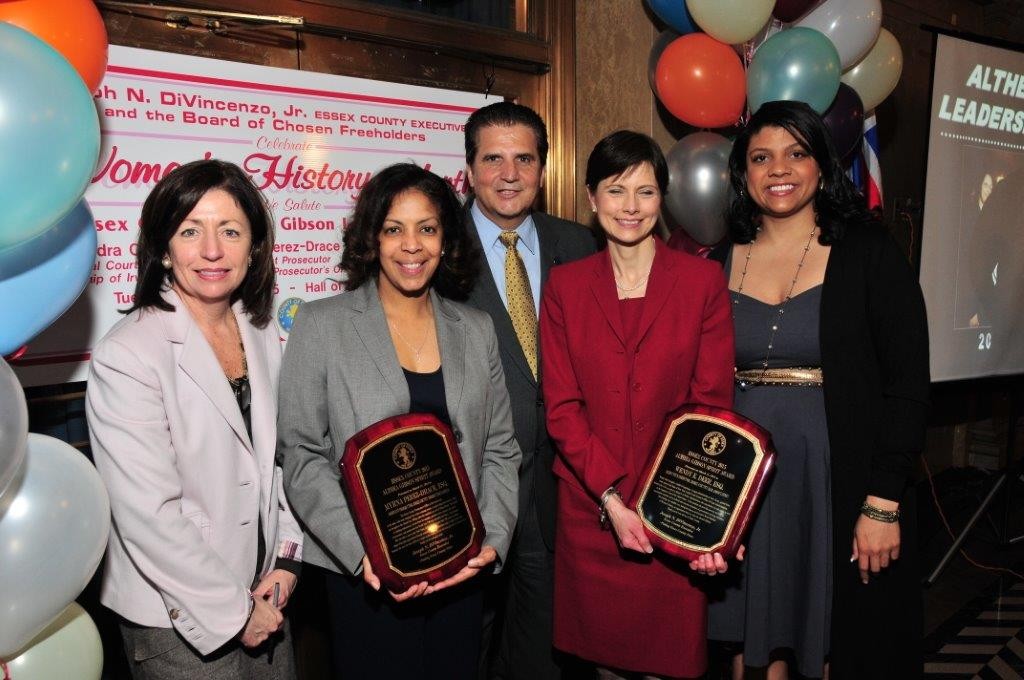 Newark, NJ – Essex County Executive Joseph N. DiVincenzo, Jr., hosted the County's Annual Women's History Month Program at the Essex County Hall of Records on Tuesday, March 31st. During the ceremony, the 2015 Essex County Althea Gibson Leadership Awards were presented to Assistant Prosecutor Myrna Perez-Drace, Esq. Essex County Prosecutor's Office; and Wendy Deer, Esq., Executive Director of the Essex County Bar Association.
"Through their personal contributions and professional activities, all of our honorees, each in their own unique way, have had a positive impact in the health care field and a profound effect on the lives of our residents. They all freely give their time and expertise to improve our community," DiVincenzo said. "These remarkable women have made tremendous contributions and have established themselves as influential leaders in their fields," he added.
"Whether you are a stay at home mom or the CEO of a company, you are a phenomenal woman. We honor all women today for their immeasurable contributions to their families, jobs and our communities," said Freeholder President Britnee Timberlake.
"Thank you to County Executive DiVincenzo for having this celebration and giving us the opportunity to honor one of our own. We are excited to celebrate women's history month and to recognize Assistant Prosecutor Myrna Perez-Drace, Esq. who carries wisdom beyond her years," said Prosecutor Carolyn Murray.
Wendy Deer, Esq. currently serves as the Executive Director of the Essex County Bar Association, where her responsibilities include staff management, budget coordination and administration of all association and foundation functions. She also oversees the continuing legal education programming and compliance, membership, marketing and all association and foundation events. Mrs. Deer began her career as a Senior Court Attorney in the New York State Court of Appeals in Albany, NY, where she researched and wrote detailed reports for the Judges of the Court, analyzing the substantive and jurisdictional issues raised in motions for leave to appeal, appeals as of right, and certified questions to the State's highest tribunal. Mrs. Deer spent five years working for the New York State Unified Court System in the State Office of Court Administration as Assistant Counsel to the Deputy Chief Administrative Judge of Management and Support and the Chief Administrative Judge. Working with the Chief Administrative Judge, she served as legal counsel to several State-wide commissions, Boards, standing committees and task forces, including, the State Advisory Committee on Judicial Ethics, the Commission on the Jury and the Matrimonial Commission. While serving with the Deputy Chief Administrative Judge of Management and Support, Mrs. Deer assisted in the preparation of legal and administrative memorandum on issues presented to the Deputy Chief Administrative Judge, including, court security issues, the court system's court merger proposal, juror satisfaction and efficiency, and judicial education and ethics. She also served as Interim Director of the Office of Public Affairs and as Executive Director of the New York State Judicial Institute, the premier judicial and legal education provider in the State of New York.
In 2000, Mrs. Deer was admitted into the State Bars of New York and New Jersey in 2000 and the Supreme Court of the United States in 2007. She is a Past Board Member for Wynona's House in Newark and is affiliated with the NY and NJ State Bar Associations, American Bar Association, the National Association of Bar Executives, where she serves as Meetings, Seminars & events Forum Chairperson. Mrs. Deer holds both a Juris Doctorate and Master's in Public Administration Degrees from Pace University School of Law and an undergraduate degree in Political Science, Paralegal Certification from Marist College. She lives in West Orange with her husband and their children.
"We want to honor all the women here today for their accomplishments and all the women who have gone before us and paved the way. I thank the County Executive for this great honor today, my colleagues for their hard work and my husband for his support," said Deer. "I am happy to have my children here today to witness this celebration because what this shows them is that we celebrate the achievements of women, but we also acknowledge all the men who provided opportunities for women when others may have excluded us. I pray that my daughters will be those women and my son will be one of those men in the future," she added.
Myrna Perez-Drace, Esq. currently serves as an Assistant Prosecutor in the Grand Jury Unity of the Essex County Prosecutor's Office. The Essex County Prosecutor's Office is the busiest Prosecutor's Office in the State of New Jersey, with cases ranging from minor criminal events, to major drug prosecutions.  Many are brought to the Grand Jury, falling under the watchful eye of Assistant Prosecutor Perez-Drace.  She assists in drafting indictments, checks them for accuracy, presents cases, instructs the Jurors in procedure, and assures that the Grand Jury Unit runs smoothly and fairly.  She assumed this role after a year on the Trial Team, where her daily caseload was more than 100 cases in various stages from plea negotiations through sentencing. She began her career in law enforcement as a Probation Officer for the State of NJ, where she supervised juveniles on probation, enforced court orders, including urinalysis testing and executed warrants. Prior to joining the Essex County Prosecutor's Office she interned for the Honorable Estela M. DeLa Cruz, J.S.C. in Hackensack and the Homelessness Clinic at Seton Hall Law School in Newark. Following these internships she served as a Law Clerk for the Honorable Edward V. Gannon, J.S.C. in Paterson, where she wrote bench memorandums on questions of law raised by motions and briefs, drafted orders and opinions, researched case law and statutes in preparation for criminal trails and evidentiary hearings, pre-trial motions, post-conviction relief petitions and municipal appeals.
Mrs. Perez-Drace earned her Juris Doctorate Degree from Seton Hall University, Bachelor of Science Degree in Criminal Justice from John Jay College of Criminal Justice and a Certificate in Paralegal Studies from Fairleigh Dickinson University.
"This award is not about me today, it is about all the women who came before me and labored to pave the way so that I might have the opportunities I have today," said Assistant Prosecutor Perez-Drace, Esq. "I want to thank the County Executive for honoring women today and Prosecutor Carolyn Murray for selecting me for this award and for being an example of what women can do," she added.
The invocation was given by Reverend Maria Ortiz, Associate Minister at Christian Love Baptist Church in Irvington. The National Anthem was sung by Kathy Brown, an employee in the Essex County Office of the Clerk of the Board of Chosen Freeholders, and the entertainment was provided by Artist of the Violin, Brooke Alford and YAHSpeak from Bet HaShem YHWH Worldwide Ministries in Bloomfield.
The Annual Essex County Althea Gibson Leadership Awards are dedicated to the memory of the late professional tennis and golf legend, who was the first African-American to win the Wimbledon Tennis and U.S. Golf Championships. In 1957, Ms. Gibson became the first African-American to win the All-England Championship. That same year she became the first black to be voted by the Associated Press as its Female Athlete of the Year. The Althea Gibson Foundation exposes children in the inner city to the game of tennis and golf, and provides recreational activities for students during the summer.
The Women's History Month Celebration is part of a year long cultural series created by County Executive DiVincenzo to highlight the diversity and various ethnic groups in Essex County. Other cultural celebrations celebrate African American Heritage, Irish Heritage, Italian Heritage, Jewish Heritage, Latino Heritage and Portuguese Heritage.
 Contact:   Anthony Puglisi
973-621-2542
Lauren Shears
973-621-1590