13 Oct

ESSEX COUNTY EXECUTIVE DIVINCENZO HOSTS ANNUAL ESSEX COUNTY LATINO HERITAGE MONTH CELEBRATION Estrella del Condado de Essex Awards Presented to U.S. Marshal for the District of New Jersey Juan Mattos, Jr. and Essex County Freeholder Cynthia D. Toro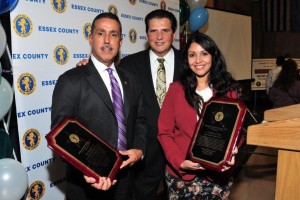 Newark, NJ – Essex County Executive Joseph N. DiVincenzo, Jr. hosted the County's Annual Latino Heritage Celebration on Tuesday, October 13th in the Essex County Hall of Records. With an array of colorful flags representing 22 Latino countries as the backdrop, DiVincenzo led a spirited celebration to pay homage to the rich culture and traditions of U.S. residents who trace their roots to the Spanish speaking nations of Central America, South America and the Caribbean.
During the program, DiVincenzo presented the County's 2015 Estrella del Condado de Essex Awards (Stars of Essex County) to Juan Mattos, Jr., U.S. Marshal for the District of New Jersey, and the Honorable Cynthia D. Toro, Essex County Freeholder representing the 5th District, for their commitment to improving the lives of all residents, their leadership, and dedication to public service.
"We are honored to recognize U.S. Marshall Juan Mattos, Jr. and the . Toro for their commitment to improving the lives of all residents, their leadership, and dedication to public service," said DiVincenzo. "Our cultural celebrations give us the opportunity to highlight the achievements of individuals from many different backgrounds, and learn about their heritage as well," he noted.
"The theme for Latino heritage month this year is 'Honoring our heritage, building our future,' and our honorees today both encompass that," said NJ State Senator and Essex County Deputy Chief of Staff Teresa Ruiz. "We know that our diversity is our strength," she added.
"Our County Executive could not have chosen two better recipients for this award. U.S. Marshall Mattos and Freeholder Toro both do an outstanding job working on behalf of the people they are charged to serve," said Freeholder President Britnee Timberlake. "Since Cynthia and I began serving on the Freeholder Board together, it has been evident that her mission is to serve people. I am proud to be here to celebrate Cynthia and the work that she does every day on behalf of our citizens," she added.
"People of Latin decent are and have always been an integral part of life and this is a special month of recognition for them," said Assembly Speaker Emeritus Sheila Y. Oliver. "People of Latino decent are embedded everywhere and they have made innumerable contributions to life here," she added.
Juan Mattos, Jr. was appointed by President Barack Obama to become the United States Marshal for the District of New Jersey in July 2011. He is New Jersey's first Latino U.S. Marshal. The United States Marshals Service for the District of New Jersey consists of a combination of 45 Deputy U.S. Marshals and 94 Court Security Officers whose primary mission is the protection of the Federal Judiciary and the apprehension of fugitives at the federal, state, and local levels.
Marshal Mattos is a career law enforcement officer with nearly 41 years of service to the citizens of New Jersey. He entered the New Jersey State Police Academy in 1974. After becoming a "Jersey Trooper," he served in countless operational and administrative positions, including a general road duty trooper, an undercover narcotics detective, and a recruiter. He rose to the rank of Major and served as the Equal Employment Opportunity/Affirmative Action Officer, Commandant of the New Jersey State Police Academy, and Commander of the Division Staff and Intelligence Services Sections.
In 2002, he was appointed to the position of Deputy Superintendent of Investigations, the second highest ranking position in the New Jersey State Police.  As the Lt. Colonel, he was responsible for the activities of over 700 investigative, scientific and administrative personnel. In 2004, Marshal Mattos was reassigned as the Deputy Superintendent of Operations, and was responsible for the activities of nearly 2,000 uniformed troopers and detectives, who provided general police services to over 70 rural and urban municipalities, and patrolling of all state highways throughout New Jersey. He also had oversight of over 300 security guards that provided protection to the State Capitol Building and other state owned properties. In 2010, Marshal Mattos retired from the New Jersey State Police and was later hired by the Middlesex County Prosecutor's Office, working in their Bias Crime Unit.
Marshal Mattos received a Bachelor of Science degree in Business Administration from New Jersey City University and a Master of Arts degree in Criminal Justice from Monmouth University.  He is a graduate of the 203rd session of the FBI National Academy and is a member of the Leadership New Jersey Fellowship Class of 2000. Marshal Mattos was an Adjunct Professor at Monmouth University from 2004 to 2011, where he taught undergraduate courses in the Criminal Justice Department. He resides in Middlesex County, New Jersey with his wife Evelyn.
"I dedicate this honor to my dad; he would be so proud. My parents instilled in me good old fashioned work ethic and that made me who I am today," said Mattos. "My friend asked me to drive him to Newark to take the State Trooper test and I ended up taking it as well and the rest is history. I am living a dream! I am proud to be Puerto Rican and have always been proud of my culture and love sharing it with others," he added.
"Thank you County Executive for taking the time to celebrate our diversity in Essex County. Thank you Freeholder Toro, for your leadership on the Board of Chosen Freeholders. In a short time, you have distinguished yourself as a dedicated elected official," said Newark Councilman Anibal Ramos.
The Honorable Cynthia D. Toro was elected to her first term as District 5 Freeholder in November 2014 and holds the distinction of being the first Latina ever to serve on the Freeholder Board. She is a Social Worker currently employed by the New Jersey Employment Services helping people obtain gainful employment. Previously, she managed a mortgage brokerage firm, worked in the legal trusts and estates industry and was a program counselor for the incarcerated and mental health populations in Essex County. Freeholder Toro served as an Essex County Improvement Authority Commissioner from April 2011 to 2014 where she helped set policies and funding priorities for Essex County Airport and countywide improvement projects. She holds a Bachelor's degree in Sociology and Justice Studies from Montclair State University and a Master's degree in Social Work from Rutgers University. She resides in Bloomfield with her husband, Joel, and their two children.
"It is a pleasure and a humbling honor to be here today. I know that there are thousands of families struggling today. Because of all the blessings I have had, I was able to achieve my goals overcoming challenges. Fighting for the well-being of families is what has led me to pursue a career in public service," said Toro. "I am proud to be Latina, the first Latina on the Freeholder Board and many firsts within my family; bachelor's degree, master's degree and an elected official. None of these accomplishments would have been possible without my family and it is to all of them that I give this honor," she added.
Pastor Pablo Pizarro from Lighthouse Assembly of God in Newark delivered the program's invocation. Entertainment was provided by James Gibbs and Randy Haze. The National Anthem was sung by Kathy Brown from the Essex County Freeholder's Office.
The Latino Heritage Month Celebration is the part of a year-long cultural series created by County Executive DiVincenzo to highlight Essex County's diversity. Other cultural heritage celebrations include African American History Month, Irish Heritage Month, Women's History Month, Italian Heritage Month, Jewish Heritage and Portuguese Heritage.