12 Oct

ESSEX COUNTY EXECUTIVE DIVINCENZO HOSTS ANNUAL ESSEX COUNTY LATINO HERITAGE MONTH CELEBRATION Estrella del Condado de Essex Awards are Presented to Freeholder Robert Mercado And Public Affairs Specialist Alixon Collazos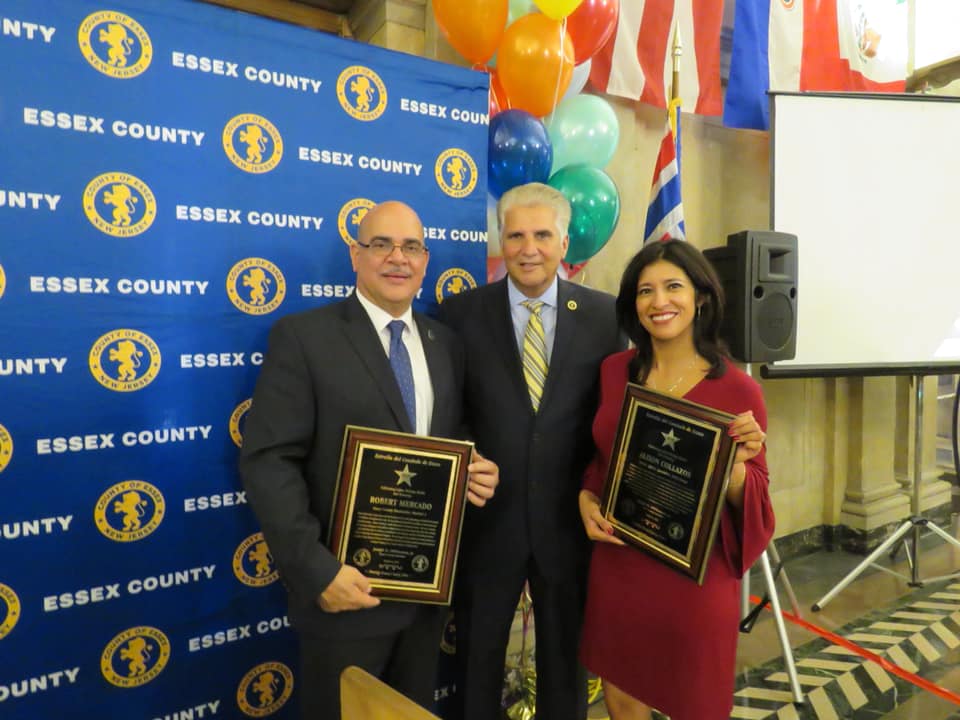 Newark, NJ – Essex County Executive Joseph N. DiVincenzo, Jr. hosted the County's Annual Latino Heritage Celebration on Friday, October 5th in the Essex County Hall of Records. With an array of colorful flags representing 22 Latino countries as the backdrop, DiVincenzo led a spirited celebration to pay homage to the rich culture and traditions of U.S. residents who trace their roots to the Spanish speaking nations of Europe, Central America, South America and the Caribbean.
During the program, DiVincenzo presented the County's 2018 Estrella del Condado de Essex Awards (Stars of Essex County) to Alixon Collazos, Public Affairs Specialist at the BGill Group LLC, and the Honorable Robert Mercado, Essex County Freeholder, for their commitment to improving the lives of all residents, their leadership, and dedication to public service.
"We are honored to recognize Alixon Collazos and Robert Mercado for their commitment to improving the lives of all residents, their leadership, and their dedication to public service," said DiVincenzo. "Our cultural celebrations give us an opportunity to honor and recognize the diversity of Essex County and learn about the heritage of our constituents," he noted.
The Honorable Robert Mercado, a life-long Newark resident, was elected to his first term as District 1 Freeholder in November 2017. In addition to holding elected office, Mercado has worked in the field of social work and juvenile justice in New Jersey for over 25 years, previously serving in positions at youth advocate programs in Essex and Hudson Counties, Creative Consulting Services, Inc., La Casa de Don Pedro Community Center in Newark, Youth Consultation Services, Hudson County Children's Shelter, and Independence: A Family of Services (a social service community-based agency in Newark). Since 1997, he has served as the Northern Regional Supervisor of the Juvenile Justice Commission's Office of Juvenile Parole and Transitional Services.
He is the coordinator and volunteers for the North Ward Center Youth Leadership Development Program and is a member of the North Ward Democratic Committee, serving as District Leader and volunteer for 15 years. Mercado is a Board Member and former coach of the North Ward Center Little League, member of the Rutgers University Alumni Association, and member of the National Association of Social Workers. He is a former member of the New Jersey Supreme Court Committee on Minority Affairs, and former National Board President and former Rutgers (Beta Chapter) President of Lambda Theta Phi, Latin Fraternity, Inc.
Freeholder Mercado attended Newark Public Schools and graduated from Barringer High School. He holds a Bachelor of Arts degree from Rutgers College (now Rutgers University), a Master of Public Administration degree from Rutgers University-Newark, and a Master of Social Work degree from Rutgers University-New Brunswick.
"I am honored to be recognized in this way. This award is near and dear to my heart because I am inspired by the County Executive's leadership and commitment to the people of Essex County," Mercado said. "My father is my mentor, who came to Newark searching for opportunity. My family is my rock, who has supported me," he noted.
Alixon Collazos, a resident of Montclair, is a Public Affairs Specialist with the BGill Group LLC, a public affairs, political consulting and digital media firm. With over 15 years of experience, she administers special projects and events aimed at improving and expanding each clients' brand and visibility. She also specializes in political, community and media outreach to the New Jersey Latino community.
Over the past three years, Collazos has served as the Director of the Latino Outreach Program for the successful campaign of New Jersey Governor Phil Murphy. Highlights from Collazos Outreach Program included stressing the importance of understanding and addressing policies that affect Latinos in the state. Under her leadership, the campaign established a series of Latino Policy Forums allowing for early input from the Latino community on the campaign's policy agenda. Previously, she was a Grant Manager for Millennium Strategies.
Collazos has served as Director of Constituent Services to former Congressman Steven R. Rothman where she managed and supervised the casework and communications with federal, state and local government agencies on behalf of all constituent requests. In 2015, she was part of the second graduating class of Emerge, a non-for-profit organization that trains Democratic women to run for public office. Collazos serves as a board member of the New Jersey Hispanic Research and Information Center, a board member of the Latinas United For Political Empowerment Fund and a board member of PAM's List. She graduated from Rutgers University with a Bachelor's in Sociology and Latin American Literature and has completed graduate level course work from NYU in International relations.
"I want to thank the County Executive for this award. This event is a great way to bring recognition to and celebrate the labors of the Latino community," Collazos said.
Minister Maria Ortiz from The Fountain of Life Church in Newark delivered the program's invocation. Entertainment was provided by the Arts High School Latin Band, under the direction of Kennis Fairfax.
 The Latino Heritage Month Celebration is the part of a year-long cultural series created by County Executive DiVincenzo to highlight Essex County's diversity. Other cultural heritage celebrations include African American History Month, Irish Heritage Month, Women's History Month, Italian Heritage Month, Jewish Heritage and Portuguese Heritage.