27 Apr

ESSEX COUNTY EXECUTIVE DIVINCENZO HOSTS ANNUAL ESSEX COUNTY JEWISH HERITAGE CELEBRATION Star of Essex Awards Presented to Rutgers University-Newark Chancellor Nancy Cantor and Audible, Inc. Founder and CEO Donald Katz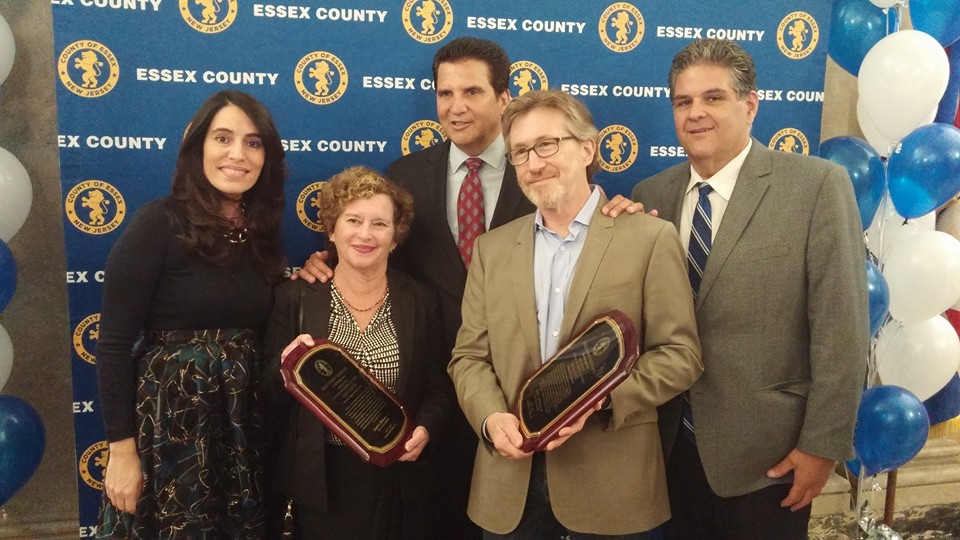 Newark, NJ – Essex County Executive Joseph N. DiVincenzo, Jr. hosted the Annual Essex County Annual Jewish Heritage Celebration on Wednesday, April 27th. The festive event recognized the influence and positive impact that Jewish people have had, and continue to have, on the economy and culture of Essex County. During the ceremony, DiVincenzo presented Star of Essex Awards to Nancy Cantor, Chancellor of Rutgers University-Newark, and Donald Katz, Founder and CEO of Audible, Inc.
"Nancy Cantor and Donald Katz have both enjoyed tremendous personal success in their respective careers," DiVincenzo said. "Their commitment to serving the Jewish community and improving the lives of Essex County residents, their leadership, and dedication to public service is to be commended," he added.
"I am honored to be here today to recognize people who believe in the City of Newark the way I do and the County Executive does. Most of us recognize the potential that is in Newark and I am so encouraged by the possibilities that our two honorees bring to us," said NJ State Senator and Deputy Chief of Staff M. Teresa Ruiz. "Donald Katz understands that education on the K-12 level can be revolutionary. Nancy understands that a university has the ability to be the anchor and the magnet to turn around a downtown corridor and create a promised land for the people in Newark and those who we want to attract and keep," she added.
Nancy Cantor is Chancellor of Rutgers University-Newark and an internationally-known social psychologist. She also lectures and writes extensively about universities responsibility to be anchors in their communities and serve as engines of discovery, innovation, and social mobility, as well as other crucial issues in higher education, such as rewarding public scholarship, sustainability, liberal arts education, the status of women in the academy, and racial justice and diversity.
She previously was chancellor and president of Syracuse University, chancellor of the University of Illinois at Urbana-Champaign, and provost and executive vice president for academic affairs at the University of Michigan. A fellow of the American Academy of Arts and Sciences and member of the National Academy of Medicine of the National Academies, Cantor is a board member of the American Institutes for Research, New York Academy of Sciences and Newark Trust for Education. She serves on many national committees, including as co-chair of Imagining America's Presidents Council and member of the National Science Foundation Committee on Equal Opportunity in Science and Engineering, the Anchor Institution Task Force, the Ford Foundation International Fellows Program Advisory Council, and the Policy and Global Affairs Committee of the National Academies. In addition, Cantor co-edits the Our Compelling Interests book series for the Andrew W. Mellon Foundation with Earl Lewis.
She has been honored with numerous awards, including the Robert Zemsky Medal for Innovation in Higher Education, the Reginald Wilson Diversity Leadership Award from the American Council on Education, the Woman of Achievement Award from the Anti-Defamation League, the Making a Difference for Women Award from the National Council for Research on Women, the Frank W. Hale, Jr. Diversity Leadership Award from the National Association of Diversity Officers in Higher Education, and the Carnegie Corporation Academic Leadership Award.
"Thank you so very much for this honor, County Executive DiVincenzo. It is so wonderful to be here with my partner in all good things with Newark, Don Katz," said Ms. Cantor. "My grandparents immigrated here and they instilled in me that education was truly the path to not only individual opportunity, but to collective wealth, and the sense of opportunity for an entire community. It is a tremendous opportunity for me to be chancellor of Rutgers-Newark because it embodies everything I grew up with," she added.
 Donald Katz is founder and CEO of Audible, Inc., the leading provider of premium digital spoken audio information and entertainment. Prior to founding Audible, Katz was a journalist and author for 20 years, during which his work won a National Magazine Award, an Overseas Press Club Award, the Chicago Tribune Heartland Prize for Nonfiction, and a nomination for a National Book Critics Circle Award, among other prizes.
Founded in 1995 and headquartered in Newark since 2007, Audible.com serves millions of listeners and offers over 250,000 downloadable audiobooks, audio editions of periodicals, and other programs. The company commercialized the first portable digital audio player in 1997, four years before the introduction of the iPod. Audible is the exclusive supplier of audiobooks to Apple's iTunes store worldwide, operates 14 global outlets and was publicly traded on NASDAQ until acquired by Amazon.com in 2008, of which it is now a subsidiary. For his leadership of the company since inception, Katz won the 2004 Ernst & Young Entrepreneur of the Year Award for New Jersey.
During his years as a professional writer, Donald Katz wrote The Big Store: Inside the Crisis and Revolution at Sears (1987); Home Fires: An Intimate Portrait of One Middle-Class Family in Postwar America (1992); and Just Do It: The Nike Spirit in the Corporate World (1994). Katz also served as a contributing editor for Rolling Stone, Esquire, Outside, Sports Illustrated, Men's Journal, and Worth. A two-volume collection of Katz's magazine stories, King of the Ferret Leggers and Other True Stories and Valley of the Fallen and Other Places, was published in 2001; Home Fires was re-released in 2014.
Katz graduated from New York University in 1974, and attended The University of Chicago as well as The London School of Economics, from which he holds an MSc Economics. He lives in Montclair, where he served as a member of the public library board for nine years. He has served on the board of Uncommon Schools, a nonprofit organization that manages several of the most outstanding urban college preparatory charter schools in the Northeast, since the organization was founded in 1997. Mr. Katz is married and has three children.
"I'm a fifth generation Jewish-American and I have inherited a great tradition on social justice in particular. The idea of ethics and questioning the status quo is hereditary and has helped me over the years. It's great to have the ability to think that way," said Mr. Katz. "I encourage everyone to pick your head up and look around at other parts of the world and see how people were able to bring areas back and hopefully together we'll be able to bring the City of Newark back," he added.
The Essex County Jewish Heritage Celebration is part of a yearlong series of programs initiated by County Executive DiVincenzo to recognize and celebrate the diversity of Essex County. Other cultural celebrations celebrate African American Heritage, Irish Heritage, Italian Heritage, Jewish Heritage, Latino Heritage and Portuguese Heritage.