26 Mar

ESSEX COUNTY EXECUTIVE DIVINCENZO HOSTS ANNUAL ESSEX COUNTY IRISH HERITAGE CELEBRATION Essex County Freeholder President Brendan W. Gill Named Irishman of the Year Greater Newark Conservancy Director Robin Dougherty Named Irishwoman of the Year PSE&G President & COO David M. Daly Receives Special Recognition Award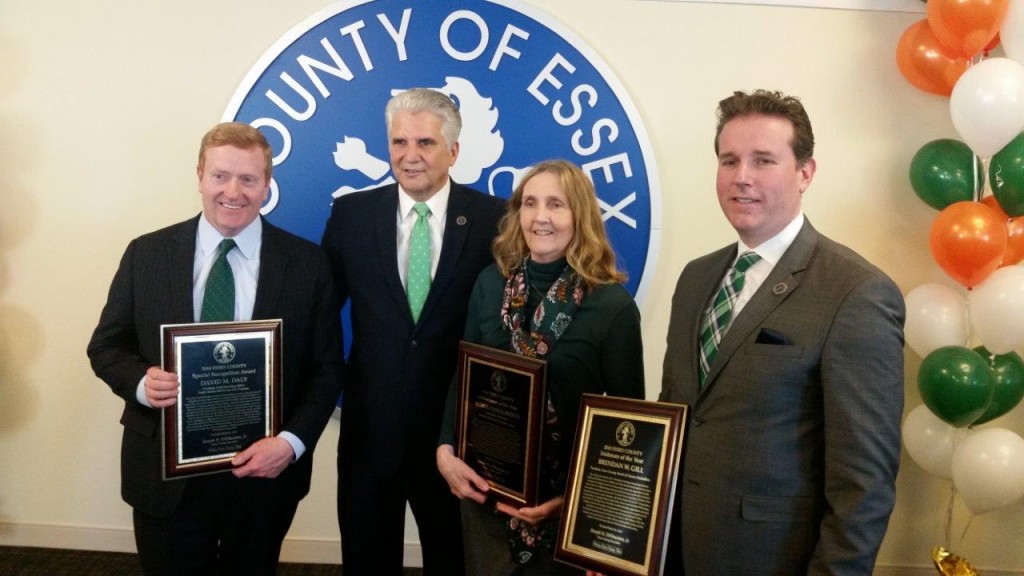 Newark, NJ – Essex County Executive Joseph N. DiVincenzo, Jr. hosted the 14th Annual Essex County Irish Heritage Celebration on Monday, March 26th. During the afternoon ceremony, the County Executive recognized Essex County Freeholder President Brendan W. Gill as the 2018 Essex County Irishman of the Year and Robin Dougherty, Executive Director of the Greater Newark Conservancy, as the 2018 Essex County Irishwoman of the Year. In addition, a Special Recognition Award was presented to David M. Daly, President and Chief Operating Officer of Public Service Electric and Gas Company (PSE&G). The Irish Heritage event recognizes the impact Irish men and women have had on the cultural, civic, political, law enforcement and economic history of the County.
"I have always said that the strength of Essex County lies in the diversity of the people living and working within our borders. This diversity stems throughout every corner of the county, and highlighting the contributions that each ethnicity has had on our economy, culture and history are part of what creates our sense of community," DiVincenzo said. "Brenda Gill, Robin Dougherty and David Daly have helped shape the quality of life in our County and the State through their government and civic work. We are proud to recognize their accomplishments and the positive impact they have had," he added.
Brendan Gill, currently serving as President of the Essex County Board of Chosen Freeholders, was first elected District 5 Freeholder in 2011 and Freeholder At-Large in 2014. He was appointed Freeholder Vice President in 2015 and became President at the start of this year. Gill most recently managed New Jersey Governor Phil Murphy's 2017 election campaign. He previously served as a Senior Aide and Campaign Manager for U.S. Senator Cory Booker, State Director for U.S. Senator Frank Lautenberg from 2007 until his passing in 2013, District Director for U.S. Congressmen Bill Pascrell and Steve Rothman, and Communications Director for the New Jersey Department of Transportation. Gill chairs the Montclair Democratic Committee and is a former member of the Montclair Planning Board. He currently operates his own public affairs and political consulting firm, The BGill Group, LLC.
The Freeholder President is an active member of the Irish-American community having participated in the Newark, West Orange and Nutley St. Patrick's Day parades and as a member of the Ancient Order of Hibernians, Michael Delahunty, Division 9 of Upper Montclair. He was recognized by the Irish Echo as one of the Top 40 under 40, was the 2014 Grand Marshall of Nutley's St. Patrick's Day Parade and he received the AOH Division 9 honor as 2017 Irishman of the Year. In 2017, he was named on the NJBIZ Power 100 list and named Political Operative of the Year for 2016 and 2017 by Insider NJ. In 2014 and 2015, he was named New Jersey's Most Powerful Elected Official by PolitickerNJ.
Gill is a life-long resident of Essex County where he lives with his family. He attended Montclair Public Schools and graduated Magna Cum Laude from Seton Hall University with a Bachelor's Degree in Political Science.
"Thank you, County Executive, for this honor. Joe is a model for good government and it is a pleasure to work with him every day," Gill said. "I have received recognition in other municipalities and from around the state, but to be honored by your home county gives me a feeling like no other," he added.
Robin Dougherty joined the Greater Newark Conservancy as Senior Program Director in January 1999 and was promoted to Executive Director in May 2000. She has over 20 years of experience in education, fundraising, management and programmatic development. Throughout her career, she has developed partnerships to create opportunities for new programs. In addition, she leads the effort to complete construction of the Judith L. Shipley Urban Environmental Center which surrounds the former Oheb Shalom Synagogue on Prince Street in Newark.
A former educator, Dougherty developed a curriculum and program for a residential school for special needs children. Furthermore, she is a founding member and two-term President of the Board of Trustees for the Environmental Fund for New Jersey, now DBA EarthShare New Jersey. For the past 30 years, she has been actively involved in advocacy for environmental and social issues.
Dougherty is a Leadership New Jersey Graduate, Class of 2004, and a 2007 Gustav Henningburg Fellow. She attended Rutgers-New Brunswick and Columbia's Earth Institute for Conservation and Environmental Sustainability. Previously a member of both the Newark Workforce Investment Board and the New Jersey Highlands Coalition Board, she is currently serving on the Advisory Council of the New Jersey Chapter of the Nature Conservancy.
"Joe, I think the model that you created to bring together people of different backgrounds and show respect to all nationalities and ethnicities should be copied at the national level," Dougherty said. "Although I was not born here, Essex County has become my home and there is no other place I'd rather be," she added.
David M. Daly was elected President and Chief Operating Officer of Public Service Electric and Gas Company in October 2017. In addition, he is Chairman of the Board of PSEG Long Island, a subsidiary of Public Service Enterprise Group, which has been managing the electric transmission and distribution systems of Long Island and the Rockaways since January 2014. During the program, the County Executive praised Daly and the quick response PSE&G provided in the aftermath of the recent string of nor'easters to restore power to affect areas and assist with the cleanup. In fact, Daly toured several hard hit areas in Essex County with the County Executive and Sheriff Armando Fontoura.
Prior to his current position, Daly served as president and chief operating officer of PSEG Long Island. While serving as vice president, he led of the transition of PSEG coming into Long Island. He has held a variety of positions in utility operations and support services since joining PSE&G in 1983, including Director of Utility Operation Services, Director of Corporate Strategy and General Manager of Transmission Planning.
Earlier in his career, Daly held various first and second line supervisory positions in fossil generation plant operations, and was a senior consultant at Metzler & Associates and UMS Group. He has an electrical engineering degree from the State University of New York Maritime College and a Master of Business Administration from Rutgers University.
"I told Joe that I'm just doing my job, so I accept this on behalf of the 6,000 men and women of PSE&G who really care about the people they serve," Daly said. "I come from a large Irish family, but I've never been honored for being Irish. So today is a bid day for me. I appreciate this award very much," he added.
The entertainment was provided by Jack McGarry of the Essex County Prosecutor's Office, Paul Byrne and Amy Bashara. The invocation was presented by Father Ed Leahy, Headmaster at St. Benedict's Prep.
Essex County's Annual Irish Heritage Celebration is one of several cultural observances hosted by the Essex County Executive and the Essex County Office of Cultural Diversity and Affirmative Action. The events are held to raise awareness about the rich ethnic diversity and backgrounds of County employees.