08 Mar

ESSEX COUNTY EXECUTIVE DIVINCENZO HOSTS ANNUAL ESSEX COUNTY IRISH HERITAGE CELEBRATION Essex County Clerk Christopher J. Durkin Receives Irishman of the Year Award NJTPA Executive Director Mary K. Murphy Receives Irishwoman of the Year Award Special Recognition given posthumously to Mary O'Hara Roth, Former Payroll Data Processor for County of Essex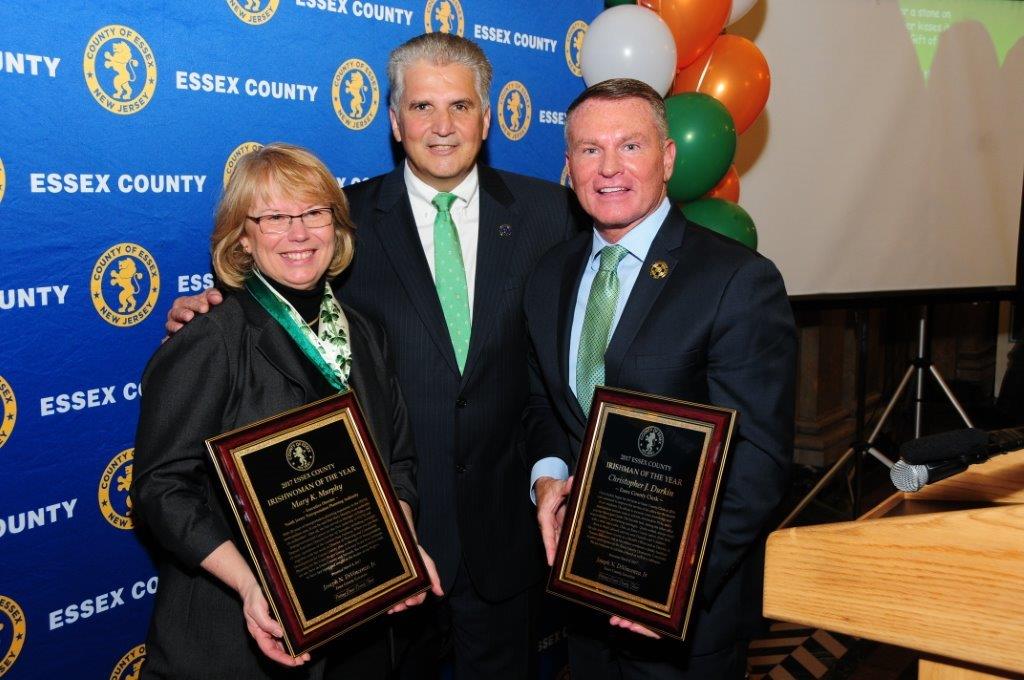 Newark, NJ – Essex County Executive Joseph N. DiVincenzo, Jr. hosted the 13th Annual Essex County Irish Heritage Celebration on Wednesday, March 8th. During the afternoon ceremony, the County Executive recognized Mary K. Murphy, Executive Director of the North Jersey Transportation Planning Authority, as the 2017 Essex County Irishwoman of the Year, and Essex County Clerk Christopher J. Durkin as the 2017 Essex County Irishman of the Year. In addition, a Special Recognition Award was posthumously presented to the late Mary Roth, a 27-year Essex County employee and community advocate. The Irish Heritage event recognizes the impact Irish men and women have had on the cultural, civic, political, law enforcement and economic history of the County.
"As I travel throughout New Jersey, I constantly tell people that Essex County's strength is our diversity. Highlighting the contributions that each ethnicity has made to our culture, economy and history helps create a better understanding of each other and develops a sense of community," DiVincenzo said. "Mary Murphy, Chris Durkin and Mary Roth have helped shape the quality of life in New Jersey through their government and civic work," he added.
Mary K. Murphy, AICP, PP, is the Executive Director of the North Jersey Transportation Planning Authority and oversees the annual investment of more than $2.5 billion in transportation improvement projects in the 13-county northern NJ area impacting more than 6.5 million people. Prior to joining the NJTPA, Ms. Murphy was the Deputy Executive Director for Planning and Operations at the NJ Turnpike where she was responsible for Toll, Operations and Maintenance departments for both the Garden State Parkway and the NJ Turnpike as well as the strategic planning and annual special project budget for the Authority. Previously, she was the Director of Planning and Community Development for Union County, Manager of Transportation Planning for the Louis Berger Group, and Manager of Policy and Intergovernmental Liaison for the Port Authority of New York & New Jersey.
Ms. Murphy is a licensed planner in the State of New Jersey with more than 20 years of experience in transportation planning and policy in the greater New Jersey/ New York metropolitan area. She holds a Master's Degree in Community and Regional Planning from the University of Texas and a Bachelor's Degree in Environmental Planning and Design from Rutgers University.
"I am happy to be here today. This is a special moment that allows me to pause and remember my father, our Irish heritage and how important family is to us," said Murphy. "Thank you for this honor Count Executive DiVincenzo," she added.
Christopher J. Durkin was re-elected to the office of Essex County Clerk for a third term in November 2015. A graduate of Rutgers University, where he majored in Political Science, Durkin began his career of public service at the North Ward Cultural Center, where he taught Math and English and served as a job placement officer to people transitioning from welfare to work. Prior to taking office, Mr. Durkin served in the administration of the Essex County Sheriff's Office before being sworn-in as a Sheriff's Officer. He then graduated from the Essex County Police Academy and was promoted to detective. Chris was appointed as the Director of Human Resources for the County of Essex on January 1, 2003, and served for three years in that position.
Mr. Durkin continued his pursuit of educational excellence, and in 2001, he attained his Master's Degree in Human Resources, Training & Development from Seton Hall University and has successfully completed the County Election Official Training Program conducted by the prestigious Edward J. Bloustein School of Planning and Public Policy at Rutgers University. The Bloustein School serves as one of the nation's key centers for the theory and practice of planning and public scholarship analysis. In 2002, he was elected 2nd Vice Chair of the Essex County Democratic Party under U.S. Congressman Donald Payne, Sr. Mr. Durkin currently serves on the Essex County Democratic County Committee. He has been appointed to the Board of Directors for the Saint Patrick's Guard of Honor and was an Executive Board Member to the American Red Cross from 2006 to 2012.
Born in Orange and raised in Maplewood, Chris graduated from Columbia High School in 1987. Mr. Durkin currently resides in West Caldwell with his wife, Danielle, and their three children Mackenzie (10), Christopher (9) and Ava Rose (5).
"I want to thank the County Executive for this award and my wife, my three children, my mother and my father who is smiling down on us now for their support," said Durkin. "I may never be half the great people my parents were, but it is because of my mom and dad that I am able to be the best I can be every day," he added.
Mary O'Hara Roth was raised by her parents Frank and Louise O'Hara, who both immigrated to the United States in the 1920s and settled in West Orange to raise their nine children. After graduating from Immaculate Conception High School, she worked for the Bell Telephone Company. She married her husband Ed Roth in 1959 and they made their home in West Orange as well, where they raised their five daughters, Mary, Patty Ann, Eileen, Sheila and Christine.
Mrs. O'Hara Roth was involved with CYO activities in Our Lady of Lourdes Parish in West Orange for many years where she remained a daily communicant throughout her life. In addition, she was a member of the Eagle Rock Civic Association, Vice Chairperson of the West Orange Democratic Committee and Frank O'Hara Association. Her greatest pleasure each year was marching in the annual West Orange St. Patrick's Day Parade as part of the O'Hara Association with family and celebrating the parade founded by her father, Frank O'Hara, over 65 years ago. She was honored as Deputy Grand Marshal of the Parade in 1996.
Ms. Roth was a hardworking individual who liked to be challenged. She spent many years working the 7 p.m. to 7 a.m. shift at the Eagle Rock Diner where she ran a tight ship. After working at the diner, she held other positions and before working as a payroll data processor in the County of Essex for 27 years; still working full time at the time of her death. While being employed by the County, she always enjoyed what she did and the many friendships she made along the way.
"On behalf of my sisters, I want to thank County Executive DiVincenzo for recognizing our mother today. She loved working for Essex County, she loved her job and the friendships she made and even at 80 years old, did not want to retire. We thank you all for the love and kindness you showed her," said her daughter Sheila Parisi. "We all thought we were lucky because she was our mother, but she was lucky too. She touched the lives of a lot of people in a meaningful way and so much of that kindness has been reciprocated and shown to us," she added.
The entertainment was provided by Jack McGarry of the Essex County Prosecutor's Office, as well as Paul Byrne and Amy Bashara. The invocation was presented by Father Ed Leahy, Headmaster at St. Benedict's Prep.
Essex County's Annual Irish Heritage Celebration is one of several cultural observances hosted by the Essex County Executive and the Essex County Office of Cultural Diversity and Affirmative Action. The events are held to raise awareness about the rich ethnic diversity and backgrounds of County employees.