23 Mar

ESSEX COUNTY EXECUTIVE DIVINCENZO HOSTS ANNUAL ESSEX COUNTY IRISH HERITAGE CELEBRATION Attorney Michael Critchley, Sr. Receives Irishman of the Year Award Former Assignment Judge Patricia K. Costello Receives Irishwoman of the Year Award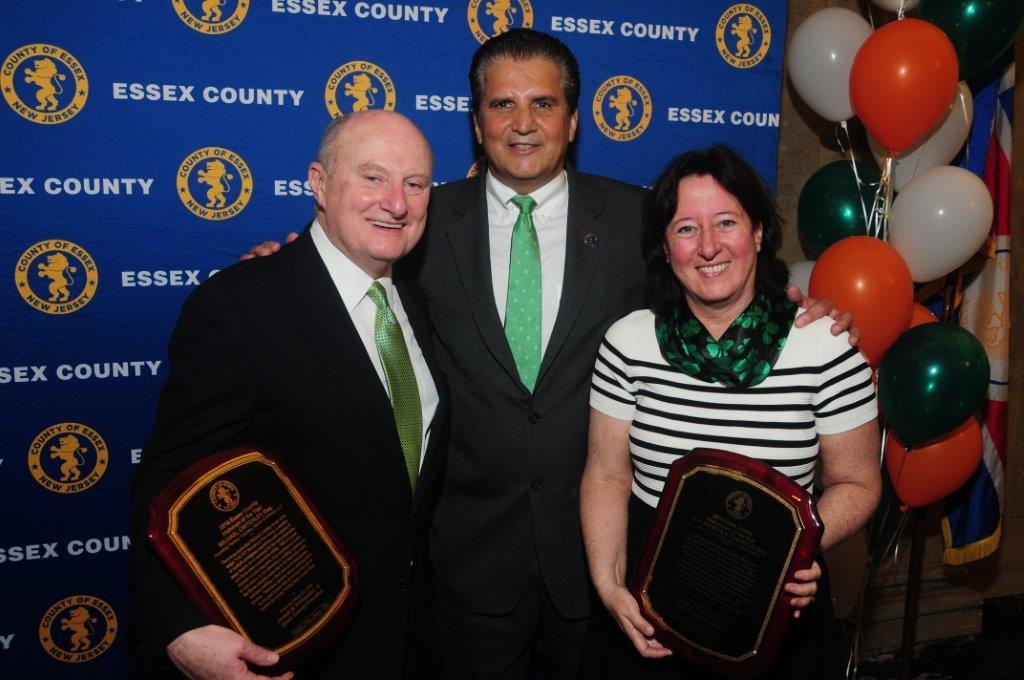 Newark, NJ – Essex County Executive Joseph N. DiVincenzo, Jr. hosted the 13th Annual Essex County Irish Heritage Celebration on Wednesday, March 23rd. During the afternoon ceremony, the County Executive presented Attorney Michael Critchley, Sr., with the 2016 Essex County Irishman of the Year Award and the Honorable Patricia K. Costello, former Essex County Assignment Judge, with the 2016 Essex County Irishwoman of the Year Award. The Irish Heritage event recognizes the impact Irish men and women have had on the cultural, civic, political, law enforcement and economic history of the County.
"As I travel throughout New Jersey, I constantly tell people that Essex County's strength is our diversity. Highlighting the contributions that each ethnicity has made to our culture, economy and history helps create a better understanding of each other and develops a sense of community," DiVincenzo said. "Michael Critchley, Sr. and the Honorable Patricia Costello are two individuals who have helped shape the quality of life in New Jersey through their legal, government and civic work," he added.
Joining the County Executive during the program was US Senator Robert Menendez. "I am proud that County Executive DiVincenzo makes it his mission to highlight the diversity of Essex County and, by doing this, he is bringing people together," the Senator said. "The two honorees, Mr. Critchley and Judge Costello, have made their careers about the rule of law and justice," he said, adding because of them, Essex County can be proud of its fair and impartial legal system.
Mr. Critchley is generally regarded as one of the most effective trial attorneys in New Jersey. During over 30 years of practice, he has successfully tried over 100 cases in Federal and State courts involving matters such as securities fraud, anti-trust violations, tax fraud, official misconduct and other business crimes. Mr. Critchley also has successfully tried numerous civil matters involving complex corporate disputes, and advised numerous high profile individual and corporate clients under investigation in which his clients avoided indictment or other proceedings.
Mr. Critchley has received several recognitions, including to being named to PolitickerNJ's Top 100 Power List, NJBiz's 100 Most Powerful People in New Jersey Business, the Top 100 Super Lawyers, Best Lawyers in America, Top Lawyers in New York Area, Best Lawyers in New Jersey and the AV Peer Review Rated by Martindale-Hubbell. He has received the Trial Attorneys of New Jersey's Trial Bar Award, the Association of Criminal Defense Lawyers of New Jersey's Lawrence A. Whipple Award and Distinguished Graduate of the Year from Seton Hall University School of Law.
He is a Fellow of the American College of Trial Lawyers, the premier professional trial organization in America whose membership is limited to the top 1% of trial attorneys in the country, the American Board of Criminal Lawyers and the American Bar Foundation. Mr Chritchley is a past President and founding member of the New Jersey Association of Criminal Defense Attorneys and the Seton Hall University School of Law Inn of Court and a member of the New Jersey State Bar Association Judicial & Prosecutorial Appointments Committee. He also serves on the Board of Visitors at Seton Hall University School of Law, the Board of Directors at St. Michael's Medical Center and the Board of Trustees of Assumption College.
Mr. Critchley received his B.A. and J.D. from Seton Hall University. Following law school, he served as an Assistant Prosecutor in the Essex County Prosecutor's Office and later served as Assistant Counsel to Governor Brendan T. Byrne. Mr. Critchley founded the firm, which is now known as Critchley, Kinum & Vazquez, LLC, in 1975.
"I want to thank Joe DiVincenzo for this honor. I am deeply appreciative of this recognition," Michael Critchley said. The attorney said being raised in Newark and working as a roofer were major influences on his work ethic and laid the groundwork for being a good attorney. "In my neighborhood, you not necessarily had to win a fight, but you had to learn how to fight. As a roofer, I worked with men who had fought in World War II and Korea, and they taught me that you do what you have to do to survive. These lessons I took to the courtroom because you can never forget where you came from," he added.
The Honorable Patricia Costello joined the law firm of Chiesa, Shahinian & Giantomasi PC as Of Counsel after serving more than 25 years as a New Jersey Superior Court Judge, including the last decade as the Assignment Judge in the Essex County Vicinage. Judge Costello concentrates her practice on mediation and arbitration of civil, chancery and matrimonial matters including probate, commercial litigation and labor and employment disputes.
During her tenure as Assignment Judge, Judge Costello had judicial responsibility for all trial courts in the county, in charge of handling the county's municipal courts and more than 100,000 filings per year. Judge Costello supervised approximately 1,000 employees and managed a $55 million annual budget for the state's busiest courthouses.
Appointed to the bench in 1989 by then Governor Thomas Kean, Judge Costello spent the first 15 years of her judicial career in Hudson County, serving first in the Criminal Division where she became Presiding Judge, then in the Civil Division where she directly supervised the Special Civil Part. She also served in the Family Division, where she again became Presiding Judge. Judge Costello served on and as chair of numerous Supreme Court committees, including vice chair of the Judicial Education Committee.
Prior to her judicial service, Judge Costello was in private practice as a partner in the law firm of McAlevy & Costello where she attained certified criminal trial attorney status in 1986. After law school, Judge Costello clerked for the Honorable Thomas McCole in Hudson County Superior Court. She received her J.D. from Rutgers University School of Law and her B.A. from Seton Hall University.
"I had a wonderful relationship with the County Executive and the Freeholders when I was Assignment Judge. Together, we did some great things to improve the Government Complex, to the point where some attorneys who had not been to the complex is a few years could not recognize it. This is something I'm very proud of," former Assignment Judge Patricia Costello said. "I am really overwhelmed to be part of the Essex County family and am genuinely appreciative of this honor," she added.
The entertainment was provided by Jack McGarry of the Essex County Prosecutor's Office, as well as Paul Byrne and Amy Bashara. The invocation was presented by Msgr. Michael Andreano, Vicar General & Chancellor of Sacred Heart Cathedral.
Essex County's Annual Irish Heritage Celebration is one of several cultural observances hosted by the Essex County Executive and the Essex County Office of Cultural Diversity and Affirmative Action. The events are held to raise awareness about the rich ethnic diversity and backgrounds of County employees.