11 Jul

ESSEX COUNTY EXECUTIVE DIVINCENZO HOSTS 2018 ESSEX COUNTY PORTUGUESE HERITAGE CELEBRATION Star of Essex County Awards Presented to Ironbound Soccer Club Assistant Finance Director Diolinda B. Soares And Essex County Undersheriff John Goncalves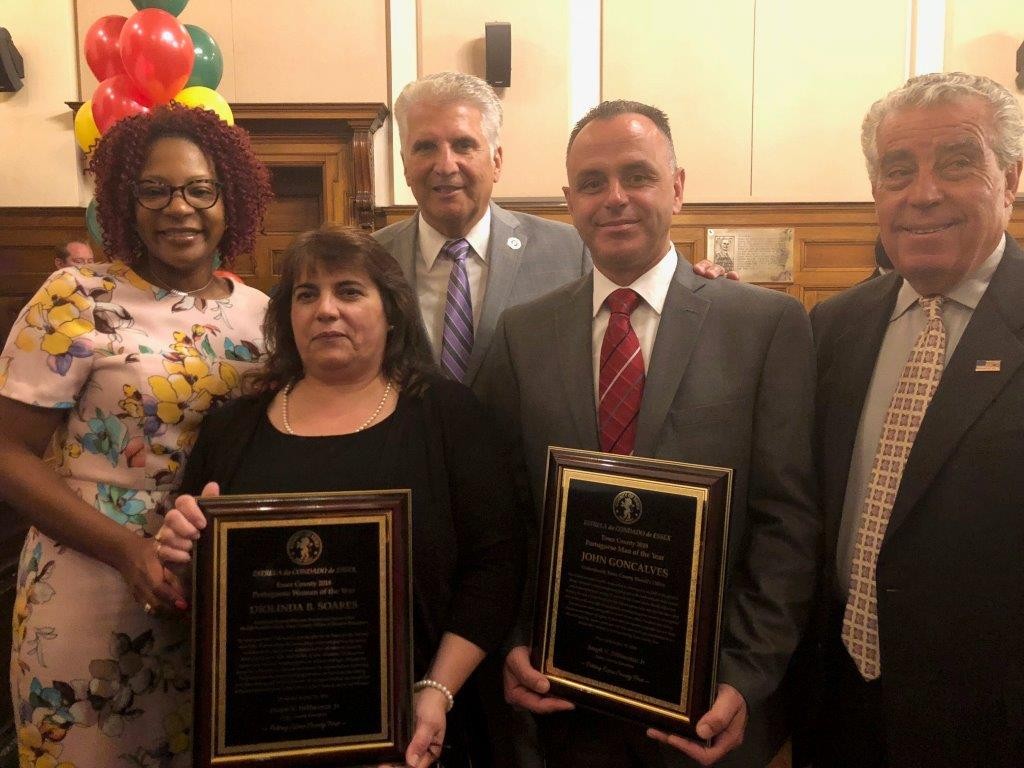 Newark, NJ – Essex County Executive Joseph N. DiVincenzo, Jr. hosted the 2018 Essex County Portuguese Heritage Celebration on Tuesday, July 10th. During the program, DiVincenzo presented Star of Essex Awards to Diolinda B. Soares, Assistant Finance Director with the Ironbound Soccer Club and Health Benefits Clerk with the Essex County Office of Human Resources, and John Goncalves, an Undersheriff with the Essex County Sheriff's Office. The honorees were recognized for their many positive contributions to New Jersey – especially in Essex County.
"Essex County has been shaped and developed by the various cultures and ethnicities of the people who have lived and worked here. Celebrating the heritage of our neighbors will help us understand and embrace our diversity," DiVincenzo said. "Diolinda B. Soares and John Goncalves have made many contributions to our civic, educational and cultural worlds here in Essex County," he added.
Diolinda B. Soares is Assistant Finance Director with the Ironbound Soccer Club and Health Benefits Clerk with the Essex County Office of Human Resources. She immigrated with her family to the United States from Anadia, Portugal, in January 1970 when she was 7 years old. Soares lived in Newark until the age of 16 when her parents bought their first home in Elizabeth. She married her husband John in 1985, and they moved to Livingston in 1992. She worked in the banking industry for over 20 years and at Horizon Blue Cross Blue Shield of NJ before joining Essex County four years ago.
Diolinda and her family became involved with the Ironbound Soccer Club in 1994 when they registered their son as a member and she became Assistant Finance Director in 2000. Working with other volunteers, the club grew and formed travel teams for a variety of age groups. In 2004, the Northern Counties Soccer Association named ISC as Club of the Year. Diolinda also has assumed the responsibility of supervising the developmental and recreational program. Previously, she volunteered for Our Lady of Fatima Church Pre-Cana Committee.
"I want to thank Joe DiVincenzo for continuing to recognize the diversity of Essex County and for all that you have done," Soares said. "I also want to thank the people who have propelled me to succeed – my parent and my family," she added.
John Goncalves is an Undersheriff with the Essex County Sherriff's Office, and is responsible for Court Security and Transportation Operations. He joined the Sheriff's Office in 1993, and has provided security for the courtrooms and Hall of Records Complex, executed arrest warrants, and represented the Sheriff's Office on several interagency task forces, including serving as the Chief Investigator on the Newark Police Department's Financial Crimes Task Force. In addition, he has worked on many high-profile criminal cases with the U.S. Secret Service and has coordinated the federal agency's Dignitary Protection Unit, which provided security for Presidents Bill Clinton, George W. Bush, Barack Obama and Donald Trump, and other dignitaries who have visited the region.
Due to his hard work, professionalism and dedication to duty, he has earned many departmental accolades, including the prestigious Medal of Merit and Life Saving Awards. He became interested in public service after becoming a volunteer EMT for the North Ward First Aid Squad when he was 14 years old.
"I want to thank Joe D. and Sheriff Armando Fontoura. I really appreciate the recognition," "Goncalves said.
The invocation was given by Father John Carlos DeSousa from Holy Cross in Harrison and St. Anthony's in East Newark. The national anthems of the United States and Portugal were sung by children from Zee's Club from the Ironbound Boys and Girls Club. Entertainment was provided by Joao Machado.
The Essex County Portuguese Heritage Month Celebration is the part of a year-long cultural series created by County Executive DiVincenzo to highlight Essex County's diversity. Other cultural heritage celebrations include African American History Month, Irish Heritage Month, Women's History Month, Italian Heritage Month, Jewish Heritage, Latino Heritage and Pride Month to highlight the Lesbian, Gay, Bi-Sexual, Transgendered and Questioning community.