14 Jun

ESSEX COUNTY EXECUTIVE DIVINCENZO HOSTS 2017 ESSEX COUNTY PORTUGUESE HERITAGE CELEBRATION Star of Essex County Awards Presented to Rafael Hernandez School Principal Patricia A. Gois and NJ Schools Development Authority Vice President Manuel Da Silva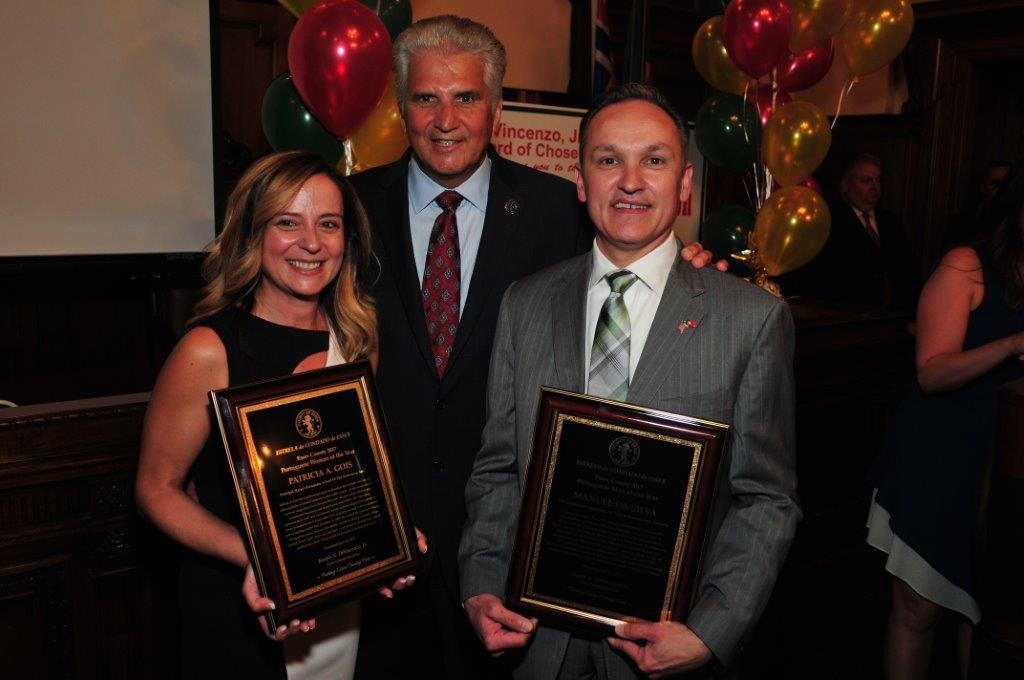 Newark, NJ – Essex County Executive Joseph N. DiVincenzo, Jr. hosted the 2017 Essex County Portuguese Heritage Celebration on Wednesday, June 14th. During the program, DiVincenzo presented Star of Essex Awards to Patricia A. Gois, Principal of Rafael Hernandez School in Newark, and Manuel Da Silva, Vice President of Construction Operations at the New Jersey Schools Development Authority. The honorees were recognized for their many positive contributions to New Jersey – especially in Essex County.
"Essex County has been shaped and developed by the various cultures and ethnicities of the people who have lived and worked here. Celebrating the heritage of our neighbors will help us understand and embrace our diversity," DiVincenzo said. "Patricia Gois and Manuel Da Silva have made many positive contributions to the cultural, civic and educational history in Essex," he added.
Patricia A. Gois has been the Principal of Rafael Hernandez School of the Performing Arts in Newark since July 2014. As Principal, Ms. Gois has made an impact in a short period of time, improving student performance and teacher support. Prior to joining the Rafael Hernandez School team, she served as a 6th grade Language Arts and Social Studies Teacher and Vice Principal at Ann Street School in Newark for 12 years. During her tenure, she was actively involved in budget development, instrumental in the success of the School Leadership Council and curriculum development and improvements. In 2009, she received the Governor's Teacher Recognition Award for Teacher of the Year.
In addition to her responsibilities at school, she is very active at her church and in the community, serving as a Sunday School Teacher for 10 years, and training and directing a church group for altar servers. She is also a scout leader, tutor and translator and a mentor for a youth group that helps troubled youth. Ms. Gois is fluent in English, Portuguese and Spanish, which allows her to be more effective in her role, serving a diverse group of students, staff and parents. She earned a Master's of Education Leadership, Management and Policy from Seton Hall University and has Principal/Supervisor and Elementary Teacher certifications.
"I am proud of my culture and I also love to be around other cultures. My family and I came here on July 15, 1985, in search of the American dream," said Gois. "Now to see things from this other side makes it all worth it. Thank you to the County Executive for this great honor. I accept this award on behalf of my parents and my students," she added.
Manuel Da Silva is the Vice President of New Jersey Schools Development Authority. He has served in various capacities with the Authority over the past seven years, including as Senior Manager of Engineering, Senior Program Officer and Program Director. His responsibilities included managing scope development, procurement and construction of capital and emergent school projects; providing oversight and direction to four teams responsible for the delivery of 22 capital school projects totaling over $1.75 billion of new school facility construction projects; developing construction procurement strategy and presenting recommendations to the CEO and Board of Directors. Mr. Da Silva's notable accomplishments include being directly responsible for the delivery of four new school facility construction projects in 2016 with a construction value of $194.5 million and over 3,000 new Pre-Kindergarten through eighth grade seats in 2016. A special project was the construction of the new Oliver Street School, since the old school was from where Mr. Da Silva graduated.
Prior to joining the New Jersey Schools Development Authority, he served as Director of Operations and Development at M. Alfieri Co., Inc. where he was responsible for the property management, project management and design of 20 Class A office buildings totaling 2,250,000 square feet and nine multi-state land development sites. He successfully reduced operating costs by $250,000 with staff reallocation, a more efficient bid process and procedural improvements that increased the productivity and efficiency.
Mr. Da Silva earned a Bachelor of Science Degree in Civil Engineering with a minor in Management from New Jersey Institute of Technology and is a NJ licensed professional engineer.
"It is easy for me to accept this award when other Portuguese people have gone before me and paved the way. Thank you to County Executive DiVincenzo for this award and for recognizing the Portuguese community," said Da Silva. "I am humbled to receive this. I also want to thank my parents, my in-laws, my wife and my children for their continued support," he added.
The invocation was given by Pablo Pizarro, Lead Pastor of Lighthouse Assembly of God in Newark. Entertainment was provided by the Rafael Hernandez School Choir under the direction of Katie Broadhead and Mr. Joao Machado.
The Essex County Portuguese Heritage Month Celebration is the part of a year-long cultural series created by County Executive DiVincenzo to highlight Essex County's diversity. Other cultural heritage celebrations include African American History Month, Irish Heritage Month, Women's History Month, Italian Heritage Month, Jewish Heritage, Latino Heritage and Pride Month to highlight the Lesbian, Gay, Bi-Sexual, Transgendered and Questioning community.