20 Apr

ESSEX COUNTY EXECUTIVE DIVINCENZO, DIVISION OF SENIOR SERVICES AND PARKS DEPARTMENT EXPAND SENIOR CAFÉ IN THE PARK PROGRAM TO SIXTH LOCATION IN ESSEX COUNTY IRVINGTON PARK New Location Enables Essex to Offer Congregate Meals, Exercise and Wellness Programs, and Other New Activities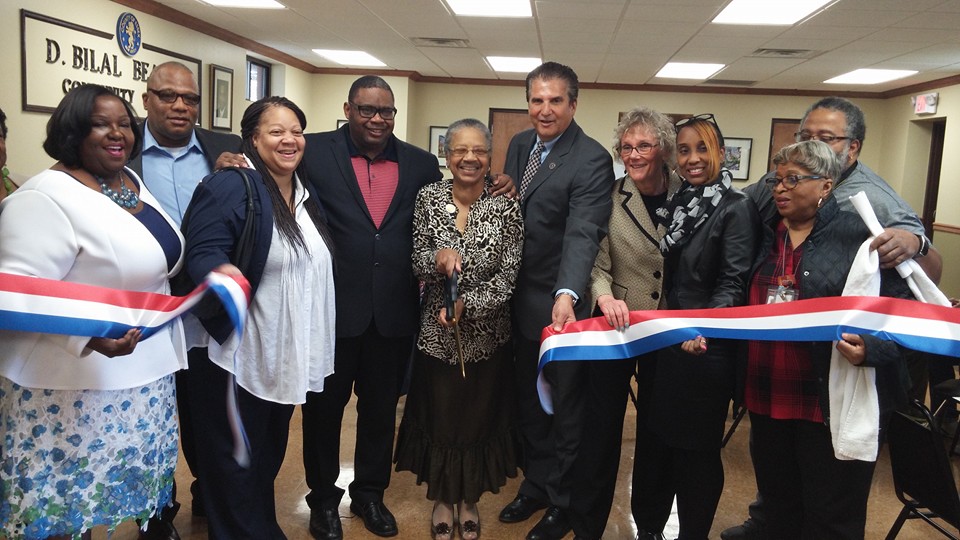 Irvington, NJ – Essex County Executive Joseph N. DiVincenzo, Jr., the Essex County Division of Senior Services and the Essex County Department of Parks, Recreation and Cultural Affairs opened "Café in Essex County Irvington Park," a new senior citizen congregate meal center in the D. Bilal Beasley Community Center in Essex County Irvington Park on Wednesday, April 20th. This is the sixth senior citizen congregate meal program that the Essex County Division of Senior Services will be operating in a County park.
"I really want to commend our Division of Senior Services and Department of Parks for combining their resources to offer our seniors this wonderful program. Seniors benefit from the nutritious meals they receive at our congregate meal locations, but now they will also have the opportunity to enjoy our beautiful parks when they come for lunch," DiVincenzo said.
"We want to thank the County Executive and Freeholders for the attention that they have given to improve Irvington Park and bring this much-needed program to Irvington. This is a wonderful activity that will provide our seniors with an opportunity to socialize and to receive a nutritious lunch," Mayor Tony Vauss said.
Joining the County Executive and Mayor at the opening were Freeholders Lebby Jones and Patricia Sebold and Irvington Council members Sandra Jones and Renee Burgess.
"Our congregate meal program does more than just provide nutritious food to seniors. We want to get them involved in exercise programs, learn about healthy lifestyles and stay active in their community," Essex County Senior Services Director Jaklyn DeVore said. "There is a lot of potential here to expand our program so we can attend to the complete wellness of our seniors. I thank the County Executive and Parks Department for helping to make this dream come true," she added.
DeVore noted that hosting the congregate meal program in a park and being in a county-owned building gives her flexibility to expand the program beyond just providing nutritious meals. There are plans to offer exercise programs and social activities in the park, cooking demonstrations, health and wellness programs and diabetes prevention. She also will try out new ideas, such as altering the hours of the program to offer breakfast or dinner programs if seniors are interested.
"Through our County Executive's initiative to revitalize our historic Parks System, we have modernized many of our facilities and made them ideal locations for people to meet and enjoy our parks," Essex County Parks Director Dan Salvante said. "We enjoy partnering with the Division of Senior Services and look forward to having more seniors enjoy our parks," he added.
The D. Bilal Beasley Community Center recently received a complete renovation and was rededicated on April 6th. It is named for the late D. Bilal Beasley, who served as a member of the Essex County Board of Chosen Freeholders and the Irvington Municipal Council. The building is located in Essex County Irvington Park, near the intersection of May Street and Grace Street. The congregate meal site will be open Mondays to Fridays from 11 a.m. to 2 p.m. Seniors ages 60 years and older and their spouses are eligible to participate. There is a suggested $3 donation to help defray the cost of the program.
The Senior Building in the Northern Division of Essex County Branch Brook Park was the first senior congregate meal site to open in an Essex County park in August 2011. Other sites have opened in Essex County Independence Park, Essex County Watsessing Park, Essex County Weequahic Park and Essex County Verona Park. In 2013, the Essex County Division of Senior Services received an Aging Achievement Award by the National Association of Area Agencies on Aging (n4a), which recognized the Café in the Park program as an innovative initiative to keep seniors active and involved.
The Essex County Division of Senior Services offers a wide range of services to eligible Essex County senior citizens. The Division provides congregate and home-delivered meals, offers adult protective services, provides basic transportation services, administers contracts with adult day care centers, offers counseling services for caregivers, contracts with several municipalities to provide visiting nurse services and provides dental, legal, care management and outreach services. The Division also sponsors the popular Essex County Legacies Writing Contest which asks seniors to share stories from their lives and the Essex County Older American Month Celebration which recognizes "legends" for their contributions to the community. The Essex County Division of Senior Services is located at 900 Bloomfield Avenue in Verona. For more information, please call 973-395-8375.