04 Aug

ESSEX COUNTY EXECUTIVE DIVINCENZO DEDICATES "WILEY WILLIAMS CORNER" AT ESSEX COUNTY WEEQUAHIC GOLF COURSE IN HONOR OF WILEY WILLIAMS 10th and 11th Holes Named in Honor of Local Golf Legend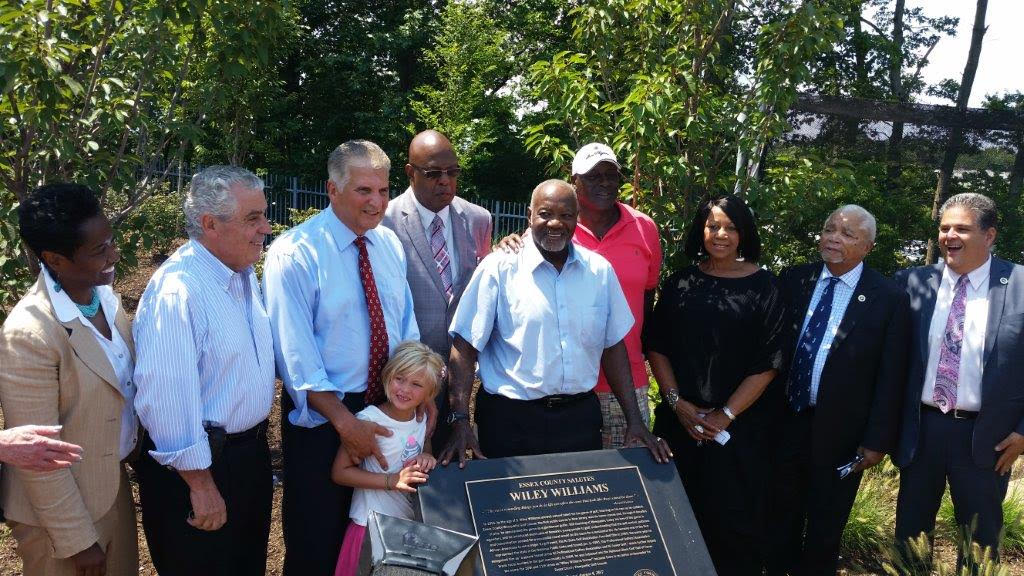 Newark, NJ – Essex County Executive Joseph N. DiVincenzo Jr. dedicated "Wiley Williams Corner" at Essex County Weequahic Golf Course in honor of local golf legend Wiley Williams on Friday, August 4th. A resident of East Orange, Williams was one of the first African Americans to win a New Jersey golf tournament, taught generations of young people the game of golf and adopted Weequahic Golf Course as his home course. The 10th and 11th Holes are the signature holes at Weequahic, offering challenging fairways and a picturesque view of the Freedom Tower in New York City.
"Over the last several years, we have dedicated a number of plaques and statues to recognize people who have contributed to the development of Essex County or made an impact on the lives of our residents. Wiley Williams was a pioneer and trailblazer on the golf course, breaking racial barriers," DiVincenzo said. "Wiley opened doors for other competitors and generously gave his time to teach younger generations of golfers the secrets of the game. We are proud that he adopted Weequahic Golf Course as his home course and can think of no better ambassador for our course or the game," he added.
"Having Wiley's name attached to his corner at Holes 10 and 11 will be an inspiration to the young golfers who participate in The First Tee program at Weequahic and a reminder to others that anything can be achieved through hard work and perseverance," the County Executive pointed out.
"I had no idea what could happen when I played golf. I just played because I enjoyed it," Mr. Williams said. "The one thing I learned in life is that if you want something, you have to go out and get it yourself. This is a great honor and I thank Joe D. and the Freeholders. I've never seen this course in such great shape," he added.
Retired New York Giant and Super Bowl MVP Ottis Anderson said that he learned patience and compassion from Williams who he credited for helping to change the game of golf. "We are glad you're part of our lives," Anderson said.
A bronze plaque recognizing the dedication is located near the entrance to the golf fieldhouse. It begins with a quote from golfing legend Arnold Palmer: "The most rewarding things you do in life are often the ones that look like they cannot be done." It continues: "In 1951, by the age of 9, Wiley Williams showed natural talent for the game of golf, learning on his own as he caddied. Essex County Weequahic Golf Course was his home course and, through four decades of play, he approached the game as a gentleman golfer. Still teaching at Weequahic today, his love of the game is legendary, and he introduced multitudes of Newark's young people to golf, understanding that the self-control, patience and concentration needed for a successful round would be the basis for a successful life. He became one of the first African Americans to win a major New Jersey golf event, the NJ State Golf Association Four-Ball title in 1969, the same year he represented the state in the National Public Links and turned pro. In 1981, the Professional Golfers' Association recognized him as "a special friend of the NJ Professional Golfers Association and NJ Junior Golf," which further helped break racial barriers in the golf community. In 1994, he was inducted into the National Black Golf Hall of Fame. We name the 10th and 11th Holes as 'Wiley Williams Corner' because there is no better ambassador for Essex County Weequahic Golf Course."
Elected officials showered Mr. Williams with compliments. He received proclamations from the County Executive, the Board of Chosen Freeholders and NJ Senate.
"What I love about you, Mr. Williams, is that you bring people together. Look at the diverse crowd here today," Assembly Speaker Emeritus Sheila Oliver said. "People will follow Wiley not because of the way he played golf, but because of your character, tenacity and humility," she pointed out.
"The County Executive has done a great deal to recognize Essex County leaders and those who have done great things, but this is one of the best dedications you could do for people of color," NJ State Senator Ronald Rice said.
"He persevered at a time when it was difficult for people of color to be on a golf course. There would be no Tiger Woods if there wasn't Wiley," Freeholder Rufus Johnson said. "Wiley has been a role model for so many golfers. You are our champion," he noted.
"Wiley is a wonderful person. The most important thing about Wiley is his character and the way he gives back to young people," Sheriff Armando Fontoura pointed out.
Wiley Williams Corner consists of the recently renovated 10th and 11th holes at Weequahic Golf Course. The holes were reconfigured in 2015 to eliminate blind spots and enhance safety for golfers on the course. The 10th Hole is a Par 3, 158-yard hole and the 11th Hole is a Par 5, 550-yard hole. In the process of the renovation, the 11th Hole was reconstruction to take advantage of its extraordinary view of New York, including the Freedom Tower at One World Trade Center. The upgrades have made Holes 10 and 11 the signature holes of the course.
Friends and family chanted Wiley's name and called the honor long overdue.
"When I see so many people gathered here to pay tribute to my uncle it makes me proud," said Williams' niece Gloria Chambers-Benoit, who noted family had come from South Carolina, North Carolina, Georgia and Texas to attend the event.
"Wiley has been a mentor and great friend who has contributed a great deal to the game of golf. He was a great, great champion," said Jeff Collymore, who has golfed with Williams for over 40 years.
"His knowledge of the game and compassion is amazing," The First Tee Director Katie Brenny said. "I have read about all the things he has accomplished, but I am in awe of who he is today. The kids in The First Tee love him and want to be with him," she added.
"I give Wiley all the credit for my golf game," said Erica McNeil, Vice President of the Dufferettes of New Jersey, who had Williams as her golf teacher. "When I made my first hole in one, he just happened to be there and it made the memory all that much sweeter," she said.
"What is most impressive about Wiley is what he's done for people. Weequahic Golf Course is the friendliest place because of Wiley," said Verona attorney Richard Chisholm, who saw Mr. Williams play in the 1960s and 1970s, and formed a friendship with him on the golf course.
Wiley Williams began teaching himself golf at the age of 9 by observing the more experienced golfers for whom he caddied. He continued to perfect his playing skills on the tees, fairways, sand traps and greens of Essex County Weequahic Golf Course, which he called his home course throughout his life. He went on to win a variety of local golfing events and competitions and won his first Essex County Men's Golf Championship in 1967.
In 1969, he was the only New Jersey golfer to qualify for the National Public Links competition and, along with Marvin Smith, was the first African American golfer to win a major New Jersey golf event, the New Jersey State Golf Association Four-Ball title. That year, Williams turned professional and, during his career, would go on to win the Brooklyn Classic Golf Tournament and Cleveland Open.
Williams was a pioneering golfer who broke racial barriers in the New Jersey golf circuit. He is particularly proud of an award he received in 1981 from the Professional Golfers' Association, which recognized him as "a special friend of the NJ Professional Golfers Association and NJ Junior Golf." He also has dedicated himself to Weequahic Golf Course, where he became an unofficial course ambassador and served as a mentor and role model to generations of young golfers. He remains an active member of the Weequahic Golf Course community where he still gives private lessons.
The Essex County Park System was created in 1895 and is the first county park system established in the United States. The Park System consists of more than 6,000 acres and has 23 parks, five reservations, and environmental center, a zoo, Treetop Adventure Course, ice skating rink, roller skating rink, three public golf courses, golf driving range, two miniature golf courses, three off-leash dog facilities, a castle and the Presby Memorial Iris Gardens. Essex County Weequahic Park Golf Course opened as the first public golf course in New Jersey in 1914. The original nine-hole course was designed by Seth Lowe, the former golf professional at historic Baltusrol Golf Club in Springfield, while the back nine holes, which opened in 1969, were designed by distinguished golf course architect Hal Purdy.