04 Jun

ESSEX COUNTY EXECUTIVE DIVINCENZO DEDICATES THE "RANDI & MARC E. BERSON LEARNING CENTER" AT ESSEX COUNTY TURTLE BACK ZOO

Berson Family's Generous Contribution Will Support
Educational Programming for 10 Years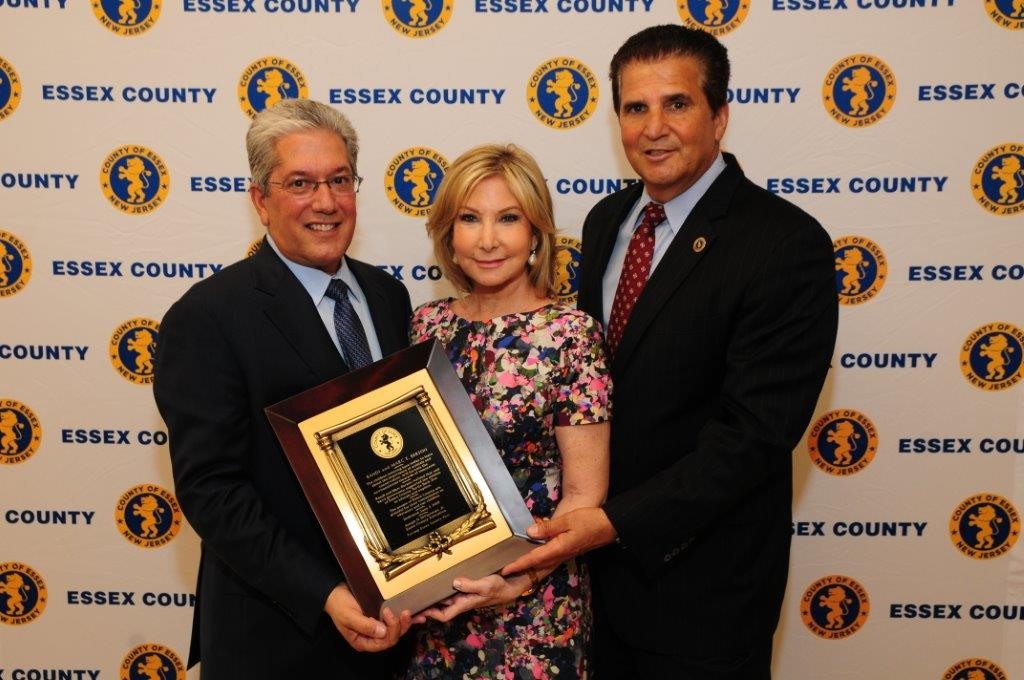 West Orange, NJ – Essex County Executive Joseph N. DiVincenzo, Jr. dedicated the Randi & Marc E. Berson Learning Center at Essex County Turtle Back Zoo on Wednesday, June 3rd. Naming the classroom area on the first floor of the new Education Center recognizes the long-term commitment made by the Berson family to support educational programming at Turtle Back and to help it fulfill its mission of raising awareness about animals and preparing future generations of environmental stewards.
"Randi and Marc Berson have been extremely wonderful partners at Turtle Back Zoo. They understand the educational and inspirational value of the facility as well as its potential to motivate children today and in the future to be more respectful of animals, their habitats and the environment," DiVincenzo said. "Their generous contribution has enabled us to make Turtle Back Zoo more than just a place for visitors to see animals. It's become a place of interactive learning, discovery and enjoyment. Support from benefactors like the Berson family is what is helping us transform the Zoo into a family destination," he noted.
"We were particularly excited when we walked in and viewed the animals. It's pretty amazing. The County Executive has been instrumental in preserving the zoo and conceived what it could become. A new facility that was about educating children and welcoming everyone has been developed," Mr. Berson said. "This is a pretty exciting place and we have a lot to be proud of. We are privileged to be part of this. We love what we see and how children enjoy coming here," he said.
"As a Trustee of the Zoological Society, we are so grateful for a gift like this because of the support it provides for the Zoo's mission. This complex has always been a part of my family's life, coming here to visit Turtle Back Zoo or skating at the arena," Kerri Berson Levine said. "Having this facility named for my parents is a huge honor because thousands of children will have the same opportunity to learn about animals and nature," she said.
The Berson family began their relationship with Essex County Turtle Back Zoo in 2013 with a generous contribution to support public workshops, summer camps, outreach programs, special events and other activities at Turtle Back Zoo. For their commitment, Mr. Berson was one of the honorees at the Turtle Back Zoo 50th Anniversary Gala in 2013. Mr. and Mrs. Berson's daughter, Kerri Berson Levine, currently serves as a member of the Zoological Society of New Jersey, which provides fundraising and financial support to Turtle Back Zoo.
Support from the Berson family has been instrumental in helping Zoo staff develop and implement educational programs and camping opportunities at the new 12,000-square-foot Education Building, which opened in August 2014. The modern building provides a safe and more organized entrance for school groups arriving by bus and a second entrance for the general public that alleviates overcrowding at the original entrance. This summer, almost 600 children are enrolled in the Zoo's summer camp program, which is the first full summer that it is being offered in the new facility.
"Today we are only seeing one slice of the family pie. Thank you for the work you do in economic development, education and throughout the community," NJ State Senator and Essex County Deputy Chief of Staff Teresa Ruiz said. "When you see children experiencing something for the first time, such as seeing the animals here, is it truly rewarding. Thank you for enhancing that," she said.
"The Berson family has always been involved in economic development and social investment. What we have to add to that description is educational support and giving children unique opportunities to learn," Assembly Speaker Emeritus Sheila Oliver said.
"I am proud to join Essex County in honoring one of the finest families in Essex County," Barnabas Health President and CEO Barry Ostrowsky said. "They continually give back to the community and their decisions are based solely on how they can make the community better," he noted.
"There are things in which the Berson family is involved in a quiet way. They were involved in development in Newark long before the current resurgence and they are always ready to assist our Crimestoppers program," Essex County Sheriff Armando Fontoura said.
"Children come here and learn about nature and animals and through your contributions you are helping make that happen," Freeholder President Britnee Timberlake said. "Thank you for all that you are doing for Turtle Back Zoo. You are creating a very special legacy," she noted.
"On a regular school day, we have over 60 buses bringing over 2,500 school children to this site. Being able to offer presentations and workshops enhances their experience at Turtle Back Zoo and provides a great avenue for them to learn," Essex County Parks Director Dan Salvante said.
"It is clear that people believe in Turtle Back Zoo and its mission based on the awards and recognition that we have received," Essex County Turtle Back Zoo Director Brint Spencer said. "Since our new education building opened last year, its use has been growing and the Zoo has become even more popular. Your support of this building and our education programming allows us to continue our mission," he said.
"Recently we have been able to celebrate our new exhibits, new facilities and record attendance. What is special today is the recognition of the Berson family's generosity," Zoological Society of New Jersey Executive Director Adam Kerins said. "Thank you for your support of the educational programs at Turtle Back Zoo because they truly enhance the Zoo's mission," he added.
Mr. Berson is the founder and Chairman of the Millburn-based The Fidelco Group, a private investment owner-developer of residential, commercial, retail, and industrial properties in New York, New Jersey, Florida and Ohio, and has invested in several projects that have advanced the commercial rebirth of Newark and Essex County. He has distinguished himself as a leader and philanthropist in Essex County and beyond.
Mr. Berson also serves as Chairman of the Board of Barnabas Health; Chairman of the Board of Newark Beth Israel Medical Center and The Children's Hospital of NJ; is a founding Member of the Board of Trustees of The New Jersey Performing Arts Center and is a member of its Executive Committee; and a founder and Chairman of the Board of Trustees of Opportunity Project Inc., a not-for-profit organization aiding in the rehabilitation and empowerment of people with brain injuries.
Mr. Berson was recognized with the Star of Essex County Award at the 2007 Essex County Jewish Heritage Celebration and has received the NJPAC Chambers Award, Newark Beth Israel Medical Center's Partners in Progress Corporate Award, the Boys & Girls Clubs of Newark Award for Caring, the Newark Little League Larry Doby Community Service Award and the Rutgers-Newark Law School Distinguished Alumni Award.
Revitalizing Essex County Turtle Back Zoo
Since taking office in 2003, DiVincenzo has spearheaded over $70 million in upgrades to Essex County Turtle Back Zoo, which have included developing a new Educational Building, the Carousel with 33 figures of endangered animals; building the Sea Lion Sound Exhibit with sea lions, sharks and sting rays; the Big Cat Country Exhibit with Jaguars and Cougars; Tam-ring Gibbons Reserve with Gibbons apes, Reeves muntjac and white naped cranes; Australian Exhibit that features kangaroos, wallabies, emus and over 500 birds in the Aviary; Reptile and Education Center, open air dining pavilion and playground, Penguin Exhibit, Otter Exhibit, Wolf Exhibit, Alligator Exhibit, North American Animal Exhibit, Black Bear Exhibit, Animal Hospital, Essex Farm Petting Zoo and South American Animal Exhibit; renovating the Food Pavilion for year-round use and making upgrades to the entrance as well as fencing and infrastructure to meet AZA requirements. Funding has been provided through Green Acres grants, existing capital improvement bonds, or donations from the Zoological Society, Essex County Parks Foundation, corporations or private foundations. Corporations that have provided support include Investors Bank, Prudential Financial, Inc., Wells Fargo (Wachovia Bank), PNC Bank, PSE&G, Verizon, Horizon Blue Cross Blue Shield of New Jersey, Coca Cola, Capital One Bank, TD Bank, Aramark, Covanta Energy and OxyMagic carpet cleaning.
The Essex County Park System was created in 1895 and is the first county park system established in the United States. The Park System consists of more than 6,000 acres and has 22 parks, five reservations, an environmental center, a zoo, Treetop Adventure Course, ice skating rink, roller skating rink, three public golf courses, golf driving range, two miniature golf courses, three off-leash dog facilities, a castle and the Presby Memorial Iris Gardens. Turtle Back Zoo is located in Essex County's South Mountain Reservation and was opened to the public in 1963.
Contact:
Anthony Puglisi
973-621-2542
Lauren Shears
973-621-1590