10 Sep

ESSEX COUNTY EXECUTIVE DIVINCENZO DEDICATES "ROBERT S. HURT BASKETBALL COURTS" IN ESSEX COUNTY GLENFIELD PARK IN HONOR OF THE LATE ROBERT S. HURT "Bobby Smooth" Influenced Generations of Players as Basketball Coach and Founder of Basketball 101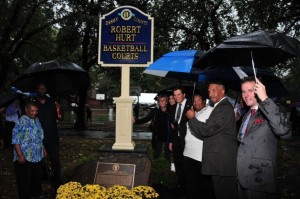 Montclair, NJ – Essex County Executive Joseph N. DiVincenzo, Jr. dedicated the basketball courts in Essex County Glenfield Park in Montclair as the "Robert S. Hurt Basketball Courts" in honor of the late Robert S. Hurt, who was the longtime junior varsity and assistant varsity basketball coach at Montclair High School, on Thursday, September 10th. Mr. Hurt was a resident of Montclair when he passed away on January 27, 2014, at the age of 51.
"There are special people in Essex County who make a positive and lasting impact in the lives of others through the things they do every day and their extraordinary contributions to the community. Robert Hurt, better known as 'Bobby Smooth,' was a teacher, coach and mentor to generations of young athletes, who he trained and helped develop through his basketball program in Essex County Glenfield Park," DiVincenzo said. "It is important for us to recognize people like Bobby and create lasting memorials so that future generations understand the positive influence they had. Bobby probably spent a great deal of time on these courts, both playing and coaching others, so naming them in his honor is the perfect way to share his story with future generations," he added.
"My brother's death had a profound effect on me. Dedicating these courts means so much to my family. It warms my heart," said Patricia Hurt. She shared stories about her brother and mother Edith, joking that Bobby was her mother's favorite child. She ended by explaining that when Bobby was growing up, he spent a lot of time playing basketball on the Glenfield Park courts, prompting his mother to say, "you spend so much of your time there, they should name the courts after you."
Friends and family members shared memories about Mr. Hurt and the influence he had on generations of young people as their coach.
"How wonderful it will be for his family and friends to see these courts as they drive down Maple Avenue and be reminded of Bobby Hurt," former Assembly Speaker Sheila Oliver said. "Bobby did more with his time with us than some other people accomplish in a lifetime," she said.
"It is an honor to celebrate someone who did so much for so many others. Bobby Hurt made a difference in the community by using a simple game of basketball," Freeholder President Britnee Timberlake said.
"Bobby brought people together and created opportunities. Naming these courts in his honor will hopefully help continue his legacy," Freeholder Vice President Brendan Gill.
"These courts are more than just for playing basketball. They will be a place of enlightenment where teamwork, determination and character are taught and developed," Montclair Councilor Renee E. Baskerville, MD, said. "Bobby was a strong character who transformed lives on and off the court because he understood the power of hoops," she pointed out.
"Today is a special occasion for the community to remember Bobby's legacy. Glenfield Park was where it all started, and there is no doubt that Bobby made his mark," Montclair High School Boys' Basketball Coach Major Jennings said. "Bobby loved to coach. This is the big time, and he deserves this," he added.
"Bobby did so much for me. He made my transition to Montclair so much easier when I became coach," retired Montclair High School Boys' Basketball Coach Robert Lester said. "I am glad that I had the chance to tell him while he was still living," he noted.
"He loved to see children learn and grow and that's why Bobby loved the Drums of Thunder," said Drums of Thunder Director Louis D'Amico, who pointed out that Mr. Hurt accompanied the group when it travelled to performances. "What a great tribute today is and it truly is most deserving," he said.
The name of the courts, "Robert S. Hurt Basketball Courts," is engraved on an ornamental wooden side placed near the entrance to the park. In addition, there is a bronze plaque which begins with a quote from Hall of Fame basketball coach John Wooden: "A coach is first of all a teacher." It continues: "In the 20 years Bobby Hurt, or "Bobby Smooth" as he was called, spent coaching young basketball players, he stressed teamwork and respect for the other players. It was the rule this standout player for Montclair High School followed, as a four-year varsity starter and, later, at Fairfield University. He was well-respected as the JV coach and Assistant Varsity coach at MHS for two decades and his last position was as Head Varsity Coach for Christ the King High School. One of Bobby Smooth's lasting contributions was as founder and chief executive officer of Basketball 101, which he ran in Essex County Glenfield Park, as part of the Grass Roots summer camp program. There, he offered a positive, quality basketball experience for boys and girls, from third to 12th grades. The children who have had the benefit of his coaching not only learned good basketball skills, but were given the tools of cooperation, communication and sportsmanship."
Mr. Hurt was the head junior varsity basketball coach and assistant varsity basketball coach at his alma mater, Montclair High School, for 19 years. Before his passing, he had recently been appointed head basketball coach at Christ the King High School in Newark. In 2005, he founded and was the Chief Executive Officer of Basketball 101, a summer camp held at Essex County Glenfield Park that was dedicated to providing a quality and competitive basketball experience for boys and girls in fourth to 12th grades. For more than 20 years, he was employed as an Operational Aide for Montclair public schools, most recently serving at Hillside Elementary School.
As a student at Montclair High School, he was a four-year started on the varsity basketball team and earned First Team All-County, All-State Group IV and MVP honors in the North-South All-Star Game, all in 1980. After graduating high school, he attended Fairfield University in Connecticut and played on its men's Division I basketball team.
He was a member of the Finishers Church in Montclair. Mr. Hurt was predeceased by his father, Robert W. Hurt, and is survived by his mother, Edith Hurt; his sisters, Patricia and Robin; his niece, Andrea Patricia Hurt; his aunts, Amy Harrison, Alice Schuler and Florence Yates; and his uncles, Larry Schuler and George Yates.
In his memory, MHS alumni, family and friends created the Robert S. Hurt Memorial Scholarship that is administered through the Montclair Scholarship Fund. This annual award is given to a member of the boys or girls Varsity Basketball team at Montclair High School who embodies the qualities of generosity, kindness and caring by which Coach Hurt lived. To donate, visit www.montclairscholarshipfund.org/scholarships.
The two basketball courts named in Hurt's honor were reconstructed in 2006 as part of a comprehensive upgrade that also included rehabilitating the tennis courts, developing a new horseshoe pit, repairing the perimeter wrought iron fence, installing an eight-station exercise course, enhancing the aesthetics of the park entranceways, installing new picnic tables, repairing the community building and field house, and removing dead trees and branches. Essex County partnered with Montclair Grass Roots to obtain funding from the New Jersey Green Acres program and the Essex County Recreation and Open Space Trust Fund.
The Essex County Park System was created in 1895 and is the first county park system established in the United States. The Park System consists of more than 6,000 acres and has 22 parks, five reservations, an environmental center, a zoo, Treetop Adventure Course, ice skating rink, roller skating rink, three public golf courses, golf driving range, two miniature golf courses, three off-leash dog facilities, a castle and the Presby Memorial Iris Gardens.
Contact:
Anthony Puglisi
973-621-2542
Lauren Shears
973-621-1590