19 Oct

ESSEX COUNTY EXECUTIVE DIVINCENZO DEDICATES MONTE IRVIN STATUE IN ESSEX COUNTY MONTE IRVIN ORANGE PARK Baseball Hall of Famer Monte Irvin Remembered as Pioneer, Role Model and Gentleman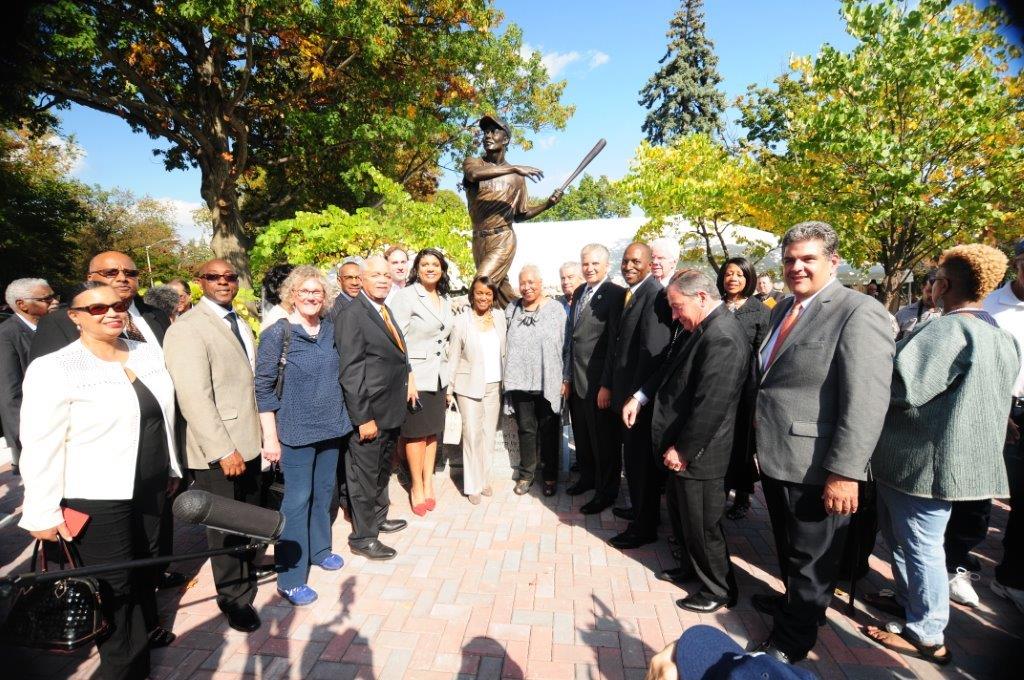 Orange, NJ – Essex County Executive Joseph N. DiVincenzo, Jr. dedicated a bronze statue of Major League Baseball Hall of Famer and Orange native Monte Irvin in Essex County Monte Irvin Orange Park on Wednesday, October 19th. Mr. Irvin was among the first group of players from the Negro Baseball Leagues to join Major League Baseball; he played for the New York and San Francisco Giants and Chicago Cubs before becoming the first African American executive to work for Major League Baseball. He passed away January 11, 2016, at the age of 96.
"Monte Irvin was a classy individual who never forgot his roots in Essex County – growing up in Orange and playing baseball for the Newark Bears. He had a stellar professional baseball career, but Mr. Irvin meant more to our community as a pioneer and role model for generations of young men and women," DiVincenzo said. "We originally recognized Monte and his achievements when we renamed this park as the Monte Irvin Orange Park in 2006. However, having a statue of him here is a more visible and appropriate reminder of someone who overcame obstacles, helped break barriers and always was a gentleman in how he treated others," he added.
"Thank you for making this possible. Everything my father stood for will be on display here and it's all because of you, Joe," said Pamela Irvin Fields, daughter of Mr. Irvin. "This park always had a major role in my family, so having the statue here is a great honor," she added.
The eight-foot tall bronze statue depicts Mr. Irvin completing his swing in the batter's box and looking at a long home run. It stands on a three-foot tall granite base in a newly constructed plaza that was created in a corner of the park at the intersection of Harrison Street and Center Street. The statue was created by Oregon artist Jay Warren, who has worked with Essex County several times in the past to create several statues of the late Civil Rights leader Dr. Martin Luther King, Jr., Civil Rights Activist Rosa Parks, Congressman Donald Payne, Supreme Court Justice William Brennan, Jr., and Sgt. Jorge Oliveira, a Sheriff's Officer who was the first County employee to lose their life in the Afghanistan-Iraq conflict, at the Essex County Hall of Records Complex in Newark. He also created the Althea Gibson Statue in Essex County Branch Brook Park and the Search and Rescue Dog Statue at the Essex County Eagle Rock September 11th Memorial in West Orange. The statue was funded through corporate contributions from The Berger Organization, Community Education Centers, Covanta Energy, Horizon Blue Cross Blue Shield of NJ, Laborers' Local 472 and Verizon.
Mr. Irvin was remembered as a great individual both on the playing field and in life, who was well-deserving of being honored with a statue.
"I admired Monte so much. I have never met anyone nicer than him," said Mario Alioto, Executive Vice President of Business Operations for the San Francisco Giants. "He was the perfect ambassador for the game of baseball and was a role model and a role model and mentor to younger players, including Willie Mays. Monte Irvin wrote a chapter in American history and what baseball means to Americans," he added.
"We are fortunate to live in Essex County. We have icon and Hall of Famers who came from all of our communities," Sheriff Armando Fontoura said.
"The story of Monte Irvin is not just about baseball. It is the story of African American history," Assembly Speaker Emeritus Sheila Oliver said. "He held his head high with dignity and showed the world who he was. He will be a symbol to young people that they can excel above and against all odds," she added. Assemblyman Thomas Giblin said "our youngsters need role models and heroes. Having the statue here will inspire young people of what they can accomplish in whatever field they enter."
"Monte Irvin has meant a lot to our community. We can all model our lives after his," Orange Mayor Dwayne Warren said. "Having the statue here is good for our children and helps move our community forward," he added.
"Monte Irvin broke different barriers and was a trailblazer for minorities," Freeholder President Britnee Timberlake said. "This statue will be one of my favorite because of the buzz and fanfare felt throughout the community. Because of this, I have learned how many lives have been impacted by this legend," she added.
"The most popular hits on our website are for articles about Willie Mays and Monte Irvin. Today's event will add to his legacy," said Gary Mintz, President of the New York Giants Preservation Society. "Monte will always be remembered for his greatness on the field and for his kindness and gentleness off of it," he added.
Essex County previously honored Mr. Irvin in May 2016 when a bronze plaque etched with his portrait was dedicated along with plaques honoring Major League Baseball Legends Yogi Berra and Larry Doby, both who resided in Montclair. In addition, Essex County Orange Park was renamed as Essex County Monte Irvin Orange Park in 2006.
Monte Irvin was born in Alabama and his family moved to the City of Orange when he was 8 years old. He participated in recreation activities at the Oakwood YMCA in Orange, where his athletic ability was first recognized. While attending Orange High School, he earned All-State honors in football, basketball, baseball, and track and field for three consecutive years and was regarded as one of the greatest high school athletes in New Jersey.
While still a teenager, Irvin played semi-professional baseball with the Orange Triangles before joining the Newark Eagles of the Negro Leagues in 1938 at the age of 17. He was regarded as one of the best Negro League players, winning the Negro League batting title in 1946 with a .402 average and being named to the Negro League's East-West All Star game five times.
The New York Giants professional baseball team signed Irvin in 1949, making him one of the first black players signed by the organization. He emerged as a star in 1951 when he led the National League with 121 runs batted in (becoming the first former Negro League veteran to win the RBI title), hit .458 and stole home in the World Series against the New York Yankees, and finished third in the Most Valuable Player balloting.
Irvin played with the New York Giants from 1949 to 1955 and the Chicago Cubs in 1956, and finished his Major League career with 764 games, 99 home runs, 443 RBIs and a .293 lifetime batting average. He was elected to the National Baseball Hall of Fame by the Committee on Negro Baseball Leagues in 1973 and actively campaigned to obtain recognition for deserving Negro League veterans. Mr. Irvin became the first black executive in the majors in 1968 and, after retirement, remained active in Major League events.
The County Executive believes in telling the history of Essex County by honoring people who have contributed in significant ways. Other recent statues to be erected in the Essex County Parks System are of the late tennis legend Althea Gibson and humanitarian and Baseball Hall of Famer Roberto Clemente in Essex County Branch Brook Park and the Search and Rescue Dog Statue at the Essex County Eagle Rock September 11th Memorial in West Orange. Also, several recreations fields and parks facilities have been named for community leaders, elected officials, educators and residents who have made a difference in the lives of Essex County residents. In addition to the statues placed at the Essex County Hall of Records, the former 13th Avenue on the southern side of the Essex County Hall of Records was transformed into a tree-lined promenade named "Legends Way" and features several bronze plaques recognizing people who have made significant contributions in the development of Essex County.