15 Oct

ESSEX COUNTY EXECUTIVE DIVINCENZO DEDICATES MEMORIAL PLAQUES ALONG ESSEX COUNTY LEGENDS WAY IN HONOR OF JOHN J. CLANCY AND ADRIAN M. FOLEY, JR. Bronze Plaques Recognize Clancy and Foley as Community and Governmental Leaders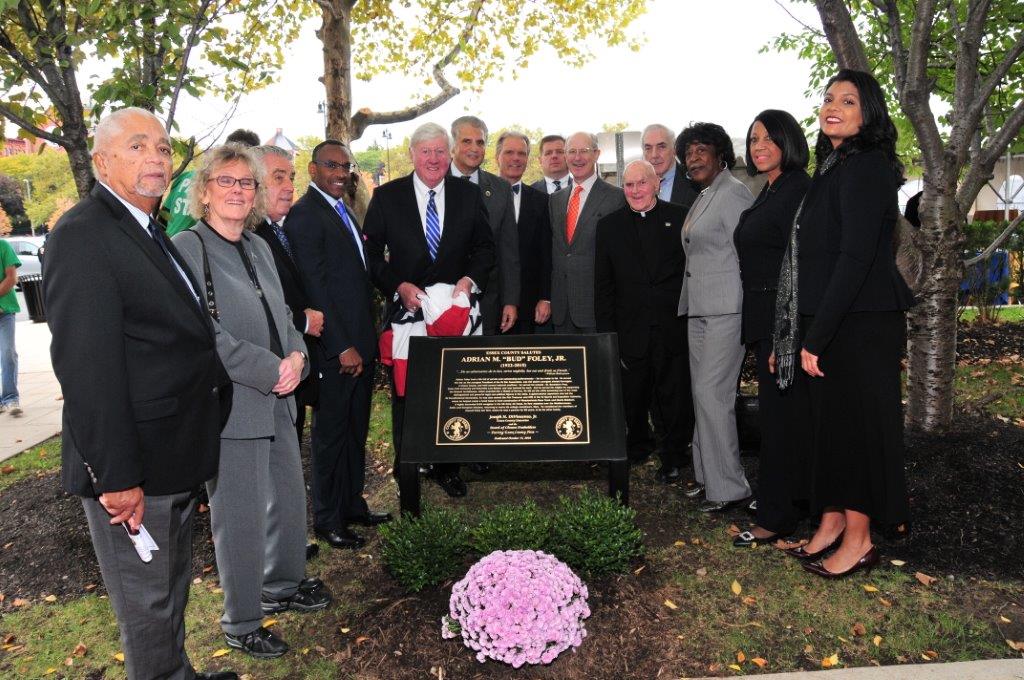 Newark, NJ – Essex County Executive Joseph N. DiVincenzo, Jr. dedicated two bronze plaques in honor of the late John J. Clancy and the late Adrian M. Foley, Jr. on Thursday, October 13th. The plaques are located along Essex County Legends Way at the Essex County Government Complex in Newark. Mr. Clancy was the first Director of the Essex County Division of Youth Services. Mr. Foley formerly served as Essex County Surrogate.
"John Clancy and Adrian Foley both had impressive resumes as public servants and did so much to shape and develop Essex County," DiVincenzo said. "John Clancy saw a need to help residents and inmates fight addiction and created a model substance abuse program that has been replicated across the country. Adrian Foley was involved in his church, schools and government, and did a great deal to create the Meadowlands. Both men are deserving of being remembered as Essex County legends and having their names at our government complex will remind people of their contributions," he added.
The bronze plaque for Mr. Clancy begins with a quote from Lyndon B. Johnson, the 37th President of the United States: "Yesterday is not ours to recover, but tomorrow is ours to win or lose." It continues with "John Clancy was a man with a big heart and big dreams ~ one who made his dreams come true. He founded and led several social service organizations to help those traditionally underserved. Returning from Vietnam, he founded The Bridge, a youth counseling center, and Essex Valley High School. In 1978, he created Education & Health Centers of America to treat substance abusers and their families. As the first Director of the Essex County Division of Youth Services, he observed the staggering number of addicted individuals who repeatedly passed through the correctional system. He believed there was a different way to treat addiction and developed Community Education Centers in 1996 to provide correctional rehabilitation programs in a deinstitutionalized setting. CEC now operates over 100 Programs in 22 states, offering deeply needed services to hundreds of thousands of people. John was a loving family man, respected philanthropist and creative entrepreneur, a great friend with a joyous laugh, grateful for the life he lived." A resident of West Caldwell, he was 68 years old when he passed away on May 15, 2016.
"Essex County really was my father's home and his favorite place. He felt appreciated by this county and today's event verifies that sentiment. We appreciate the acknowledgement by the County Executive and the Board of Freeholders," said, Clancy's son, John Jr.
"John was a good, caring and compassionate man," Turning Point Executive Director Robert Detore said. "He had a significant life helping countless people turn their lives around and cope with their addictions," he added.
The bronze plaque for Mr. Foley begins with a quote from William Shakespeare: "And do as adversaries do in law, strive mightily, but eat and drink as friends." It continues with: "Adrian Foley lived a life full of service and outstanding achievements – far too many to list. He served the law as the youngest President of the NJ Bar Association, was the state's youngest elected Surrogate, in Essex County, and held several national positions. He served his schools – St. Benedict's Prep, Seton Hall University and Columbia Law School, and was honored by each. And he served his religion by supporting the Newark Archdiocese, which awarded him a Medal of Service. He did all this while becoming one of the most distinguished and powerful legal and political figures in the state. A gubernatorial appointee who led the NJ Constitutional Convention, he was also named the first Treasurer and CFO of the NJ Sports and Exposition Authority, where he helped create a bond issue to fund construction of Meadowlands Race Track and Giants Stadium. A highly decorated B-24 navigator in the US Army Air Corps, he flew missions over the Mediterranean, Baltic and European theaters, returning to marry his college sweetheart, Mary. He considered the members of Connell Foley law firm, where he was a partner for 56 years, to be his other family." A resident of Essex Fells, he was 93 years old when he passed away on February 9, 2015.
"All the accolades given to Adrian are well-deserved. He was dedicated to St. Benedict's, the Meadowlands, and his family. And he did what he did because he loved working with people," said Kenneth F. Kunzman, who was a law partner of Mr. Foley's at Connell Foley for 53 years. Kunzman added that Foley gave him his first job with the law firm after he left military service.
Both men were remembers as icons and leaders of the community.
"Adrian Foley was a member of our greatest generation and he will go down as a legend of Essex County, New Jersey and our country," Assembly Speaker Emeritus Sheila Oliver said. "It came as no surprise that John Clancy was involved in the resurrection of so many people and lives," she added.
"Adrian Foley and John Clancy were always looking out for the other guy. They did so much for the sake of others," Sheriff Armando Fontoura said.
"Here are two giants who made solid contributions to their community, creating pathways for so many other people," Essex County Democratic Committee Chairman Leroy Jones said.
"John Clancy and Adrian Foley were great contributors to our community and we appreciate the way they lived their lives," Freeholder President Britnee Timberlake said.
The former 13th Avenue on the southern side of the Essex County Hall of Records was transformed into a tree-lined promenade when the Jurors' parking garage was opened in 2008. It was later named "Legends Way" and features several bronze plaques recognizing people who have made significant contributions in the development of Essex County. The plaques feature Major League Baseball Hall of Fame players Yogi Berra, Larry Doby and Monte Irvin; the late Samuel Brummer, owner of Hobby's Delicatessen and veteran who landed at D-Day during World War II; the late Cephas Bowles, longtime WBGO Executive Director; the late Larrie West Stalks, former Essex County Register; the late Clement A. Price, Rutgers University History Professor and Newark and Essex County Historian; the late D. Bilal Beasley, Irvington City Councilman and Essex County Freeholder; the late Raymond Durkin, long-time Chairman of the Essex County Democratic Committee and New Jersey Democratic Party; the late Philip Thigpen, Essex County Register and long-time Essex County Democratic Committee Chairman; the late Thomas Durkin, a prominent Essex County attorney; the late Lena Donaldson Griffith, a cultural arts and civil rights pioneer in Newark and Essex County; the late Raymond Brown, a civil rights leader and long-time attorney; and the late Superior Court Justice Thomas "Timmy" McCormack, who was one of the authors of the County's current Administrative Code and Freeholder By-Laws.
In addition, several buildings and open spaces in the Essex County Government Complex have been named after prominent people who have influenced the development of Essex County. The plaza in front of the Hall of Records and a bronze statue honor Civil Rights leader Dr. Martin Luther King, Jr.; the park next to the Historic Courthouse and statue in front of the Hall of Records honor Barringer High School graduate and U.S. Supreme Court Justice William J. Brennan, Jr.; a plaza in front of the Essex County Veterans Courthouse and a statue honor Civil Rights pioneer Rosa Parks; the plaza in front of the LeRoy Smith Public Safety Building and a statue honor the late Congressman Donald M. Payne, who was the first African American Congressman in New Jersey; the plaza at the south entrance of the Veterans Courthouse and a statue honor former New Jersey Governor and Essex County Prosecutor Brendan Byrne; and the plaza in the Essex County Veterans Memorial Park and a statue honor the late Jorge Oliveira, a 10-year veteran of the Essex County Sheriff's Office who was killed while serving his country in Afghanistan. The Veterans Courthouse and the Essex County Veterans Memorial Park are named as a tribute to the men and women who have defended our country and freedoms while serving in the U.S. Armed Forces. The Essex County LeRoy F. Smith, Jr., Public Safety Building is named for LeRoy Smith, a Newark resident who served as Deputy Director of Emergency Medical Services for the University of Medicine & Dentistry of New Jersey for 38 years before retiring in 2007. In Brennan Park is a monument recognizing the late Charles Cummings, who served as the official Newark historian and librarian with the Newark Public Library for over 40 years. The plaza in front of the Historic Courthouse is named for former Essex County Prosecutor James Lordi.