20 Jul

ESSEX COUNTY EXECUTIVE DIVINCENZO DEDICATES "ESSEX COUNTY REV. RONALD B. CHRISTIAN RECREATION COMPLEX" IN ESSEX COUNTY WEEQUAHIC PARK Modern Facilities are named for the Late Rev. Ronald B. Christian, Dynamic and Beloved Pastor of Christian Love Baptist Church Football/Soccer Field, Softball Fields, Track and Field, and Walking Track are Part of $4.5 Million Makeover of Essex County Weequahic Park Oval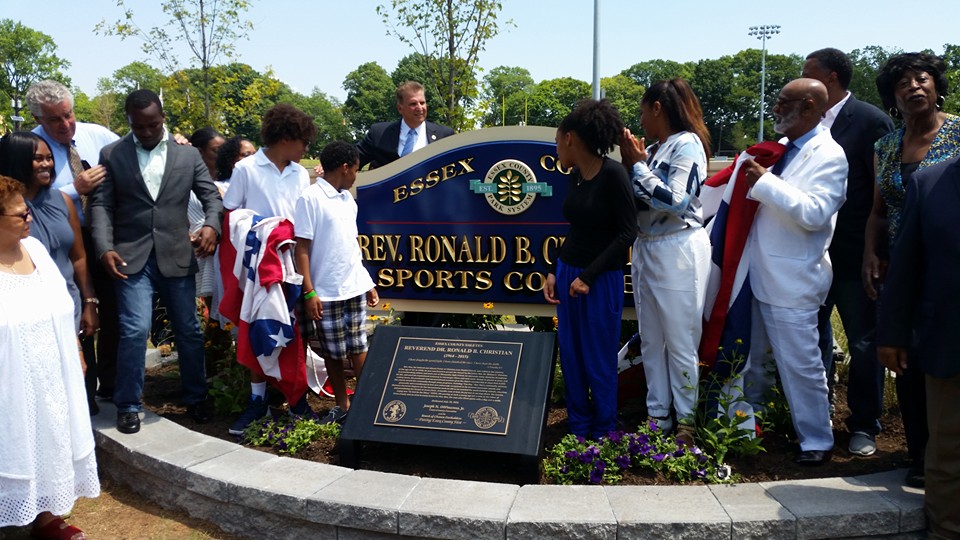 Newark, NJ – Essex County Executive Joseph N. DiVincenzo, Jr. dedicated the "Essex County Rev. Ronald B. Christian Recreation Complex" in Essex County Weequahic Park in honor of the late Rev. Ron Christian on Wednesday, July 20th. Rev. Christian, who passed away on October 30, 2015, was the charismatic and dynamic pastor of Christian Love Baptist Church in Irvington who treated everyone with kindness and respect. The complex named in his honor received a $4.5 million makeover with a new football/soccer field, track and field facility, two softball fields and a two-mile, rubberized walking track.
"Rev. Ron was like a force of nature. He was kind and compassionate, and welcomed everyone he met into his life," DiVincenzo said. "Through his church, Rev. Ron gave spirited and energetic sermons that inspired and motivated his followers. But he also was a leader in the community, assisting the less fortunate and opening his heart to anyone who needed help," he added.
"Rev. Ron was a track star when he attended Weequahic High School. And, when we held our press conference to announce this project, Rev. Ron attended and gave a blessing to the improvements. It was his last public appearance because he passed away later that day," DiVincenzo pointed out. "I knew at that point that naming this facility in his honor was the most fitting tribute we could give to our friend. Having his name on this complex will keep his memory and legacy alive, and will motivate future generations as he motivated us all," he said.
"Ron was a phenomenal human being, and there will never be another person like him," Rev. William Christian, Rev. Ron Christian's father, said. "If you really want to honor Ron, then we encourage you to come here and use this facility. He stood for everything that was good. He was everyone's friend, father, cousin," he added.
Rev. Ron Christian's family members appreciated the complex being named in his honor and believe it will help keep his legacy of helping and inspiring the community alive.
"My son would be so overjoyed to have this sports center named in his honor. My husband and I used to bring our children and their friends to this very space every week. We would read the Sunday newspaper and watch the children run and play. Later, when Ronald was on the track team in high school, he used to leave home before sunrise and come here to train for races," said Willie Mae Christian, Rev. Ron Christian's mother. "On behalf the entire Christian family, we would like to thank Joseph N. DiVincenzo, Jr., his entire staff and the Board of Chosen Freeholders for their support and generosity. We are so proud to have this lovely green space bear Ronald's name," she added.
"I want to thank Joe DiVincenzo for putting this together and not forgetting my husband," said Rev. Ron Christian's widow, Tami Christian. "Now my family has a place that will serve as a source of pride for our children. And it will be a reminder of the commitment he had to the community and impact he had on so many people," she added.
"We are so happy and grateful to have this stunningly beautiful sports complex named in honor of our beloved Rev. Ron. Our family wants to thank our Essex County Executive Joseph N. DiVincenzo, Jr. and the Board of Chosen Freeholders for creating a place for families, fun and recreation that the entire community will enjoy for generations," said Everette Christian, Rev. Ron Christian's sister.
Elected officials and community leaders shared stories of Rev. Ron Christian and shared their support of the complex bearing his name.
"Ron and I were just kids on Bergen Street and we often would talk about how amazing it was of what we were able to accomplish. I thank the County Executive for demonstrating his commitment to people who mean something to us," Congressman Donald Payne said.
"His magnetic personality was seen in his parish, but it is now all of our responsibility to carry on his legacy. He loved life and every person he met," NJ State Senator and Deputy Chief of Staff Teresa Ruiz said. "Ron would be pleased with the church choir and dancers, and having his family and friends here. He would not be pleased with the foul mood covering American and senseless loss of life that has disrupted our daily lives," Assembly Speaker Emeritus Sheila Oliver said. "Let us life of Ron's legacy by standing up, speaking up and marching if necessary," she added.
"For those who live their lives to help others, we still need others to give us guidance and point the way and Rev. Ron was that individual for us," RWJBarnabas Health President/CEO Barry Ostrowsky said. "Ron showed us that we can all fall down, but we can learn and stand up again. He made us all better human beings," former Governor James McGreevey said.
"Ron taught us all what is meant to be a human being. What is happening with the transformation of this complex is extraordinary and it's appropriate to dedicate it in Ron's name," Newark Mayor Ras Baraka said. "When you have someone who has done so much for the entire community of Essex, it is a fitting tribute for all of us to come together and dedicate this facility in his honor," Irvington Mayor Tony Vauss said.
"His motto was 'All Sinners are Welcome.' I still have text messages from Ron where he is praying for all us," Sheriff Armando Fontoura said. "Today is a joyful day tinged with sadness. Rev. Ron knew the importance of recreation, so it's wonderful that we are dedicating this complex in his honor," Prosecutor Carolyn Murray said.
"To see the diversity gathered at this dedication makes it clear of how many people from all walks of life Rev. Ron touched. He prayed for us and we shouldn't take that for granted," said Freeholder Britnee Timberlake, who was joined by Freeholders Patricia Sebold, Rufus Johnson, Lebby Jones and Leonard Luciano.
Construction to transform and modernize the area now known as the "Essex County Rev. Ronald B. Christian Recreation Complex" started in October 2015 and recently was completed. Built on the site are a synthetic grass soccer and football field with an Olympic-size track and field facility, and two synthetic grass surface softball fields. Circling the recreation complex is a two-mile, rubberized walking path with historical lighting. Two parking areas at the complex were repaved. The area also received significant new landscaping and tree planting, park benches and trash receptacles. Athletic teams from Essex County Newark Tech Campus from the Essex County Vocational Technical School District will use the complex as its home field, and the facilities at the complex will be available for other area high school and recreation programs and the public to utilize as well.
Formerly known as the Weequahic Park Oval, the site primarily was used for cricket games and there were three natural grass baseball/softball fields. The fields were heavily used and needed to be upgraded. Years ago, there was a racing track for horses and a grandstand for spectators.
French and Parrello from Wall, N.J., designed the improvements. The Landtek Group from Amityville, N.Y., was awarded publicly bid contracts to perform the construction work. The four projects totaled approximately $4.5 million, which were funded through the Essex County Capital Improvement Budget and grants from the NJ Green Acres program, the Essex County Recreation and Open Space Trust Fund and the Essex County Vocational Technical School District. The Essex County Department of Public Works monitored the projects and answered questions so that delays were avoided.
At the entrance to the complex is a wood-carved sign indicating the name of the facility as the "Essex County Rev. Ronald B. Christian Recreation Complex." There also is a bronze plaque which begins with a quote from The Bible: "I have fought the good fight, I have finished the race, I have kept the faith," from 2 Timothy 4:7. It continues with "Rev. Ron, the beloved and vibrant pastor of Christian Love Baptist Church was called to the ministry at the age of 14. In 1998, he was licensed to preach the Gospel by his father, Rev. Dr. William E. Christian. A record-breaking athlete and track star at Weequahic High School, he overcame many obstacles throughout his life, and used his inspirational testimony to encourage others and save souls. Known to preach in jeans and cowboy boots, his passionate and unconventional sermons grew his church membership to more than 6,000. The church served the community through many programs, including "Fun Day." Rev. Ron's community activism, generosity and commitment to love was universally recognized as he received numerous awards and honorary doctorate degrees for the humanitarian work he did as he traveled the world building schools, churches and proclaiming the Gospel of Jesus Christ. A humble man of God, his joy was in serving others. His favorite saying was "To God be the Glory," TGBTG. His passing at such a young age left a hole in the fabric of Essex County and an ache in many hearts for Rev. Ron, the man who lifted spirits with a hug and a smile."
Rev. Christian was a correctional officer at Northern State Prison in Newark, where he attained the rank of sergeant. He fell on hard times, but turned his life around and dedicated himself to helping others. He visited rehabilitation centers and homeless shelters, preaching to those he met and using his own life experiences as examples.
Rev. Christian decided to follow in his father's footsteps and became a minister. He joined the Upper Room Missionary Baptist Church in Newark, where he was mentored by his father, the Rev. William E. Christian. He later joined Clear View Baptist Church as an Associate Minister and later was installed as its Youth Pastor. When he moved to Christian Love Baptist Church in 2001, he took a floundering institution and grew the congregation from 50 members to over 6,000. The church became a community landmark, safe house and center of inspiration with powerful worship services, ministries for bereavement, marriage and men's issues, and programs for child care, tutoring, computer learning, homeless prevention and gang intervention.
He attended the groundbreaking for the modernization of the recreation facilities at the Essex County Weequahic Park Oval, which was his last public appearance before he passed away on October 30, 2015. The choir and SBT Praise Dancers from Christian Love Baptist Church, Lyl Harper and Essex County West Caldwell Votech Teacher Mark Beckett performed during the ceremony. Ihmir Marsette, a junior at Weequahic High School, ran a victory lap on the new track for Rev. Christian. Marsette was part of the school's shuttle hurdles team that posted the fourth-fastest time in state history with 56.86 seconds at the East Coast Relays.
Revitalizing Essex County Weequahic Park
In 2015, the playground in front of Building 92 was rebuilt with new apparatus and a rubberized safety surface, is first upgrade since 2006. In 2012, the four entrances to Weequahic Park received a facelift with traffic islands, lighting, paving and landscaping to beautify the area and enhance pedestrian and traffic safety, and the basketball courts were named in honor of the late Delano Gordon, founder of Above the Rim. Essex County partnered with the National Football League to install a new half-mile fitness course with six exercise stations in 2010. Weequahic Golf Course received a major overhaul in 2009 as part of $7 million modernization project in each of the County's three public golf courses and the Weequahic Bridge was reconstructed for $3 million. A synthetic grass surface baseball field and four basketball courts were developed as part of a $1.8 million project in 2007. Essex County welcomed The First Tee and its nationally-recognized youth leadership training program to Weequahic Golf Course in 2006. The First Tee constructed a state-of-the-art, three-hole youth golf facility for its program adjacent to the golf course. The playground near Building 96 at the Chancellor Avenue entrance to the park were modernized with new equipment and rubberized safety surface in 2006. The tennis courts on Elizabeth Avenue were rebuilt in 2004.
DiVincenzo has partnered with the New Jersey Green Acres program, the NJ Department of Transportation, the Essex County Parks Foundation, Essex County Recreation and Open Space Trust Fund Advisory Board, The First Tee, the Weequahic Park Association and the Weequahic Park Sports Authority to secure grants to fund the improvements in Essex County Weequahic Park.
The Essex County Park System was created in 1895 and is the first county park system in the United States. It has been expanded to include about 6,000 acres of land and includes 20 parks, five reservations, an environmental center, a zoo, ice skating rink, roller skating rink, three public golf courses, golf driving range, miniature golf course, three dog parks, a castle, Treetop Adventure Course and the Presby Memorial Iris Gardens. Weequahic Park is 311.33 acres, is one of the original five County parks created in 1895 and is the second largest park in the Essex County System.