20 Oct

ESSEX COUNTY EXECUTIVE DIVINCENZO DEDICATES ESSEX COUNTY HOSPITAL CENTER COURTYARD IN HONOR OF THE LATE JOHN GAYKOWSKI NAMI President and Board Member and Patient Advocate had Instrumental Role in Development of New Hospital Facility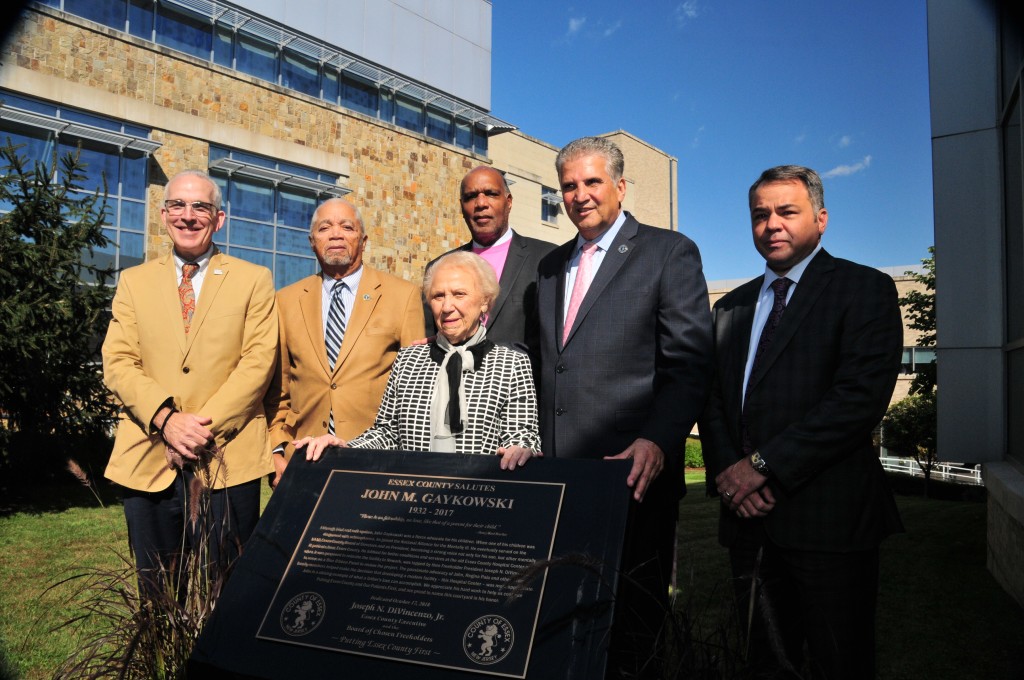 Cedar Grove, NJ – Essex County Executive Joseph N. DiVincenzo, Jr. dedicated the courtyard at the Essex County Hospital Center in Cedar Grove as the "John Gaykowski Courtyard" in honor of the late John Gaykowski on Wednesday, October 17th. Mr. Gaykowski was a former President and board member of the National Alliance for the Mentally Ill Essex County Chapter and had a major role in the County's decision to build a new psychiatric hospital. A resident of Maplewood, Mr. Gaykowski passed away October 1, 2017, at the age of 85.
"John was very passionate about making sure our patients at the Essex County Hospital Center received the best of care and had a nurturing and supportive environment. When the previous administration came up with the idea to relocate the old hospital, John was one of the family members who served on our Blue Ribbon Committee to evaluate the proposal. In the end, it was through the advocacy of John, Regina Palo and other family members that we decided building a new facility was the better plan to follow, which resulted in my administration developing our current state-of-the-art facility in Cedar Grove," DiVincenzo said.
Colleagues and elected officials shared their fond memories of Mr. Gaykowski.
Cedar Grove resident Regina Palo said she first met Mr. Gaykowski in the 1980s when family members of patients at the Hospital Center banded together to form the Concerned Citizens organization, which eventually joined with the National Alliance for the Mentally Ill. Ms. Palo remembers Mr. Gaykowski dedicating a lot of time collecting and delivering clothes and personal items to patients, especially during the winter holidays, when he would dress as Santa Claus because "the patients shouldn't have to celebrate the holidays without Santa." "His spirit will live on in this courtyard," Palo said.
"I never had the pleasure of meeting John, but I know he was a tremendous advocate. Dedicating the courtyard will be testimony to future generations of the impact he had," Freeholder President Brendan Gill said. "The Hospital Center is one of the greatest facilities in Essex County and it is because of the hard work and perseverance of volunteers such as John," Freeholder Len Luciano said.
"It was easy to recognize John's deep sense of caring for others. This is a wonderful recognition for someone who did so much for others," Sheriff Armando Fontoura said.
"I was always moved by how motivated John was. What distinguished John was that his love of family transcended to other patients," said Bob Davison, Executive Director of the Mental Health Association of Essex and Morris Counties.
"When you think of an advocate, you have to think of John. He was able to get the attention of our County Executive and the end result is this new hospital building," Essex County Health and Rehabilitation Director Frank DelGaudio said.
The bronze plaque for Mr. Gayklowski begins with a quote by Henry Ward Beecher: "There is no friendship, no love, like that of a parent for their child." It continues: Although kind and soft-spoken, John Gaykowski was a fierce advocate for his children. When one of his children was diagnosed with schizophrenia, he joined the National Alliance for the Mentally Ill. He eventually served on the NAMI-Essex County Board of Directors and as President, becoming a strong voice not only for his son, but other mentally ill patients from Essex County. He lobbied for better conditions and services at the old Essex County Hospital Center and, when it was proposed to relocate the facility to Newark, was tapped by then Freeholder President Joseph N. DiVincenzo, Jr. to serve on a Blue Ribbon Panel to review the project. The passionate advocacy of John, Regina Palo and other patients' family members helped make the decision that developing a modern facility – this Hospital Center – was more appropriate. John is a shining example of what a father's love can accomplish. We appreciate his hard work to help us continue Putting Essex County and Our Patients First, and are proud to name this courtyard in his honor."
The Essex County Hospital Center is a state-of-the-art facility that was opened in 2007. It is accredited by the Joint Commission on Accreditation of Healthcare Organizations.