06 Apr

ESSEX COUNTY EXECUTIVE DIVINCENZO DEDICATES "D. BILAL BEASLEY COMMUNITY CENTER" IN ESSEX COUNTY IRVINGTON PARK Parks Building is Renamed in Honor of Late Freeholder/Councilman after Undergoing Comprehensive Modernization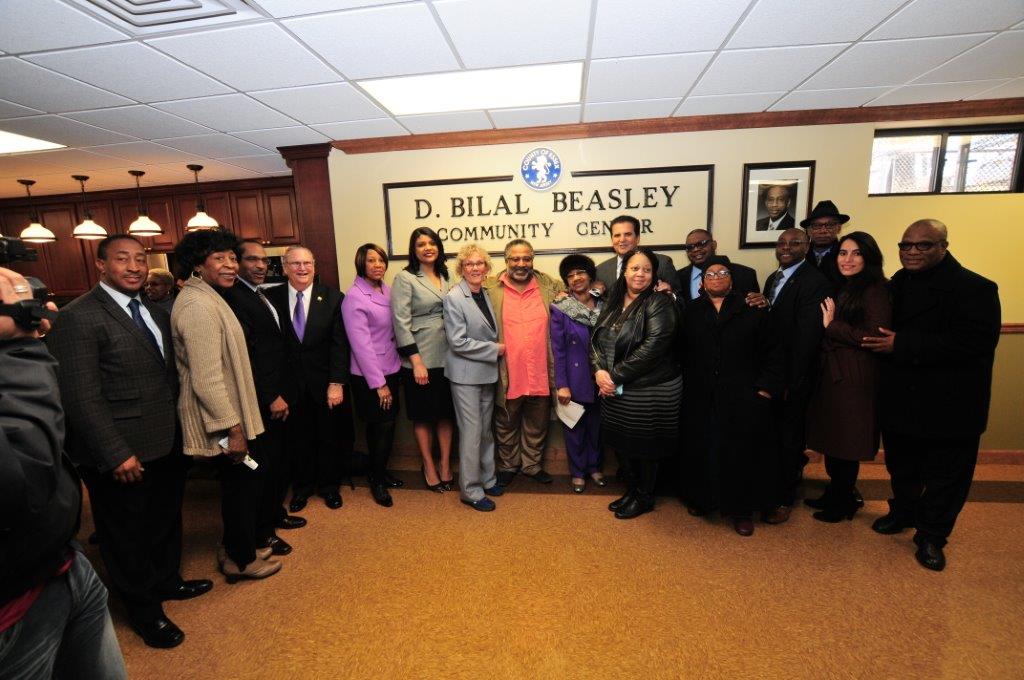 Irvington, NJ – Essex County Executive Joseph N. DiVincenzo, Jr. dedicated the parks building in Essex County Irvington Park as the "D. Bilal Beasley Community Center" in honor of the late D. Bilal Beasley, who served as an Irvington Councilman and Essex County Freeholder. The renaming of the facility was done on Wednesday, April 6th after a comprehensive renovation the building was completed. The upgrades are part of the County Executive's ongoing initiative to enhance park facilities so they continue to meet the needs of the community.
"Bilal Beasley was a dedicated public servant who always worked to improve the quality of life for residents. He worked constantly with the administration to enhance Irvington Park and would have loved this project because of the direct impact it has on the community," DiVincenzo said. "Now, whenever someone visits the park or comes to this building for a program or an event, they will be reminded of Bilal Beasley and all the great things he did for the residents of Essex County," he added.
"The buildings in our parks are important features because they provide a place for the community to gather, socialize and participate in group activities. The renovations to the original field house structure enhance accommodations and provide a more welcoming atmosphere for residents," the County Executive pointed out.
"On behalf of my family, we say thank you for honoring our father in this way," said Mr. Beasley's son Omar Bilal, who was accompanied by his mother A. Baseemah Beasley and scores of family members. "My father told me that he enjoyed public service, but his favorite time was serving as a Freeholder because he was pleased to be part of so many changes that were being made. Let this community center be a beacon for senior citizens and youth," he added.
Elected and community leaders shared their love and respect for Mr. Beasley.
"Bilal was the essence of integrity, honor and unity. He understood that if you stand together, you can move a community further than if you stand alone," NJ State Senator and Essex County Deputy Chief of Staff Teresa Ruiz said.
"He committed his life to serving his community, supporting his family," Assembly Speaker Emeritus Sheila Oliver said. "These are the things that made Bilal Beasley the great man that he was. He would be pleased about today, looking down upon us," she added.
"This is a great day because generations after generations of people will know who Bilal Beasley was and will understand his legacy," NJ State Senator Ronald Rice said. "This park will live on as testimony to his dedication to the township and county," Assemblywoman Cleopatra Tucker said. "The main thing about Bilal was the respect he gave to people and respect he earned from them," Assemblyman Ralph Caputo said.
"I am proud to be here to celebrate the life of a hero and true civic leader who loved his township, his county and his family. Today is a true testament to his legacy," Essex County Democratic Committee Chairman Leroy Jones said.
"The Freeholder Board applauds the vision of the County Executive to honor Mr. Beasley. It was a 'no-brainer' to approve the ordinance honoring the late great Mr. Beasley and celebrate his life," Freeholder President Britnee Timberlake said.
"I am proud to be part of the Irvington family and pay homage to our great leader and friend, D. Bilal Beasley. He had a vision 40 years ago to improve the residents' quality of life. He didn't just talk it – he practiced it!" Freeholder Lebby Jones said.
Calling Mr. Beasley his mentor, Irvington Mayor Tony Vauss said Mr. Beasley "was such a great leader that it is an honor for me to stand here and pay tribute to him."
Mr. Beasley's career as an elected official began in 1988 when he was elected to the Irvington Municipal Council. During his tenure on the Council, he served as President for his last two years in office. In 2002, he was elected to the Freeholder Board to represent District 2 and continued to serve until 2014 when he decided not to seek re-election. In 2009, he was elected to the NJ Municipal Legislators Hall of Fame for his 26 years of public service as a Councilman and Freeholder. In 2007, he ran for the NJ State Senate against incumbent Ronald Rice and was narrowly defeated. Mr. Beasley was also involved in Essex County politics, serving as the Democratic Committee Chairman in Irvington since 1994.
He was one of the founding members Newark Emergency Services for Families, a Newark-based organization that assists disadvantaged families with housing, nutrition support and other services. He also worked for the Newark Housing and Redevelopment Authority, from which he retired in 2002, and as a Commissioner on the Irvington Housing Authority since 1998. He also was involved in the Irvington Chapter of the NAACP, Chairman of the Irvington Dr. Martin Luther King, Jr. Commemorative Committee, a member of the South Ward Joint Block Association and member of the Friends of Irvington Park. Mr. Beasley was a partner in a family-owned shoe care business located at Newark Liberty International Airport.
Eleven months ago, in May 2015, the County Executive dedicated a plaque in honor of Mr. Beasley at the Essex County Government Complex in Newark. It is located along "Legends Way," a promenade along the southern side of the Essex County Hall of Records where individuals who have made significant contributions to the development of Essex County are immortalized with bronze plaques detailing their contributions.
The original one-story section of the Irvington Park Field House received a complete facelift, including new doors and windows, ceiling and floor tiles, painting and restroom fixtures. In addition, the kitchen was upgraded so that the Essex County Division of Senior Services can bring its Café in the Park congregate meal program for senior citizens to the Park. The building was expanded in 2006 when a two-story, 2,100-square-foot addition was constructed.
The Essex County Department of Public Works designed the improvements to the building. Daskal Construction from Wallington received a publicly bid contract for $486,247 to perform the construction work. The Essex County Department of Public Works monitored the project to answer questions and avoid delays. The project was funded with a grant from the Essex County Community Development Block Grant Program. Work started in November 2015 and was completed in five months.
Revitalizing Essex County Irvington Park
In 2011, a synthetic grass surface soccer field was installed and three entrances to the park were upgraded as part of a $1.2 million modernization project. In 2006, a two-story, 2,100-square-foot addition was constructed onto the community center to create more space for the public to meet, storage space and public restrooms. The project cost $897,000. In 2004, the tennis courts, walking track, basketball courts, tennis courts, softball fields and three park entrances were upgraded as part of a $1 million facelift. In 2003, Essex County spent $103,000 to install a rubberized safety surface in the Irvington Park playground and $38,000 to improve the lighting in Irvington Park and Branch Brook Park in Newark. Essex County has partnered with the Irvington Amateur Radio Team (I-ART) to obtain funding from the New Jersey Green Acres program and the Essex County Recreation and Open Space Trust Fund.
The Essex County Park System was created in 1895 and is the first county park system established in the United States. The Park System consists of more than 6,000 acres and has 22 parks, five reservations, an environmental center, a zoo, Treetop Adventure Course, ice skating rink, roller skating rink, three public golf courses, golf driving range, two miniature golf courses, three off-leash dog facilities, a castle and the Presby Memorial Iris Gardens. Irvington Park is 24.38 acres and is the 12th largest park in the Essex County system. Land for the park was purchased in 1906 and improvements to the site were completed in 1913.