24 Oct

ESSEX COUNTY EXECUTIVE DIVINCENZO DEDICATES BRONZE BUST OF FREDERICK LAW OLMSTED IN ESSEX COUNTY BRANCH BROOK PARK "Father of Landscape Architecture" Consulted on Design of Branch Brook Park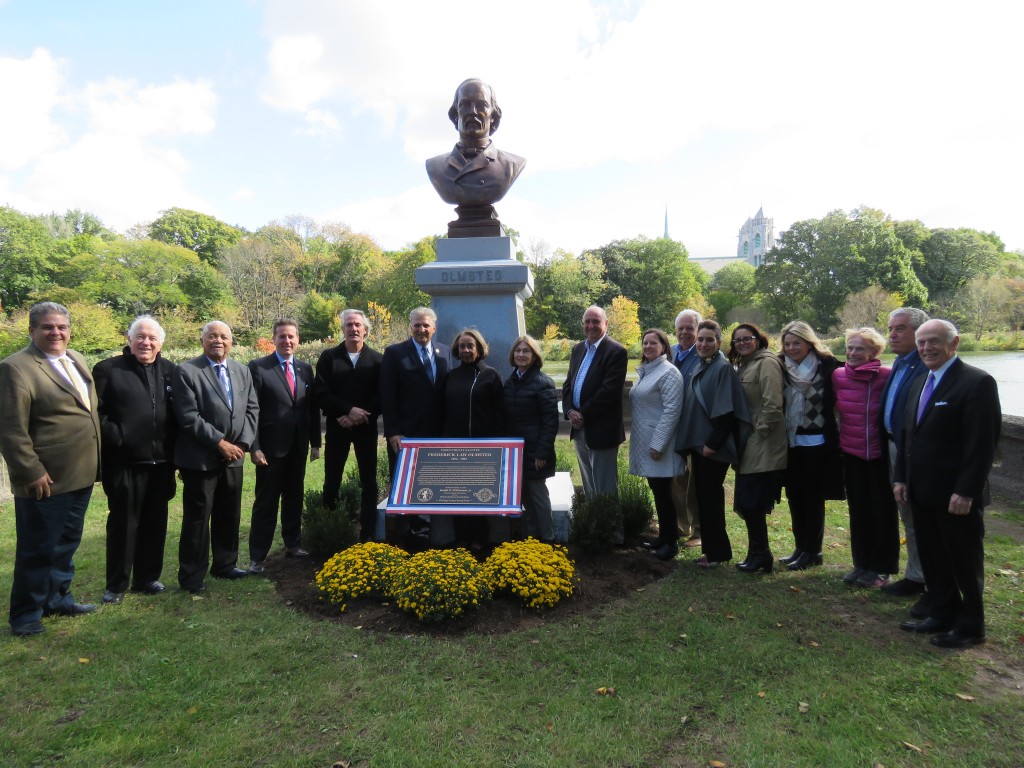 Newark, NJ – Essex County Executive Joseph N. DiVincenzo, Jr. dedicated a bronze bust of renowned landscape architect Frederick Law Olmsted in Essex County Branch Brook Park Prudential Concert Grove in Newark on Wednesday, October 24th. Often referred to as the "Father of Landscape Architecture," Olmsted was consulted during the development of Essex County Branch Brook Park, which is the first county park created in the United States.
"Frederick Law Olmsted and his sons played an important role in the development and design of our Essex County Parks System. By dedicating this bust, we can preserve Olmsted's legacy and educate future generations about the history of our Parks System," DiVincenzo said. "I especially want to thank Prudential for contributing some of the funding for the project. They have been extraordinary corporate neighbors and have a lengthy history of partnering with Essex to enhance Branch Brook," he noted.
The Olmsted bust was well-received by community members and elected officials.
"Federick Law Olmsted did not just create public spaces, he was an advocate for social justice providing places for people to find respite and relax. County Executive DiVincenzo is continuing that legacy today. We value this park for its history, but it is open every day for the public's enjoyment," NJ State Senator and Deputy Chief of Staff Teresa Ruiz said.
"Prudential is proud to support the revitalization of Branch Brook Park. This dedication to preserving our history is important to us now, but also to future generations because it's important to know how the Parks System was created and what these open spaces mean to the public," said Nicole Butler, Director of Community Partnership with Prudential.
"The contributions of Frederick Law Olmsted are many, but I believe Branch Brook Park is his greatest accomplishment. He has had more to do with how America looks than any other person," Freeholder President Brendan Gill said.
"Olmsted's interest in Branch Brook Park began in 1867 and it took almost 30 years for the idea to become a reality. Olmsted is an example of someone who never gave up on the City of Newark or Essex County," Branch Brook Park Alliance Co-Chair Barbara Bell Coleman said.
"Olmsted believed public parks should be built for people who did not have backyards or summer estates. If he saw the activity that takes place within Branch Brook today, he would be proud," Newark resident Elizabeth Del Tufo said.
"The Essex County parks are like our backyards and they have meant so much to generation after generation," Essex County Parks Foundation Chairman Louis LaSalle said.
"It's amazing that someone thought about the importance of community parks so long ago and we are still talking about that same issue today," said Nancy Zak from SPARK.
Olmsted was born in 1822 and died in 1903. In addition to working on Branch Brook Park, some of the parks he designed include Central Park in New York, the parks system in Buffalo, N.Y., Niagara Reservation in Niagara Falls, N.Y., the Emerald Necklace in Boston, Mass., and the landscaping around the United States Capitol Building in Washington, D.C. The landscape architectural firm headed by Olmsted's sons, John C. and Frederick Law Jr., designed or redesigned 17 parks and three reservations for the Essex County Parks System.
The bust and granite base of Olmsted is located in the Prudential Concert Grove in the Southern Division of Branch Brook Park. It was designed to complement the bust and granite base of Mendelssohn, which was placed on the opposite side of the Prudential Concert Grove last year. The bronze bust depicts Olmsted as a young man, which is the stage of life he would have been when he consulted on Branch Brook Park. The plaque and granite base weigh approximately 15 tons. Sculptor Jay Warren from Oregon designed the Olmsted bust. Warren also has worked with Essex County to design statues of the Rescue Dog at the September 11th Memorial; Dr. Martin Luther King, Jr., Governor Brendan Byrne, Congressman Donald Payne, Rosa Parks, Sgt. Jorge Oliveira and Justice William Brennan at the Essex County Hall of Records Complex in Newark and the Althea Gibson Statue in Essex County Branch Brook Park in Newark. It was funded with grants from Prudential and the Essex County Parks Foundation.
A bronze plaque commemorating the dedication begins with a quote by Olmsted: "The enjoyment of scenery employs the mind without fatigue and yet exercises it; tranquilizes it and yet enlivens it." It continues with: "Often referred to as the "Father of Landscape Architecture," Frederick Law Olmsted raised awareness about the importance of preserving open spaces in urban places. He understood parks and recreation facilities contributed to overall public health and quality of life, and believed all residents should have access to these oases. In 1867, when our Essex County forefathers conceived of the plan to develop Essex County Branch Brook Park in Newark, they consulted with Olmsted, the pre-eminent authority of the time. Although it took another three decades for the idea to reach fruition, Essex County set the standard by creating the first county parks system in the nation and opening Branch Brook as the first county park in 1895. In fact, the landscape architectural firm headed by Olmsted's sons, John C. and Frederick Law Jr., designed many of the County's parks. Today, the Parks System features 23 parks, 5 reservations and numerous recreation facilities. Highlighted by stunning vistas, beautiful greenways and picturesque settings, our 6,000 acres of parkland continue the tradition of preserving open spaces and creating recreational opportunities for the community's benefit."
The Essex County Park System was created in 1895 and is the first county park system established in the United States. The Park System consists of more than 6,000 acres and has 23 parks, five reservations, an environmental center, a zoo, Treetop Adventure Course, ice skating rink, roller skating rink, three public golf courses, golf driving range, two miniature golf courses, four off-leash dog facilities, a castle and the Presby Memorial Iris Gardens. Branch Brook Park was created in 1895 and is the first park in Essex County's system. At 359.72 acres, it is the largest county park in Essex.