05 May

ESSEX COUNTY EXECUTIVE DIVINCENZO DEDICATES 'BILL HICKS BASEBALL FIELD' IN ESSEX COUNTY WEEQUAHIC PARK Field is Named after Popular Baseball Coach at Weequahic High School, South Ward Little League and Project Pride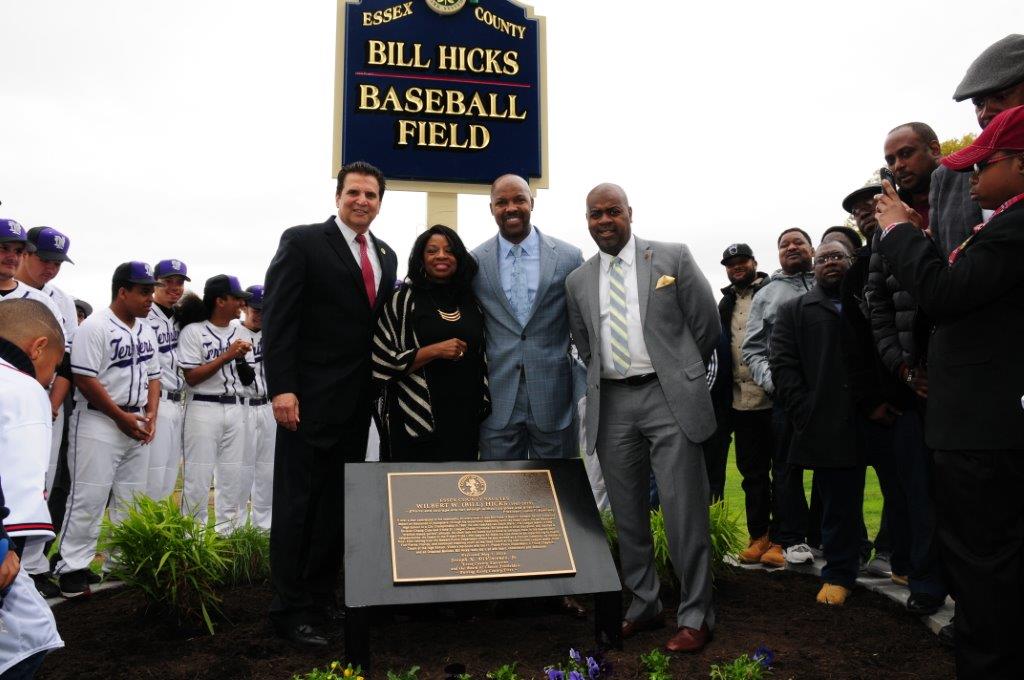 Newark, NJ – Essex County Executive Joseph N. DiVincenzo, Jr. was joined by Atlanta Braves Third Base Coach Bo Porter on Thursday, May 5th during the dedication of the "Essex County Bill Hicks Baseball Field" in Essex County Weequahic Park in honor of long-time Weequahic High School Baseball Coach and South Ward Little League organizer Wilbur "Bill" Hicks. Hicks, who passed away on December 13, 2015, was a mentor and father figure to generations of young ball players from Newark.
"An extraordinary individual, Bill Hicks' life was baseball. He loved the game and used it to mold generations of boys and young men. While he was teaching his players the fundamentals of the game, he also was instilling within them a strong work ethic and preparing them for life and their future," DiVincenzo said. "This field is where Bill molded his players and it's the perfect site to remember someone who had such a positive impact on the lives of so many," he added.
"We are here to celebrate a great man, Bill Hicks," said Porter, who had Hicks as a coach in Little League and at Weequahic High School. "I thank County Executive DiVincenzo for helping to make this happen because I want future generations of children who come to this park to understand that Bill Hicks had a big impact on thousands of lives in this city," he added. Porter also thanked DiVincenzo by presenting the County Executive with an Honorary Torch Award from the Stacey and Bo Porter SELF (Sports, Education, Life Skills and Faith) Foundation, recognizing his contributions to the community.
"When Bill touched your heart, he instilled something inside of you that was permanent," his wife Betty said. "When Bill saw a need and knew that he could do something to make a difference, he did," she added.
The field named for Mr. Hicks is located in Essex County Weequahic Park adjacent to Building 92, a community center in the park where a multitude of activities and events take place and a playground is located. The field is scheduled to receive a comprehensive renovation, which includes the installation of a synthetic grass playing surface, new backstop and fencing, a scoreboard, dugouts, spectators' bleachers and a landscaped entrance. The field improvements were designed by French and Parrello from Wall, N.J., which received a $60,000 engineering contract. Shauger Property Services from East Orange was awarded a publicly bid contract for $901,717 to perform the construction work. Work is scheduled to begin later this month and be completed before the end of 2016.
At the entrance to the park is located a wood-carved sign indicating the name of the facility as the "Essex County Bill Hicks Baseball Field." There also is a bronze plaque which begins with a quote from President John F. Kennedy: "Efforts and courage are not enough without purpose and direction." It continues with "If ever a man contributed to his community, on every level, it is Bill Hicks. A Newark resident, he had a positive impact on thousands of youngsters, through his exceptional leadership skills. As Head Coach, he led Weequahic High School to a City Championship in 1988. He also coached two South Ward Little League teams, four-time Division Champ Cubs and three-time Senior League Champ "Corotans." Bill believed in strict discipline, and instilled a 'practice makes perfect' attitude. He often took his teams out of state to introduce them to life beyond their neighborhoods. As Coach of the Project Pride Little League All-Stars, he took them on an impactful trip to Puerto Rico. After retiring from the Newark Police Department where he also worked as a Division Detective, he moved to Fort Pierce, Fla., and continued inspiring youth as the Head Coach of the town's Little League teams, Head Coach at the High School, Victim's Advocate with the Fort Pierce Police Department, a Police Chaplin, and an Ordained Minister. Bill Hicks really did it all with heart, commitment and dedication."
"This is an incredible day for the County and the City. If you played baseball in Newark, Bill Hicks was a legend for many generations," Newark Mayor Ras Baraka said.
Members of the Board of Chosen Freeholders also spoke highly of Hicks and Porter and the positive impact they have had.
"Bill Hicks left an indelible mark on so many children. He was always teaching and his players were always learning from him," Freeholder President Britnee Timberlake said. "We appreciate the vision of Joe DiVincenzo for naming facilities so we can continue learning from our mentors," she added.
"People will now remember Bill Hicks when they are playing on the field named in his honor," Freeholder Patricia Sebold said, adding she taught at Weequahic High School when Hicks coached the baseball team. Freeholder Lebby Jones, who worked in the Newark Public Schools for three decades before retiring, noted that honoring someone like Hicks, who had done so much to positively influence children, was a wonderful thing.
Freeholder Rufus Johnson said when he started the West Ward Little League, he leaned on Hicks for information and used the South Ward Little League started by Hicks as a model. "He was a great role model for everyone in the City," he added. Freeholder Leonard Luciano said Hicks was someone who cared about children and was an inspirational figure to generations of young people.
Newark Councilman John James said "Bill Hicks was committed to youth" and congratulated the County Executive for his commitment to Newark and Essex County.
After taking courses at Essex County College and enlisting in the Army, Mr. Hicks returned to Newark to serve his community. He was a police officer and Division Detective with the City of Newark for 32 years, where he received over 50 Valor Awards and was named Policeman of the Year several times. He also was a teacher at Weequahic High School during the day. But he made the largest impact on generations of young people as the coach of the baseball team at Weequahic High School and as a coach with the South Ward Little League.
Mr. Hicks was the head baseball coach at Weequahic High School for 19 years, during which he amassed a career record of 172-62. His Weequahic Indians won a city championship in 1988 and one of his star players – Marquis "Bo" Porter – would go on to play professional baseball and is currently the third base coach for the Atlanta Braves. In addition to high school, Mr. Hicks coached two teams in the South Ward Little League – the four-time Division Champs Cubs and the three-time Senior League Champs Corotans – and was the Head Coach for the Project Pride Little League All Star Team. Wherever he coached, Mr. Hicks believed in lining up the best competition for his players, and often took his team outside of Newark to play games and expose them to life outside of the city. With Project Pride, he brought several teams to compete in tournaments in Puerto Rico.
When he retired in 2000 and relocated to Florida, Mr. Hicks re-created his life by coaching the Fort Pierce Central High School baseball team and the the Fort Pierce Little League and becoming an Ordained Minister and Police Chaplin at the Fort Pierce Police Department.
Revitalizing Essex County Weequahic Park
In 2015, the playground by Building 92 was modernized with new equipment and a rubberized safety surface. In 2012, the four entrances to Weequahic Park received a facelift with traffic islands, lighting, paving and landscaping to beautify the area and enhance pedestrian and traffic safety, and the basketball courts were named in honor of the late Delano Gordon, founder of Above the Rim. Essex County partnered with the National Football League to install a new half-mile fitness course with six exercise stations in 2010. Weequahic Golf Course received a major overhaul in 2009 as part of $7 million modernization project in each of the County's three public golf courses and the Weequahic Bridge was reconstructed for $3 million. A synthetic grass surface baseball field and four basketball courts were developed as part of a $1.8 million project in 2007. Essex County welcomed The First Tee and its nationally-recognized youth leadership training program to Weequahic Golf Course in 2006. The First Tee constructed a state-of-the-art, three-hole youth golf facility for its program adjacent to the golf course. The playground at Building 96 at the Chancellor Avenue entrance to the park was modernized with new equipment and rubberized safety surface in 2006. The tennis courts on Elizabeth Avenue were rebuilt in 2004.
DiVincenzo has partnered with the New Jersey Green Acres program, the NJ Department of Transportation, the Essex County Parks Foundation, Essex County Recreation and Open Space Trust Fund Advisory Board, Weequahic Park Association and The First Tee to secure grants to fund the improvements in Essex County Weequahic Park.
The Essex County Park System was created in 1895 and is the first county park system in the United States. It has been expanded to include about 6,000 acres of land and includes 20 parks, five reservations, an environmental center, a zoo, ice skating rink, roller skating rink, three public golf courses, golf driving range, miniature golf course, three dog parks, a castle, Treetop Adventure Course and the Presby Memorial Iris Gardens. Weequahic Park is 311.33 acres, is one of the original five County parks created in 1895 and is the second largest park in the Essex County System.