16 Sep

ESSEX COUNTY EXECUTIVE DIVINCENZO CELEBRATES THE LIFE OF THE LATE LARRIE WEST STALKS West Stalks was Longtime Essex County Register and First African American Department Director in Newark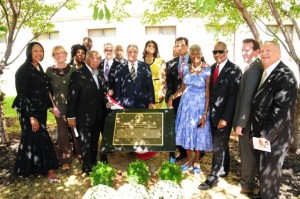 Newark, NJ – Essex County Executive Joseph N. DiVincenzo, Jr. dedicated a bronze plaque honoring the life and legacy of the late Larrie West Stalks, a former longtime Essex County Register and the first African American Department Director in the City of Newark on Wednesday, September 16th. The plaque is located in promenade near the Governor Brendan Byrne Plaza in the Essex County Government Complex in Newark. West Stalks was a resident of South Orange when she passed away on April 2, 2015, at the age of 89.
"Larrie West Stalks was one of the pioneers and trailblazers in government when she became the first African American to serve as a Department Director in the City of Newark and later when she was elected as County Register. She helped lay the foundation and groundwork for other females and minorities to get started in public service," DiVincenzo said. "Dedicating a plaque in her honor and placing it in our government complex will remind future generations of her leadership and impact on Essex County," he added.
"Our family is overwhelmed at this outpouring of support. Larrie was so wonderful and dedicated; she was wise and strong in character," said her brother Calvin West.
During the program, people who served with Ms. West Stalks shared memories of her and spoke about the positive influence she had in the community.
"Larrie West Stalks was the queen we needed; she was the rose that never faded," former Mayor Sharpe James said. "Larrie was always helping people. She helped me become Mayor," he pointed out.
Assemblyman Thomas Giblin described Ms. West Stalks as a "legend." "When people reflect on Essex County history and talk about who made a difference, Larrie's name will come up as a role model and mentor for many of today's leaders," he said.
"One of the great blessings in my life has been the West family. When I think of Larrie, I will remember her laughter and for welcoming me into this great Essex County family," former Governor James McGreevey said.
"I commend the County Executive for creating this walk of fame to recognize people who have contributed so much to Essex County," former Freeholder President Joseph Parlavecchio said. "Larrie's had a tremendous legacy as a trailblazer and a kind and generous person. She was always building coalitions throughout the city and was extremely loyal to her friends," he added.
"Larrie dedicated her life, her skills and her loyalty to the people of Newark and Essex County. Everyone who has a plaque along this walkway was somehow touched by Larrie West Stalks," former East Orange Mayor Robert E. Bowser said. "Larrie had great joy helping others and she always delivered if she said she was going to help. Larrie didn't eear a cape, but she was my hero," he pointed out.
Rev. George E. Britt from Greater Mount Teman AME Church gave the invocation and Rev. Dr. Ken Mitchem from St. Mark's AME Church gave the benediction. Musical performances were given by bagpiper Dave Tyms, the Brick City Alumni Jazz Ensemble and African Drummers Larry Washington and Babtunde Donald Eaton.
The plaque begins with a quote by author and poet Maya Angelou: "I have found that among its other benefits, giving liberates the soul of the giver." It continues: "Larrie West Stalks will be remembered for many 'firsts.' A vital presence in the political and governmental life of Newark, Essex County and the State of New Jersey, her activities ranged from organizing voters in Newark to running state campaigns. She began her career as Executive Secretary to Newark Mayor Hugh Addonizio and later became Executive Secretary to the City's Planning Board. In 1967, Larrie became the first African-American to serve as a City Department Director, heading Health and Welfare. Her most notable service to the people of Essex was her 20 years as Register of Deeds and Mortgages. Her natural leadership skills paved the way for her to be chosen as Democratic Municipal Chairperson for Newark's Central Ward, Vice Chair of the Essex County Democratic Party and a National Association of Counties board member. Wherever she served, she brought energy, enthusiasm and inspiration."
West Stalks was elected Essex County Register of Deeds and Mortgages in 1974 and served for 20 years before leaving office in 1995. In her last term, she was the only African American Constitutional Officer serving on the county level in New Jersey. Her political career started in the early 1940s when she was Executive Secretary to Congressman Hugh Addonizio in his Newark office. When Addonizio was elected Mayor of Newark in 1962, West Stalks became Executive Secretary to the Newark Planning Board. In 1967, she became the first African American department director in the City of Newark when Addonizio appointed her Director of the Department of Health and Welfare. During her tenure in municipal government, she developed and supervised Federally funded anti-poverty programs and instituted Newark's first mobile health unit program. She founded the Municipal Career Women of Newark and became a mentor for numerous women who worked in government. Mrs. Stalks spearheaded the development of 426 units of affordable housing and a shopping mall. She also chaired the Long Range Planning Advisory Budget Committee for St. Michael's Hospital.
She also served as Vice Chair of the Essex County Democratic Committee, Chair of the Newark Central Ward Democratic Committee, President of the County Officers of the State of New Jersey and a member of the National Association of County Officers (NACO) Human Services Steering Committee and served on the NACO Board of Directors.
Several buildings and open spaces in the Essex County Government Complex have been named after prominent people who have influenced the development of Essex County. The park next to the Historic Courthouse and statue in front of the Hall of Records honor Barringer High School graduate and U.S. Supreme Court Justice William J. Brennan, Jr.; a plaza in front of the Essex County Veterans Courthouse and a statue honor Civil Rights pioneer Rosa Parks; the plaza in front of the LeRoy Smith Public Safety Building and a statue honor the late Congressman Donald M. Payne, who was the first African American Congressman in New Jersey; the plaza at the south entrance of the Veterans Courthouse and a statue honor former New Jersey Governor and Essex County Prosecutor Brendan Byrne; the plaza in the Essex County Veterans Memorial Park and a statue honor the late Jorge Oliveira, a 10-year veteran of the Essex County Sheriff's Office who was killed while serving his country in Afghanistan. The Veterans Courthouse and the Essex County Veterans Memorial Park are named as a tribute to the men and women who have defended our country and freedoms while serving in the U.S. Armed Forces. The Essex County LeRoy F. Smith, Jr., Public Safety Building is named for LeRoy Smith, a Newark resident who served as Deputy Director of Emergency Medical Services for the University of Medicine & Dentistry of New Jersey for 38 years before retiring in 2007. In Brennan Park is a monument recognizing the late Charles Cummings, who served as the official Newark historian and librarian with the Newark Public Library for over 40 years. The plaza in front of the Historic Courthouse is named for former Essex County Prosecutor James Lordi. There are also bronze plaques in the promenade recognizing the late Clement Price, Rutgers History Professor and City and County Historian; the late D. Bilal Beasley, Irvington City Councilman and Essex County Freeholder; the late Raymond Durkin, long-time Chairman of the Essex County Democratic Committee and New Jersey Democratic Party; the late Philip Thigpen, Essex County Register and long-time Essex County Democratic Committee Chairman; the late Thomas Durkin, a prominent Essex County attorney; the late Lena Donaldson Griffith, a cultural arts and civil rights pioneer in Newark and Essex County; the late Raymond Brown, a civil rights leader and long-time attorney; and the late Superior Court Justice Thomas "Timmy" McCormack, who was one of the authors of the County's current Administrative Code and Freeholder By-Laws.