07 Oct

ESSEX COUNTY EXECUTIVE DIVINCENZO CELEBRATES THE LIFE OF THE LATE CEPHAS BOWLES Longtime President/CEO of WBGO Led Rebirth and Growth of Newark Jazz Station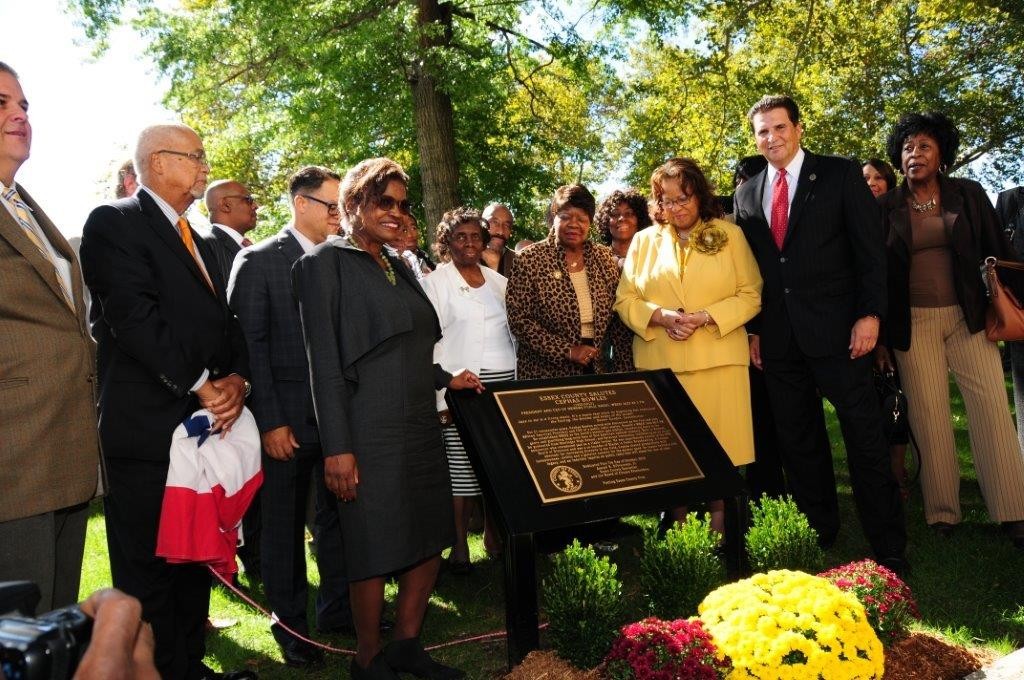 Newark, NJ – Essex County Executive Joseph N. DiVincenzo, Jr. dedicated a bronze plaque honoring the life and legacy of the late Cephas Bowles, who served as President and CEO of WBGO radio station in Newark for 21 years, on Wednesday, October 7th. The plaque is located in promenade in the Essex County Justice William Brennan Park located on the south side of the Historic Essex County Courthouse in Newark. A native of Newark, Bowles was a resident of Dover when he passed away on February 21, 2015, at the age of 62.
"Cephas was my teammate on the baseball team at Barringer High School and he was always the smartest person on the team," DiVincenzo said. "When he returned to Newark and took over the helm at WBGO, he brought that same quiet leadership from the baseball diamond to the radio station. His professional expertise helped WBGO grow and keep up with technology while remaining true to its mission to highlight the brightest artists and inspire the radio station's listeners. Cephas definitely will be missed, but his legacy of caring for others and his love for his hometown of Newark will live on," he added.
The bronze plaque begins with a quote from saxophonist Dexter Gordon: "Jazz to me is a living music. It's a music that since its beginning has expressed the feeling, the dreams and hopes of the people." It continues: "For 21 consecutive years, Cephas Bowles served with distinction as the first and only African American President and CEO of a public radio station, Newark's WBGO Jazz 88.3 FM. He established WBGO as the world's premier jazz station, introducing many to the genre and gratifying long-term fans of this American cultural treasure. Born in Newark, he graduated from Barringer High School, and Syracuse University, trailblazing as an on-air announcer who introduced jazz as a viable format. He was unanimously elected to the NPR Board of Directors and was a co-founder of Blacks in Public Broadcasting. He was a tireless advocate for increasing diversity in the field. Cephas shared perspectives with inclusiveness, civility and a genuine concern for the greater good. He leaves behind a rich legacy, and an indelible imprint on public radio that will stand the test of time."
Bowles returned to his hometown and joined the staff at WBGO in 1993 and became president and CEO in 1999. He worked to transform the station, bring it into modern times and expand its base of supporters. Founded in 1979, WBGO started as a public education tool and later became a non-profit and NPR affiliate, supported by contributions from listeners. Under his leadership, WBGO became the primary jazz content producer for NPR. In 1998, Bowles began streaming programming from WBGO on its website, making the Newark radio station accessible to listeners throughout the United States and abroad. It made WBGO the first jazz station to stream music on the Internet. He also spearheaded capital improvements to WBGO's headquarters in Newark and broadened the station's listening area by moving its transmission tower from Newark to the top of 4 Times Square in New York City.
Several of Cephas Bowles' former colleagues from WBGO, gave heartfelt remarks about his dedication and legacy. "The word proud comes to mind when thinking of Cephas. He may be the proudest person; he was always very proud of where he came from, proud to be an alum of Syracuse University, proud to lead WBGO and he was always very proud of his employees," said WBGO News Director Doug Doyle. "Not only am I here to honor Cephas, but to thank him for having faith in me and hiring me at WBGO. If he had not hired me, I would not have had the opportunity to stay close to home and have the great relationship that I now have with my daughter. I am proud to have known Cephas Bowles," he added.
"I knew he had the technical skill to lead WBGO, but because of his passion, he helped build the station into one that became a leader in Jazz radio stations," said former WBGO Board Chairman Richard Roper. "I am honored to be a part of this ceremony. I got to work very closely with Cephas and I know he loved Newark and WBGO tremendously. WBGO is his legacy. We all learned from him and will continue to benefit from his legacy," added former WBGO Board Chairman Oliver Quinn.
Before coming to WBGO, Bowles was an Assistant Producer for Spectrum at CBS News in New York City and worked at KUAT in Tuscon, Ariz., where he ultimate served as Station Manager and Acting Director of the Division of Media Studies at the University of Arizona.
Bowles was a co-founder of Blacks in Public Broadcasting and served on the board of directors of National Public Radio, Inc. where he was the Chairman of the Investment and Administration/Finance Committees. He served as a longstanding member of the Newark Regional Business Partnership Board of Directors, and was a board member of the Syracuse University Jazz Appreciation Society. He also offered his expertise to various community organizations, including the Newark Arts Council, Dover Zoning Board of Adjustment, State of New Jersey Martin Luther King Committee and National Jazz Museum of Harlem.
"Cephas worked very hard to build public radio. He was a builder and cultural artist, everywhere on several boards, always working to strengthen Jazz and make it available to the world," said Dr. Loretta Hobbs. "We owe you a lot, Cephas. You continue to inspire us all today," she added.
Bowles received many awards, including the Jazz Hero Award from the Jazz Journalists of America in 2014, New Jersey Performing Arts Center Ryan Community Service Award in 2013, WBGO Champion of Jazz Award in 2013, Syracuse University Jazz Leadership and Alumni Jazz Appreciation Society awards in 2012, Recognition Award from NPR in 2007, Associates in Mental Health and Developmental Disabilities, Inc. Executive Leadership Award in 2006, Newark School of the Arts Shining Star Award in 2006 and Eller MBA Alumni Achievement Award from the University of Arizona's Karl Eller Master of Business Administration Program in 2004.
Bowles majored in radio and television broadcasting at Syracuse University, worked at the university's two NPR affiliates and became the first African-American student engineer in station history. He later earned an MBA from the University of Arizona.
"WAER Public Radio Station at Syracuse University is where Cephas got his start. As a colleague, there has been no better mentor for me. Cephas has been a great friend and mentor to me professionally and has always supported what we do at WAER for Syracuse students to help develop their passion for broadcasting," said WAER Station Manager Joe Lee. "Cephas Bowles and other minorities fought to have better inclusion as students at WAER and, later on, he used his influence to introduce Jazz as a viable format for stations. His influence in the 1970s helped tremendously and in the 1980s it was a reality," he added.
Bowles was the son of Carey and Sarah and was the second oldest of seven children. Early in life, he was influenced by his father's record collection, which included recordings by jazz greats Duke Ellington and Glenn Miller, as well as gospel records. He listened to jazz on WBGO as well as WBLS, WLIB, WRVR, WKCR and WBLS. He was graduated from Barringer High School.
"Thank you so much, County Executive DiVincenzo and your staff, for putting together this wonderful ceremony to honor my husband. There are several family members who could not make it here today because of weather, but I know Cephas is so happy today and it is wonderful that his legacy will be honored and remembered in this way," said Linda Bowles.
He is survived by his wife, Linda Arrington-Bowles, and five siblings, Carey Bowles Jr., Paul Bowles, Ruth Hall, Deborah Bowles and Elizabeth Gaskin.
Several buildings and open spaces in the Essex County Government Complex have been named after prominent people who have influenced the development of Essex County. The park next to the Historic Courthouse and statue in front of the Hall of Records honor Barringer High School graduate and U.S. Supreme Court Justice William J. Brennan, Jr.; a plaza in front of the Essex County Veterans Courthouse and a statue honor Civil Rights pioneer Rosa Parks; the plaza in front of the LeRoy Smith Public Safety Building and a statue honor the late Congressman Donald M. Payne, who was the first African American Congressman in New Jersey; the plaza at the south entrance of the Veterans Courthouse and a statue honor former New Jersey Governor and Essex County Prosecutor Brendan Byrne; the plaza in the Essex County Veterans Memorial Park and a statue honor the late Jorge Oliveira, a 10-year veteran of the Essex County Sheriff's Office who was killed while serving his country in Afghanistan. The Veterans Courthouse and the Essex County Veterans Memorial Park are named as a tribute to the men and women who have defended our country and freedoms while serving in the U.S. Armed Forces. The Essex County LeRoy F. Smith, Jr., Public Safety Building is named for LeRoy Smith, a Newark resident who served as Deputy Director of Emergency Medical Services for the University of Medicine & Dentistry of New Jersey for 38 years before retiring in 2007. In Brennan Park is a monument recognizing the late Charles Cummings, who served as the official Newark historian and librarian with the Newark Public Library for over 40 years. The plaza in front of the Historic Courthouse is named for former Essex County Prosecutor James Lordi. There are also bronze plaques in the promenade recognizing the late Clement A. Price, Rutgers University History Professor and Newark and Essex County Historian, the late D. Bilal Beasley, Irvington City Councilman and Essex County Freeholder; the late Raymond Durkin, long-time Chairman of the Essex County Democratic Committee and New Jersey Democratic Party; the late Philip Thigpen, Essex County Register and long-time Essex County Democratic Committee Chairman; the late Thomas Durkin, a prominent Essex County attorney; the late Lena Donaldson Griffith, a cultural arts and civil rights pioneer in Newark and Essex County; the late Raymond Brown, a civil rights leader and long-time attorney; and the late Superior Court Justice Thomas "Timmy" McCormack, who was one of the authors of the County's current Administrative Code and Freeholder By-Laws.