14 Dec

ESSEX COUNTY EXECUTIVE DIVINCENZO ANNOUNCES TURTLE BACK ZOO ATTENDANCE BREAKS 700,000 FOR FIRST TIME New Annual Attendance Record is Set for 11th Consecutive Year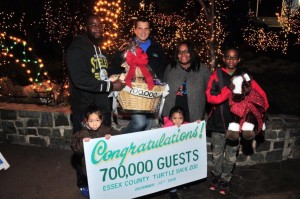 West Orange, NJ – On Sunday, December 13th, Essex County Executive Joseph N. DiVincenzo, Jr. welcomed the Owens family from Plainfield, N.J., as the 700,000th visitors to Essex County Turtle Back Zoo during 2015. This is the first time that attendance has exceeded the 700,000 mark and the 11th consecutive year that a new annual attendance record as been set at the Zoo.
"We have made tremendous improvements to Turtle Back Zoo and the large turn-out of visitors each year shows how popular our Zoo has become. Introducing new natural habitat exhibits like the Sea Lion Sound with sea lions, sting rays and sharks, along with our Carousel, Treetop Adventure Course, miniGOLF Safari and Train Ride attractions make coming to Turtle Back Zoo a fun, learning adventure for children and families," DiVincenzo said. "We would not be here without the continuing support of our loyal visitors, sponsors, volunteers and staff. We look forward to seeing everyone next year for even more adventures, excitement and family fun," he added.
At 6:38 p.m., Tana and Willie Owens and their children Nazir, 10, Allysa, 5, and Chanel, 3, walked through the entrance to help Turtle Back Zoo reach a new attendance milestone. "We saw information for the Holiday Lights and Turtle Back Zoo on Facebook and thought it would be a good activity for our children. We are always looking for new experiences for them," Tana Owens said. Tana said the last time she had been to Turtle Back was in grade school on a class trip and was eager to see how much things had changed.
In recognition of the milestone, DiVincenzo presented the Owens family with a gift basket filled with toys, stuffed animals and merchandise from Turtle Back Zoo, along with a one-year membership to the Essex County Zoological Society.
The previous attendance record was 688,359 set last year. A new annual attendance record has been set every year since 2005. The 500,000 milestone was first reached in 2010 and 600,000 was first reached in 2013.
Turtle Back Zoo is open daily from 10 a.m. to 3:30 p.m. Regular admission is $10 for children and senior citizens, $13 for adults and free for children under 2 years. For additional information, please call 973-731-5800 or visit www.essexcountynj.org.
Revitalizing Essex County Turtle Back Zoo
Since taking office in 2003, DiVincenzo has spearheaded over $70 million in upgrades to Essex County Turtle Back Zoo, which have included developing the Carousel with 33 figures of endangered animals; building the Sea Lion Sound Exhibit with sea lions, sharks and sting rays; the Big Cat Country Exhibit with Jaguars and Cougars; Tam-ring Gibbons Reserve with Gibbons apes, Reeves muntjac and white naped cranes; Australian Exhibit that features kangaroos, wallabies, emus and over 500 birds in the Aviary; Reptile and Education Center, open air dining pavilion and playground, Penguin Exhibit, Otter Exhibit, Wolf Exhibit, Alligator Exhibit, North American Animal Exhibit, Black Bear Exhibit, Animal Hospital, Essex Farm Petting Zoo and South American Animal Exhibit; renovating the Food Pavilion for year-round use and making upgrades to the entrance as well as fencing and infrastructure to meet AZA requirements. Funding has been provided through Green Acres grants, existing capital improvement bonds, or donations from the Zoological Society, Essex County Parks Foundation, corporations or private foundations. Corporations that have provided support include Investors Bank, Prudential Financial, Inc., Wells Fargo (Wachovia Bank), PNC Bank, PSE&G, Verizon, Horizon Blue Cross Blue Shield of New Jersey, Coca Cola, Capital One Bank, TD Bank, Aramark, Covanta Energy and OxyMagic carpet cleaning.
The Essex County Park System was created in 1895 and is the first county park system established in the United States. The Park System consists of more than 6,000 acres and has 22 parks, five reservations, an environmental center, a zoo, Treetop Adventure Course, ice skating rink, roller skating rink, three public golf courses, golf driving range, two miniature golf courses, three off-leash dog facilities, a castle and the Presby Memorial Iris Gardens. Turtle Back Zoo is located in Essex County's South Mountain Reservation and was opened to the public in 1963.