21 Mar

ESSEX COUNTY EXECUTIVE DIVINCENZO ANNOUNCES THE OPENING OF A NEW PONY RIDE TRAIL AT ESSEX COUNTY TURTLE BACK ZOO Open Air Pavilion Allows Pony Rides to be Given throughout the Year and in all Kinds of Weather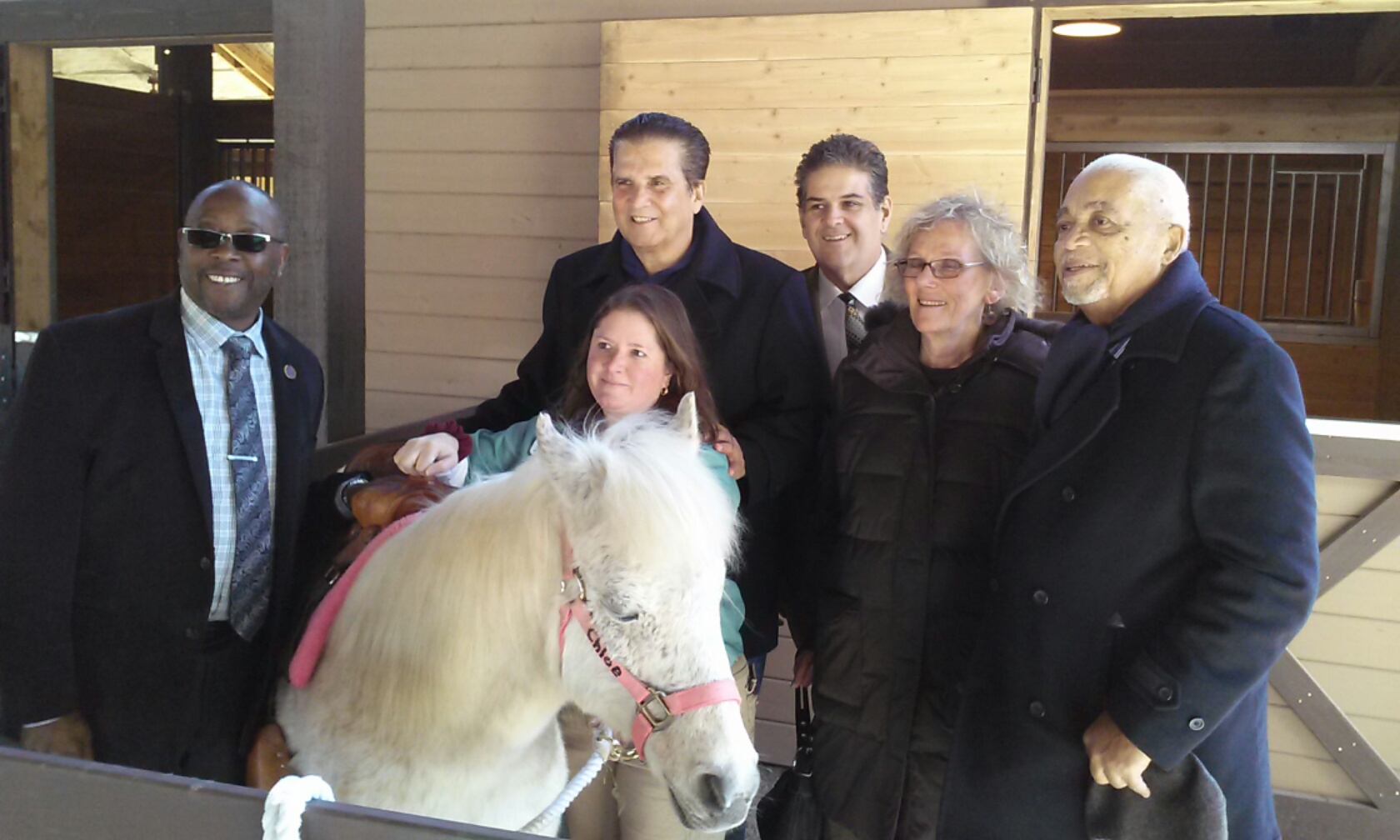 West Orange, NJ – Essex County Executive Joseph N. DiVincenzo, Jr. announced on Monday, March 21st that the new Pony Ride Trail at Essex County Turtle Back Zoo is open to the public. The upgraded attraction includes an open air pavilion under which the ponies walk. This allows rides to be given throughout the year and in all kinds of weather.
"We are always looking for new ways to improve upon the experience our visitors have when they come to Turtle Back Zoo. The pavilion over the pony trail protects our animals from the hot sun and inclement weather, and enables us to offer the rides all year round," DiVincenzo said. Joining the County Executive at the opening were Freeholders Patricia Sebold and Wayne Richardson.
The rustic, wooden pavilion covers the pony walking trail loop, protecting the ponies and young riders from the elements. In addition, a barn for six horses was constructed adjacent to the pony ride trail, which eliminates the need for the ponies to cross a public walking path to travel from their old quarters to the trail. In 2015, there were 29,344 pony rides given during the six months it was open.
French & Parrello engineers from Wall designed the upgraded attraction. Shauger Property Services from East Orange was awarded a publicly bid contract for $762,611 to perform the construction work. The Essex County Department of Public Works monitored the project to ensure questions were answers and delays were avoided. The project was started in September and took six months to complete.
Turtle Back Zoo is open daily from 10 a.m. to 3:30 p.m. Regular admission is $10 for children and senior citizens, $12 for adults and free for children under 2 years. Beginning April 1st, in-season admission rates of $11 for children and senior citizens, $14 for adults and free for children under 2 years will apply. For additional information, please call 973-731-5800 or visit www.essexcountynj.org.
Revitalizing Essex County Turtle Back Zoo
Essex County Turtle Back Zoo welcomed 755,239 visitors through its gates in 2015, the first time attendance eclipsed the 700,000 mark and the 11th consecutive year a new annual attendance record has been set. In addition, Turtle Back was named the Best Zoo in New Jersey by NJ Monthly magazine for the fourth time and received a Certificate of Excellence from TripAdvisor.com for the third consecutive year.
Since taking office in 2003, DiVincenzo has spearheaded over $70 million in upgrades to Essex County Turtle Back Zoo, which have included developing the Carousel with 33 figures of endangered animals; building the Sea Lion Sound Exhibit with sea lions, sharks and sting rays; the Big Cat Country Exhibit with Jaguars and Cougars; Tam-ring Gibbons Reserve with Gibbons apes, Reeves muntjac and white naped cranes; Australian Exhibit that features kangaroos, wallabies, emus and over 500 birds in the Aviary; Reptile and Education Center, open air dining pavilion and playground, Penguin Exhibit, Otter Exhibit, Wolf Exhibit, Alligator Exhibit, North American Animal Exhibit, Black Bear Exhibit, Animal Hospital, Essex Farm Petting Zoo and South American Animal Exhibit; renovating the Food Pavilion for year-round use and making upgrades to the entrance as well as fencing and infrastructure to meet AZA requirements. Funding has been provided through Green Acres grants, existing capital improvement bonds, or donations from the Zoological Society, Essex County Parks Foundation, corporations or private foundations. Corporations that have provided support include Investors Bank, Prudential Financial, Inc., Wells Fargo (Wachovia Bank), PNC Bank, PSE&G, Verizon, Horizon Blue Cross Blue Shield of New Jersey, Coca Cola, Capital One Bank, TD Bank, Aramark, Covanta Energy and OxyMagic carpet cleaning.
The Essex County Park System was created in 1895 and is the first county park system established in the United States. The Park System consists of more than 6,000 acres and has 22 parks, five reservations, an environmental center, a zoo, Treetop Adventure Course, ice skating rink, roller skating rink, three public golf courses, golf driving range, two miniature golf courses, three off-leash dog facilities, a castle and the Presby Memorial Iris Gardens. Turtle Back Zoo is located in Essex County's South Mountain Reservation and was opened to the public in 1963.