12 Sep

ESSEX COUNTY EXECUTIVE DIVINCENZO ANNOUNCES THE INSTALLATION OF TRAFFIC SIGNALS AT THE INTERSECTION OF PLEASANT VALLEY WAY AND ALISA DRIVE IN WEST ORANGE IS COMPLETE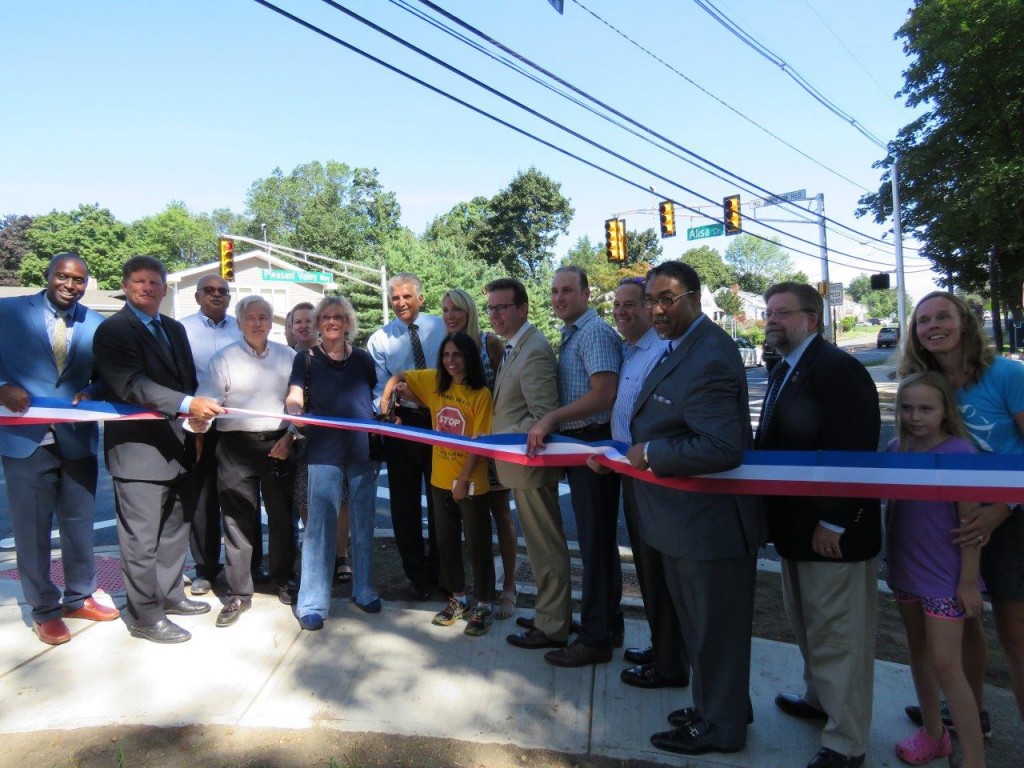 West Orange, NJ – Essex County Executive Joseph N. DiVincenzo, Jr. announced Tuesday, September 4th, that new traffic signals have been installed at the intersection of Pleasant Valley Way and Alisa Drive in West Orange. The upgrades to the intersection will enhance pedestrian and motor vehicle safety near West Orange High School and make it easier for students who drive to school to enter and exit the student parking lot located on Alisa Drive.
"We are always ready to team up with our Municipal and School District partners to implement traffic improvements that enhance safety for our children. Pleasant Valley Way is a major artery through West Orange, and the traffic signal being installed will make turning in and out of Alisa Drive easier and safer for students who drive to the high school," DiVincenzo said.
Members of the West Orange community were happy with the new traffic signal.
"Slowing down the traffic impacts the safety at our schools and for our residents. We are pleased to have supported the County Executive on this project," Freeholder President Brendan Gill said. "I taught for 30 years at West Orange High School and I've seen how busy the traffic on Pleasant Valley Way can be. This is a much-needed improvement," Freeholder Patricia Sebold said. "We all care deeply about public safety, and that includes pedestrian and traffic safety," Freeholder Len Luciano said.
"I want to thank everyone for working in partnership to get this done. This project shows what can be accomplished when everyone is working together," West Orange Councilman Jerry Guarino said. "This was a great team effort and show everyone was working together," West Orange Councilman Joe Krakoviak said.
"This intersection has been an area that we have been concerned about for some time, and we are thankful that the improvements are done," said West Orange Schools Superintendent Jeffrey Rutzky, who as accompanied by Board of Education members Mark Robertson and Irving Schwarzbaum. "In West Orange, we are big on traffic safety and the signalization of this intersection will help keep it safe for our students," West Orange High School Principal Hayden Moore said.
"This is an example of what can be accomplished when members of the public advocate strongly to our elected officials," West Orange resident Roz Moskowitz said. "Motor vehicle accidents are the number one cause of death among teenagers. This traffic signal makes the intersection that much safer," West Orange resident Sangeeta Badlani said.
The improvements include the installation of new traffic signal equipment with LED lights, which shine brighter, are easier to see and are more energy efficient, and pedestrian signals with countdown timers. The intersection was repaved, and roadway striping and signage were added. Curbs and sidewalks at the intersection that were in poor condition were repaired. GPS clocks were installed to ensure that traffic signal coordination with other intersections along Pleasant Valley Way is maintained.
Maser Consulting from Red Bank designed the intersection improvements under an existing contract. Foggia Trinity Electric from Scotch Plains was awarded a publicly-bid contract of $319,805 to perform the construction work. The Essex County Department of Public Works monitored the project to ensure delays were avoided and the project was completed before the start of the 2018-2019 school year. Essex County, West Orange and the Board of Education each paide one-third of the cost of the improvements. Construction began at the end of June and was completed in two months.