21 Jun

ESSEX COUNTY EXECUTIVE DIVINCENZO ANNOUNCES REPLACEMENT OF CENTRE STREET BRIDGE IN NUTLEY TO BEGIN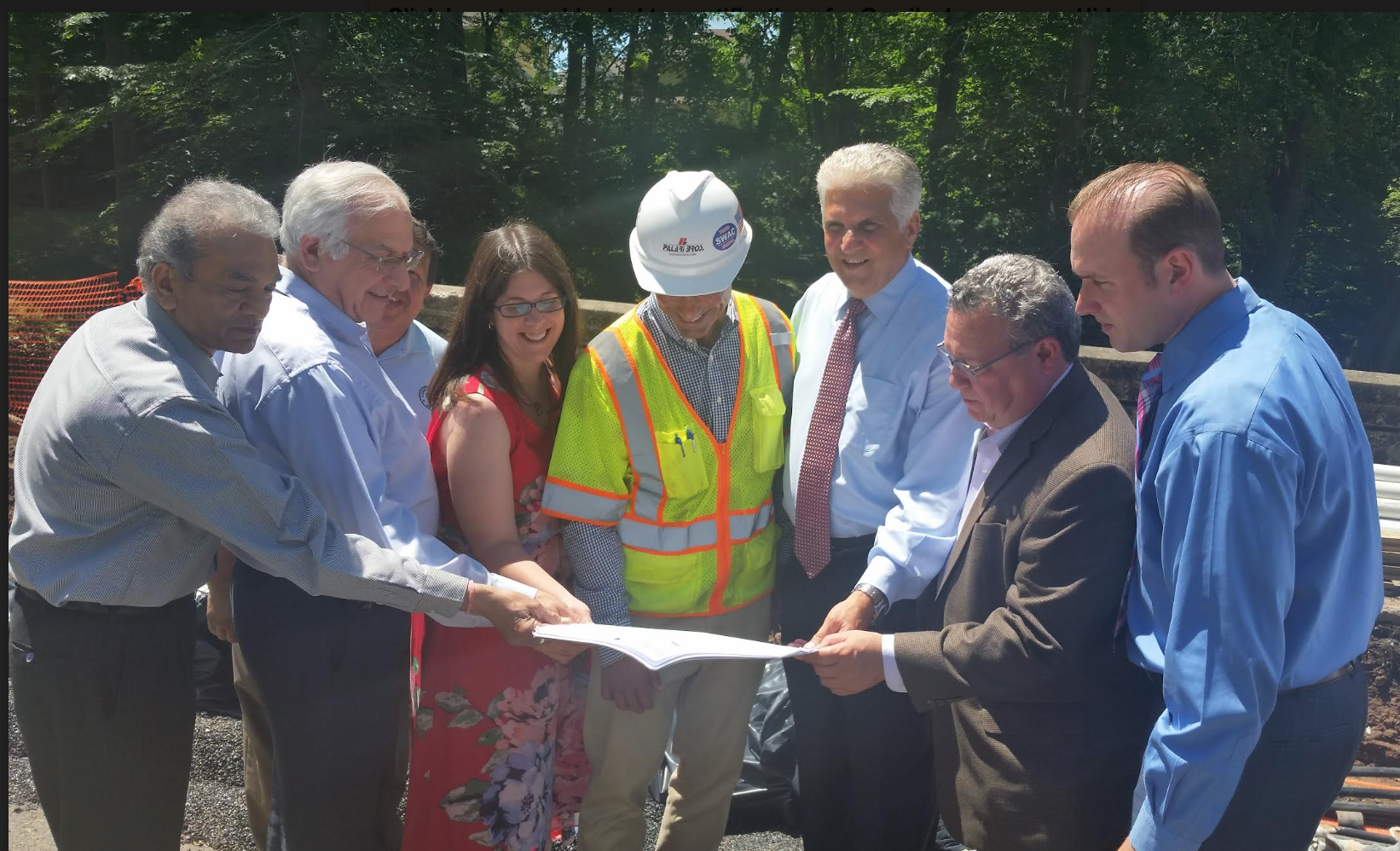 Nutley, NJ – Essex County Executive Joseph N. DiVincenzo, Jr. announced that the 122-year-old Centre Street Bridge in Nutley will be replaced with a modern structure. The project is scheduled to begin on Wednesday, June 27th and will last approximately six months. During construction, Centre Street will be closed to vehicular traffic and motorists will be detoured around the area via Joralemon Street and Vreeland Avenue. Pedestrian access across the Third River will be provided via a walking bridge in Yanticaw Park.
"Replacing the Centre Street Bridge is a complex project because it's located in the heart of Downtown Nutley and provides critical access through the township. Closing the road will be disruptive, but it will enable the work to progress more quickly than if the replacement was done in stages. We understand the hardship being placed on residents and businesses and believe this will minimize the impact," DiVincenzo said.
"Our residents' number one concern is public safety and providing modern streets, bridges and infrastructure is important to fulfilling that need," Freeholder Len Luciano said.
"We have had a lot of discussions about this bridge because we are concerned about the impact it will have on our downtown when it is closed, we are concerned about the detour and we are concerned about maintaining the historical character of the bridge structure. The County Executive has a great track record of getting projects done, and we are looking forward to seeing this reopened on time," Nutley Mayor Joseph Scarpelli said.
The posted detour around the Centre Street Bridge was developed in cooperation with the Nutley Police Department. The "local detour route" will take motor vehicles north along Franklin Avenue, turning onto Vreeland Avenue and then turning onto Passaic Avenue. The "truck detour route" is south along Franklin Avenue, turning onto Joralemon Street and then turning onto Union Avenue.
The Centre Street Bridge has been classified as "structurally deficient" and a weight limit of 15 tons was recently posted because of its deteriorating condition. The original single span brick arch with ashlar spandrel walls and abutments was built about 1896. Reinforced concrete wingwalls were added to the structure in 1929 and the current concrete parapet and gabion wall were installed in 1965 after the north spandrel wall and parapet failed.
The new structure will be constructed of a precast concrete arch with precast concrete wingwalls that will be supported by cast-in-place concrete footings and pedestals. There will be two travel lanes – one in either direction – for motor vehicles and sidewalks for pedestrians. The dimensions will be virtually identical to the original structure: a clear span length of 42 feet, a roadway width of approximately 46 feet, and a total bridge width of 66 feet.
To maintain the historic character and existing setting in Essex County Yanticaw Park and Nutley Booth Park, the concrete color for the new bridge was set by the NJ Historic Preservation Office. A stone formliner will be used to construct the arch spandrel walls and the parapet walls, the existing ornamental fence will be removed and reset, and an interpretive sign will be installed to inform residents and visitors of the history of the crossing and the Yanticaw-Booth Historic District. In addition, 48 new trees will be planted in the adjacent parkland.
KS Engineers from Newark was awarded a professional services contract for $242,425 to design the project. Pillari Brothers Construction Corp. from Farmingdale, n.J., was awarded a publicly bid contract for $2,879,230 to perform the construction work. The Essex County Department of Public Works will monitor the project to ensure delays are avoided. The bridge replacement is being funded with a grant from the NJ Department of Transportation's Local Bridges Future Needs Grant Program. It is scheduled to begin on June 27th and be completed by December 2018.
Other infrastructure projects undertaken by Essex County in Nutley include repaving the walking paths in Yanticaw Park in 2006; reconstructing Park Way to address flooding in 2008; installing a synthetic grass surface on the softball field, modernizing two baseball/softball fields, renovating the basketball court, installing historic pathway lighting and renovating the field house and playground building in Yanticaw Park in 2010; repaving Centre Street from St. Mary's Place to Washington Avenue and Union Avenue from Centre Street to Greylock Parkway in Belleville in 2015. In addition, the Frank A. Cocchiola Playground was originally upgraded with new equipment and a rubberized safety surface in 2003, and is currently being updated a second time because the play apparatus and safety surface are aging.