10 Aug

ESSEX COUNTY EXECUTIVE DIVINCENZO ANNOUNCES REPAVING PROJECT ON MAIN STREET AND HIGH STREET IN ORANGE IS COMPLETE Repaving County Roads Enhances Safety and Improves Quality of Life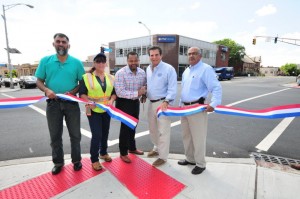 Essex County, NJ – Essex County Executive Joseph N. DiVincenzo, Jr. announced that the repaving project on Main Street and High Street in Orange is complete. The two roads were included in the 2015 Essex County Roadway Resurfacing Program, which is part of the DiVincenzo Administration's initiative to enhance safety on the roads and the quality of life by modernizing infrastructure.
"Essex residents and motorists rely on our intricate network of roads to get to work, go to school and carry out their daily errands. My administration is committed to making sure our infrastructure is in the most modern condition so that our daily lives are not interrupted," DiVincenzo said. "We apologize for any inconvenience the construction may cause, but the end result will improve our quality of life by making it easier and safer to travel through Essex County," he added.
"This project represents the partnerships that the City of Orange has cultivated with Essex County and the State to modernize our infrastructure. With all levels of government working together and combining their resources, these roadway improvements will have a positive impact on our local economy and our residents' quality of life," Orange Mayor Dwayne D. Warren, Esq. said. Other projects being undertaken in Orange include upgrades to Fuller Terrace, Burnside Street, Burnside Place, Fairview Avenue, Jackson Street and Snyder Street.
Repaving the half-mile stretch of Main Street between High Street and Valley Road/Northfield Avenue in Orange and the one-mile stretch of High Street from Washington Street to Main Street in Orange were funded through a grant from the Community Development Block Grant program and the Essex County Capital Budget. Other county roads that were repaved through this program include the following:
Nutley: Centre Street from St. Mary's Place to Washington Avenue
Nutley/Belleville: Union Avenue from Centre Street to Greylock Parkway
Belleville: Sections of Belleville Avenue between Washington Avenue to the border of Bloomfield
In addition, Essex County is using a $5 million grant from the Annual Transportation Program to resurface the following roads:
Fairfield: Fairfield Road from Route 46 to Passaic Avenue
Irvington: Springfield Avenue from Becker Terrace to South 20th Street
South Orange: Wyoming Avenue from Luddington Road to South Orange Avenue
Verona/West Orange: Lakeside Avenue/Pleasant Valley Way from Bloomfield Avenue Eagle Rock Avenue
West Orange: Pleasant Valley Way from Eagle Rock Avenue to Mt. Pleasant Avenue/Route 10
Livingston: Walnut Street from Eisenhower Parkway to South Orange Avenue
The project includes milling the old surface off the road, repairing broken curbing, improving handicapped ramps and crosswalk areas at intersections, laying new pavement and painting striping on the new surface.
Smith Sondy Asphalt Construction Co. from Wallington was awarded a competitively bid contract for $6.6 million to perform the road work. The project is being supervised by the Essex County Department of Public Works.
Contact:
Anthony Puglisi
973-621-2542
Lauren Shears
973-621-1590