06 Mar

ESSEX COUNTY EXECUTIVE DIVINCENZO ANNOUNCES REHABILITATION OF LYONS AVENUE BRIDGE IN IRVINGTON TO BEGIN ON MONDAY, MARCH 13TH Lyons Avenue to be Closed at Lincoln Place for Three Months; Motor Vehicles to be Detoured, Temporary Pedestrian Bridge to be Installed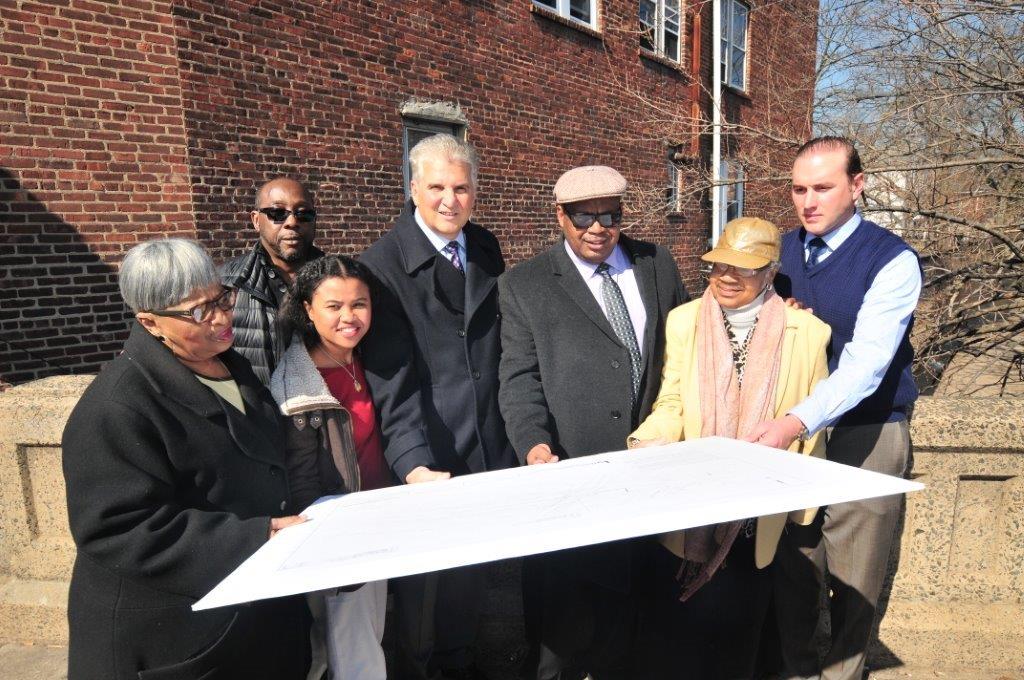 Irvington, NJ – Essex County Executive Joseph N. DiVincenzo, Jr. was joined by Irvington Mayor Tony Vauss on Monday, March 6th to announce a project to reconstruct the Lyons Avenue Bridge in Irvington will start. During the three-month construction project, which starts on Monday, March 13th, Lyons Avenue between Lincoln Place and Union Avenue will be closed to vehicular traffic. A temporary bridge will be installed for pedestrians to cross the construction area. The upgrade is part of the County Executive's ongoing initiative to enhance safety by modernizing infrastructure to meet today's needs.
"Motorists rely on our roads to get to and from work and school, and move about their daily routines. Modernizing our infrastructure enhances safety and ensures our roads and bridges can handle the current level of traffic," DiVincenzo said. "Lyons Avenue is a major thoroughfare that provides access to the Garden State Parkway, so upgrading this bridge will have a profound effect in Irvington. There will be some inconvenience during construction, and we ask for the public's patience and understanding," he added.
The project was welcomed by county and local elected officials.
"Our partnership with the County Executive and the Freeholders is second to none," Irvington Mayor Tony Vauss said. "We are grateful to the County for the many projects they have been making to improve our roads, bridges and intersections. It's definitely a partnership that is making Irvington better," he added.
"Projects like this are important because we have to take care of our roads and bridges. We appreciate the support and partnership we get from Irvington," Freeholder Wayne Richardson said. "Infrastructure improvements are important for the community, and are made possible because we work hand in hand with the municipal government," Freeholder Len Luciano said.
"I appreciate what is being done here on Lyons Avenue as well as the many upgrades in Irvington Park," Councilwoman and Friends of Irvington Park President Sandra Jones said. "This is a great project and I'm here in support of it, but I want to make sure our businesses are not negatively impacted," Councilwoman Charnette Frederic said. "This is a much-needed improvement and I look forward to its completion," Irvington Democratic Committee Chairwoman Baseemah Beasley said.
The Lyons Avenue Bridge crosses over the Elizabeth River and was constructed in 1940. The bridge is in poor condition and its obsolete design is not sufficient for the current traffic on Lyons Avenue. The renovation calls for the 30-foot long bridge deck to be removed and replaced with a single span, reinforced concrete slab superstructure that has the same dimensions as the old bridge. Work is scheduled to be completed by the end of May 2017.
During construction, traffic traveling east on Lyons Avenue will be detoured south on Lincoln Place to east Yale Avenue to north on Union Avenue; traffic traveling west on Lyons Avenue will be detoured north on Union Avenue to west on Nye Avenue to south on Lincoln Place. The temporary bridge will allow pedestrians to cross the area on Lyons Avenue.
Boswell Engineering from South Hackensack received a $117,500 contract to design the new bridge and provide inspection services. Colonnelli Brothers from Hackensack was awarded a publicly bid contract for $389,822 to perform the construction work. The Essex County Department of Public Works is monitoring the project to answer questions so that delays can be avoided. The project is being funded with a bridge reconstruction grants from the New Jersey Department of Transportation.
Other capital improvement projects recently completed by Essex County in Irvington include, a $189,000 project to modernize the Lyons Avenue and Union Avenue intersection in 2011, a $1.5 million project to replace the Springfield Avenue Culvert and the Chancellor Avenue Culvert over the Lightning Brook in 2008, an $867,200 project to modernize four intersections along Springfield Avenue in 2007, the $3 million repaving and reconstruction of the entire length of Stuyvesant Avenue in 2004 and the $718,614 reconstruction of the Madison Avenue Bridge in 2005. The Essex County Department of Public Works conducted "short term improvements" to the traffic signal equipment at the intersections of Springfield Avenue and Clinton Avenue and Springfield Avenue and Civic Square in September 2005. In addition, the County is modernizing the playground in Essex County Irvington Park and has upgraded the D. Bilal Beasley Community Center, tennuis courts, basketball courts and walking paths in the park.