23 Nov

ESSEX COUNTY EXECUTIVE DIVINCENZO ANNOUNCES RECONSTRUCTION OF TWO HOLES AT ESSEX COUNTY WEEQUAHIC GOLF COURSE IS COMPLETE Reconfiguration of Holes 10 and 11 Removes Blind Spot and Enhances Safety for Golfers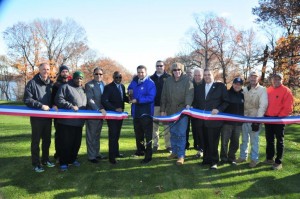 Newark, NJ – Essex County Executive Joseph N. DiVincenzo, Jr. announced on Monday, November 23rd that two holes at Essex County Weequahic Golf Course in Newark were reconstructed. The upgrades enhance safety for golfers, address existing flooding issues and make the course more challenging. It is part of the County Executive's ongoing initiative to modernize recreation facilities and ensure that Essex County Parks Facilities continue to meet the needs of the community.
"Essex County Weequahic Golf Course is an attractive facility with picturesque fairways, challenging greens and has a rich history as the first public course in New Jersey," DiVincenzo said. "The changes that were made to Holes 10 and 11 address serious safety concerns we had for golfers who were hitting into a blind area. This removes the threat but also maintains Weequahic's unique historical features and makes it even more beautiful and fun to play," he noted.
"There were some skeptics who were not in favor of the changes. However, seeing how beautiful this looks makes it a welcome addition," Freeholder Wayne Richardson said.
The work was focused on Holes 10 and 11, which were redesigned and rebuilt. Previously Hole 10 was a Par 5, 487-yard hole and Hole 11 was a Par 3, 179-yard hole. After the rebuilding, the lengths of the holes were swapped, with Hole 10 getting shorter and becoming a Par 3, 158-yard hole and Hole 11 getting longer and becoming a Par 5, 550-yard hole. The changes to the course eliminates a dangerous "blind" shot on Hole 10, which enhances the safety for the golfers, and improves the playability of the course. In addition, golfers teeing off from Hole 10 will be able to see the Freedom Tower in New York City on a clear day. Although construction has been completed, the holes will not be put into use until the spring of 2016 to allow for the grass to knit.
In addition to the four new front tees and two holes that were created, the project included removing tree stumps, trimming trees, installing new drainage and irrigation systems for the two holes, replacing topsoil, replacing the paved pathway for golf carts and planting new trees.
The improvements were designed in-house by the Departments of Parks and Public Works. Turco Golf from Suffern, N.Y., was awarded a publicly bid contract for $417,015 to perform the construction work. The Department of Parks and Public Works monitored the project to answer questions and avoid delays. The change was funded through the Essex County Capital Budget. Work began in September and was completed in two months.
Essex County Weequahic Park Golf Course opened in 1914 and was the first public golf course in New Jersey. The original nine-hole course was designed by Seth Lowe, the former golf professional at historic Baltusrol Golf Club in Springfield, N.J., while the back nine holes, which opened in 1969, were designed by distinguished golf course architect Hal Purdy, making Weequahic a charming and challenging par 70, 18-hole facility. The course received a major renovation in 2009 in which many course features were redesigned to improve strategy and make the holes more challenging. The drainage system was upgraded to address flooding issues that affected at least nine holes and a new pumping and filtration system was installed to improve the quality of water used to irrigate the course. Additional bunker and feature work was performed on nearly every hole at Weequahic to emphasize the natural beauty of the course's rolling landscape. More than half of the course's tees were rebuilt or expanded to provide better playing conditions, and several new cart paths to improve safety were installed.